Heavy rains, flooding brought by Lane deals serious damage to Maui roads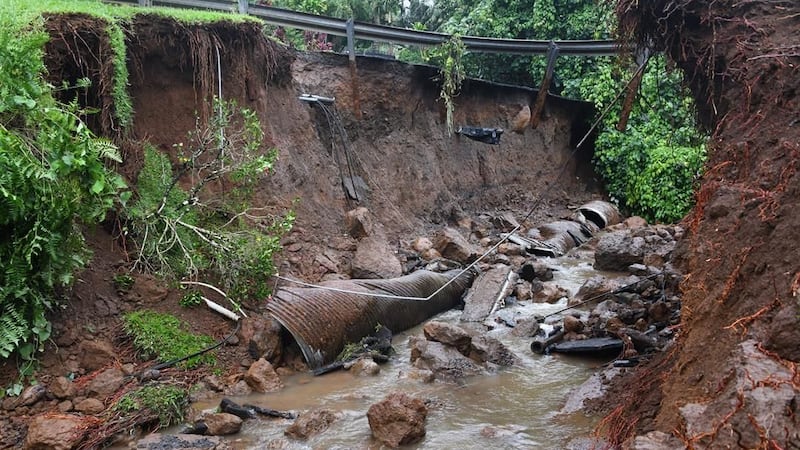 Updated: Aug. 25, 2018 at 11:25 PM HST
HAIKU, MAUI (HawaiiNewsNow) - Lane dealt serious blows to several Maui roads when it hit the Valley Isle over the past few days, bringing torrential rains and severe flooding.
Part of a Haiku neighborhood is inaccessible after the deluge caused a large chunk of road to collapse around 7:45 p.m. Friday.
The giant sinkhole, at the intersection of Ulumalu Road and Puu Way, happened when storm water and debris overwhelmed the pipe system beneath the road, according to a preliminary assessment by Maui County officials.
County officials say that residents they spoke with have made accommodations to either leave or shelter in place while Department of Transportation crews tackle the severely damaged roadway.
Richard Pechner, a Maui resident who recorded video of the collapsed road, told Hawaii News Now that he believes residents on the other side of the collapse may be stuck there for a while.
"There was a bunch of county guys down there and they were trying to stake it out and get it closed off," Pechner said. "Those three houses (on the other side of the collapse) are stuck because I don't think there is any other way out across that opening."
Maui County officials reported on Saturday that residents on Puu Way and Waha Place are without water due to a washed-out waterline.
Over the past few days, DOT crews also responded to:
Over 10 reports of landslides and fallen trees, as well as a bridge covered in three feet of water on Hana Highway

A landslide blocking southbound lanes of Kahekili Highway

Power outages at seven traffic signals on Honoapiilani Highway

20 signs that were blown off of their posts, as well as five burned signs and a fire-damaged guardrail on Lahaina Bypass

A traffic signal that crews were able to repair at the intersection of Piilani Highway and Kilohana Drive
This story will be updated.
Copyright 2018 Hawaii News Now. All rights reserved.