Southern end of the state mopping up 'devastation' left by Lane
Published: Aug. 25, 2018 at 7:04 PM HST
|
Updated: Aug. 26, 2018 at 10:51 PM HST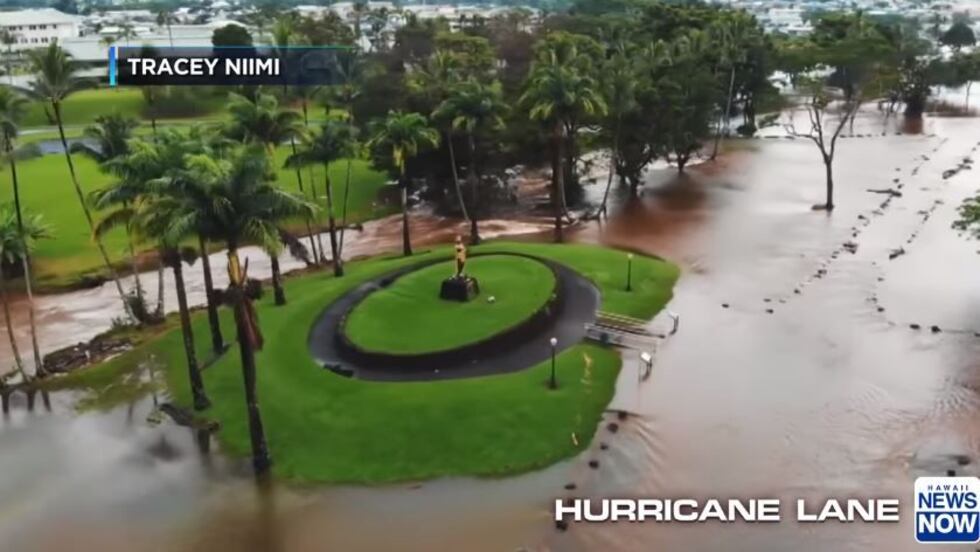 HAWAII (HawaiiNewsNow) - Lane spared much of the state as it continued to move away from the islands on Saturday, but the areas that it did hit suffered serious blows.
In a matter of days, Lane created enough damage to keep city, county and state workers busy for what could be weeks as they repair damaged power lines and roadways and as residents start to assess the damage to their homes.
The Big Island was hit especially hard by the then-hurricane's unrelenting torrential rains, gusty winds and flooding.
Lane dropped more than four feet of rain on the Big Island, triggering widespread flooding in Hilo and Puna. Homes, roads and cars were underwater at some points, and several major landslides were reported.
Rains from Lane essentially covered the Hilo Bayfront in water, and stunning aerial images show cars trapped in water and Hilo's Kamehameha Statue mound as an island of its own.
"Just devastation we had a lot of rain ... the wind wasn't bad, but the rain was bad," said Joe Bandiero, a Big Island resident.
"I don't think this island has seen anything like this in 30 or 40 years," Bandiero said.
Early Friday morning, residents in an Enoka Place rental heard what sounded like crashing trees.
When they came outside, they saw a massive landslide in their yard, where a huge chunk of land more than 60 feet long slid and crumbled a large retaining wall, breaking a culvert in half.
"We walked out here to this and I almost didn't think it was real," said Ben Todd, a resident of Papaikou.
In the Hawaiian Acres subdivision, one family lost several chickens to the rising water. The family said the heavy rains and flooding forced them to scramble to a higher property when water started pouring into their home.
Several major roadways remain closed and with rain still poring on some parts of the island, officials are unsure when everything will return to normal.
State Sen. Kai Kahele also said a handful of classrooms at Waiakea Elementary sustained flood damage. School officials are working to clean up the classes before school resumes Monday.
[To see a list of how operations across the state are returning to normal, click here]
Over on the Valley Isle, one road in Haiku was completely washed out, with some residents reporting hearing a sound similar to a "freight train" as floodwaters moved asphalt and dirt.
"They looked like they were in shell shock," said Richard Pechner, a Maui resident who talked with tenants near the road collapse.
Department of Transportation officials have also responded to over 10 reports of landslides and fallen trees, as well as a bridge covered in 3 feet of water on Hana Highway.
Meanwhile, West Maui residents are still recovering from wind-whipped brush fires that damaged dozens of structure and vehicles.
Some schools on the Valley Isle won't be ready to reopen on monday. Lahainaluna High, Lahaina Intermediate, King Kamehameha III Elementary and Princess Nahienaena Elementary experienced some damage. The DOE hopes to reopen those campuses on Tuesday.
Oahu was largely spared by Lane's heavy rains and wind, operations started to regain a sense of normalcy after days of uncertainty.
Supplies for Hawaii residents are steadily trickling in as critical ports across the islands reopen and shipping companies unload goods.
This story will be updated.  
Copyright 2018 Hawaii News Now. All rights reserved.