Lane's 'catastrophic' flooding leaves behind big mess on Big Island
Published: Aug. 23, 2018 at 12:33 PM HST
|
Updated: Aug. 25, 2018 at 7:06 AM HST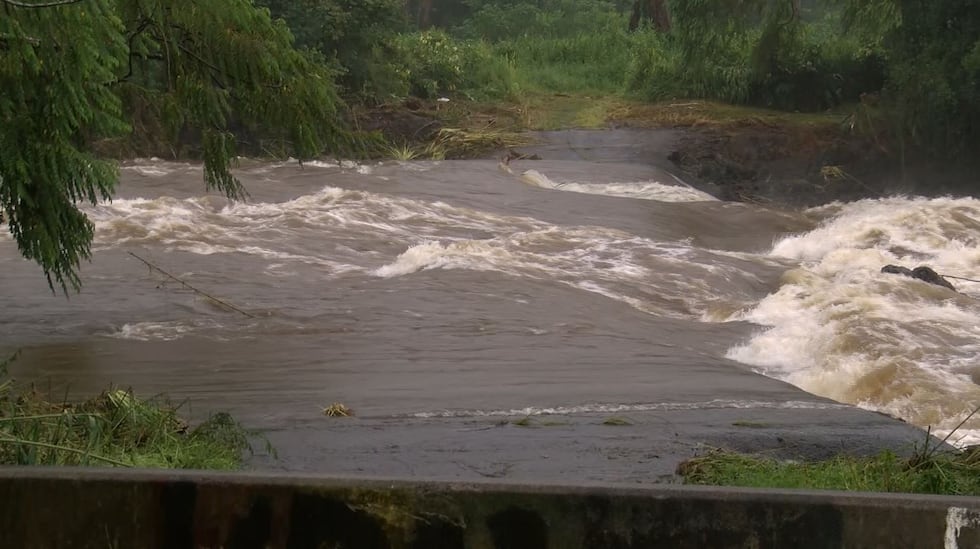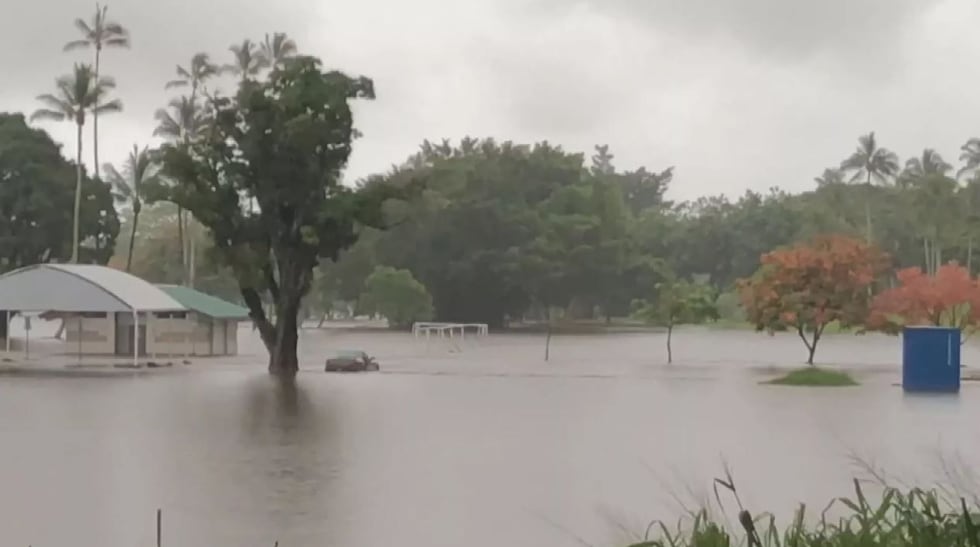 HONOLULU (HawaiiNewsNow) - The Big Island appears to have taken the brunt of Lane, with more than three feet of rain in parts that triggered widespread flooding and closed roads.
Parts of the Big Island continue to see torrential downpours on Saturday — even though the tropical storm warning was dropped for the region.
There were reports of at least one home in Hawaiian Acres being flooded, and motorists abandoning their vehicles in rising floodwaters.
On Thursday, heavy rains forced more than 100 residents to evacuate from their homes in Reeds Island near Hilo. Police and firefighters went door-to-door to urge people to flee.
In Piihonua, Douglas Odell and his family were cleaning up Friday, picking through layers of muck.
He said on Thursday night, the a river of water came crashing into his home.
"I could hear it coming," said Hilari Odell. "When I looked outside the porch, the whole yard was covered with water."
The nearby Wailuku River often rages in heavy rains but even the Odells didn't expect so much water. They say the county has tried preventative measures, but it hasn't worked.
"They dug a trench a few years back but it's not big enough, it's really short," Odell said.
The Odells were able to get some items and their dog out with the help of a neighbor, and they're working to clean the debris the floods left behind.
The National Weather Service called the flooding on the Big Island "catastrophic," and rain gauges measured more than 40 inches of rainfall in several spots over the course of three days, with Waiakea Uka receiving the most at over 45 inches.
According to the Weather Channel, this makes Lane one of the wettest tropical cyclones to impact the U.S. since 1950.
It's now the fourth wettest U.S. tropical cyclone on record, topped by Tropical Storm Amelia — which made landfall in Texas in 1978 with 48 inches of rain — and Hurricane Hiki — which slammed Kauai in 1950 with 52 inches of rain.
No. 1 on the list: Hurricane Harvey, which devastated parts of Texas last year with over 60 inches of rain.
This is also the wettest three-day period ever observed at Hilo — receiving —31.85 inches — with records dating back to 1949. Hilo also measured 15 inches on Friday, making it the fifth wettest calendar day on record.
Here's a look at the highest rainfall totals on the island:
Waiakea Uka: 45.80 inches

Piihonua: 44.68 inches

Saddle Quary: 41.87 inches

Waiakea Experiment Station: 41.15 inches

Mountain View: 38.76 inches

Glenwood: 28.61 inches

Keaumo: 22.94 inches

Pahoa: 22.87 inches

Kawainui Stream: 14.83 inches

Puu Mali: 13..21 inches
The rain on the Big Island started falling late Wednesday and continued into Saturday.
The heavy rains forced major road closures on the island, and residents reported widespread flooding near Hilo Bayfront. The state also closed Akoni Pule Highway north of Hawi after multiple landslides were reported.
Route 130 from Keeau High School to Hawaiian Paradise Park was also closed due to severe weather and flooding on Friday night. Severe flooding also blocked parts of Highways 11 and 19.
Residents are being urged to stay off the roads until the rains stop and the floodwaters recede.
This story will be updated.
Copyright 2018 Hawaii News Now. All rights reserved.