Trump issues presidential disaster declaration as Lane marches toward Hawaii
Published: Aug. 21, 2018 at 7:29 PM HST
|
Updated: Aug. 22, 2018 at 7:05 PM HST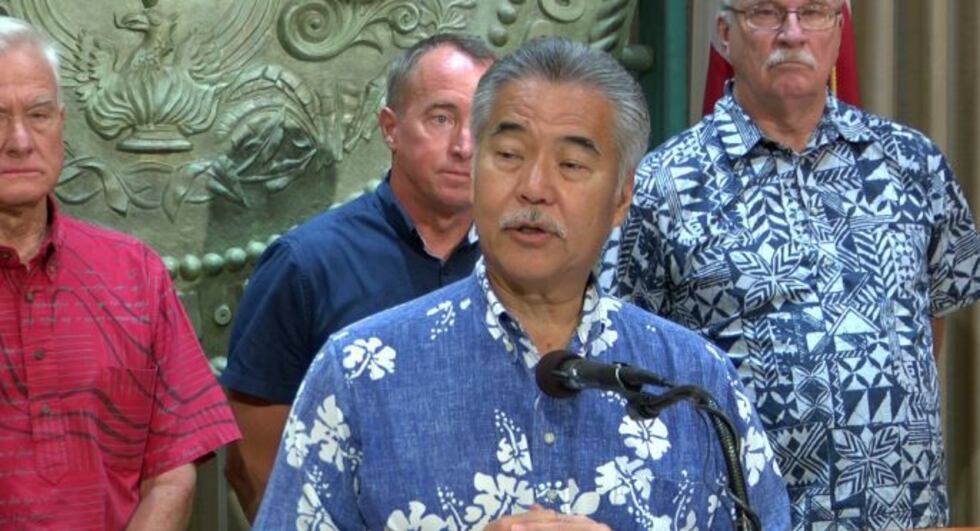 HONOLULU (HawaiiNewsNow) - Hawaii leaders are ramping up preparations for Hurricane Lane as the ferocious Category 4 storm continues to march toward the island chain.
And on Wednesday afternoon, the governor's office announced that the president had approved a disaster declaration for the state, paving the way for FEMA and the U.S. Department of Homeland Security to provide emergency assistance if needed.
At news conferences Wednesday, the governor and county mayors urged residents to tie up any loose ends and prepare to hunker down before the storm arrives. All government offices, public schools and most private schools are set to be closed Thursday and Friday.
"We do not want to see what happened in Puerto Rico, and we do that by making sure we're prepared," Honolulu Mayor Kirk Caldwell said. "We need the full cooperation of all of the public, really showing the aloha that we're all about."
In September, Hurricane Maria slammed into Puerto Rico as a Category 5. The island still hasn't recovered.
Ahead of Hurricane Lane, Hawaii's governor has issued an emergency proclamation and is urging residents to heed warnings from emergency management officials.
"We are expecting large amounts of rain, flooding, and high winds. There will be significant impacts even if the hurricane doesn't hit us directly," Gov. David Ige said.
[LIST: Closures, cancellations due to threat of Hurricane Lane]
[Here are all the active weather alerts associated with Hurricane Lane]
Tom Travis, who heads up the Hawaii Emergency Management Agency, added that Lane is a "very serious storm that has the potential to do damage and cause harm."
He said his biggest concern is flooding.
To address that concern, the city is scrambling to clear streams over the next 24 hours. The Hawaii National Guard is also on high alert, and the American Red Cross is preparing to open shelters if they're needed.
According to the latest forecast track, Lane is slated to remain a dangerous hurricane when its center moves very close or over parts of the state Thursday through Saturday.
All four counties have signed emergency proclamations in advance of the storm.
"We're all working together to make sure we plan for the worst and hope for the best," Caldwell said.
Maui Mayor Alan Arakawa said the threat Hawaii is facing could be once in a generation.
"Because we have't really faced a hurricane of this magnitude, it's going to be a new experience for everybody if it maintains its current strength," he said. "I would be very happy to say well, it was another near miss. But that doesn't seem likely with the trajectory. "
Kauai County is likely to be the last in the island to feel Lane's effects, but county leaders are already preparing, especially in light of April's severe flooding.
"Here on Kauai, we've gone through a devastating time. Fifty-plus inches of rain came our way in April, and more rain coming our way, maybe a major hurricane, I'm not sure, but we've gone through it and we've come out okay," Mayor Bernard Carvalho said.
"I'm just hoping that everybody stays safe, relax, turn on your radio, listen to the media, get the information you need and be assured that we'll be with you every step of the way," he added.
Carvalho is also calling for a voluntary evacuation of North Shore areas still recovering from the flood.
If the storm causes more damage, residents in those hard-hit areas may be on their own for a while. Access into the North Shore will be further limited.
This story will be updated.
Copyright 2018 Hawaii News Now. All rights reserved.