After partnership dissolves, home health services cut for seniors on Lanai
Updated: Aug. 14, 2018 at 8:47 PM HST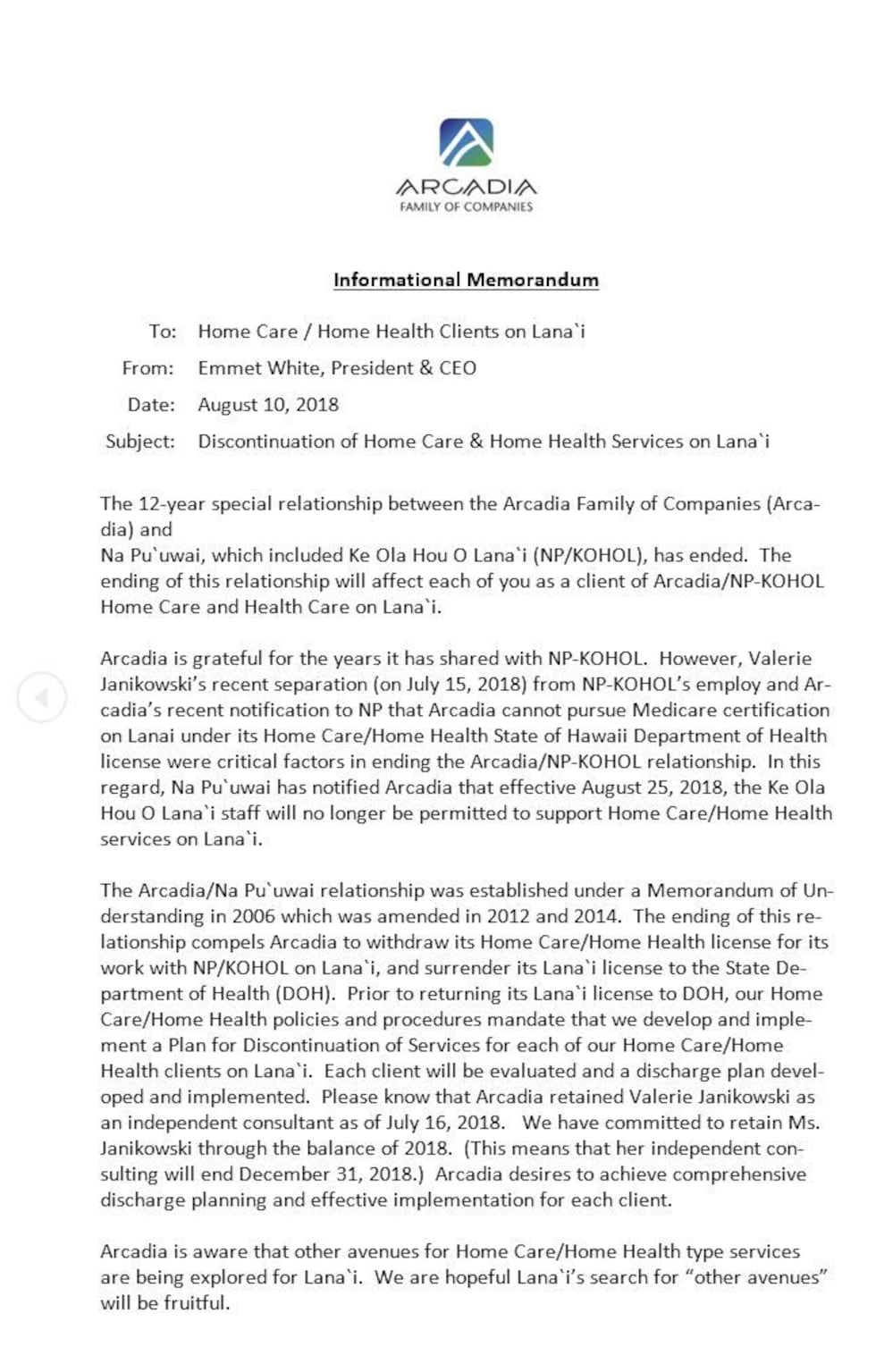 LANAI (HAWAIINEWSNOW) - Patients who receive health services in their own homes on Lanai are worried about the future. Their concern: The partnership that provides at-home assistance to dozens of senior citizens is ending.
Arcadia Family of Companies allowed its home care/home health license from the state to be used by the group Na Puuwai as a service to the community, but plans to end that partnership.
Na Puuwai receives federal funding to provide assistance to about 40 senior citizens who pay what they can afford.
"They're scared and they're concerned because they know there is no other option for them," said Sandi Rabaca, a registered nurse who works for Na Puuwai.
Wally Hanog has diabetic ulcers and relies on home health services.
"They come daily, clean the wound, fix the medicine," said Hanog.
Arcadia said the partnership is ending due to the recent resignation of Na Puuwai's associate director, Valerie Janikowski, and the fact that Arcadia cannot pursue Medicare certification on Lanai.
"I thank Arcadia for being such a team player in this," said Rabaca. "They've done such a wonderful job for even allowing this type of service to take place on Lanai."
Home health services reduce hospital visits and allow seniors to be safe enough to remain independent in their own homes, according to supporters of the program. After Aug. 25, Arcadia will provide one nurse, Janikowski, to handle the patients and their discharge planning through Dec. 31.
"I have no idea what we're going to do. I'm completely up in the air," said Hanog.
Those involved in the program hope that other groups will step in before the services stop at the end of the year.
"It hits home very, very hard. I can see how important it is and how it has helped them live a better life here on Lanai," said Rabaca.
Copyright 2018 Hawaii News Now. All rights reserved.