DOH fines project developer $28K for environmental infractions
Updated: May. 30, 2018 at 11:01 AM HST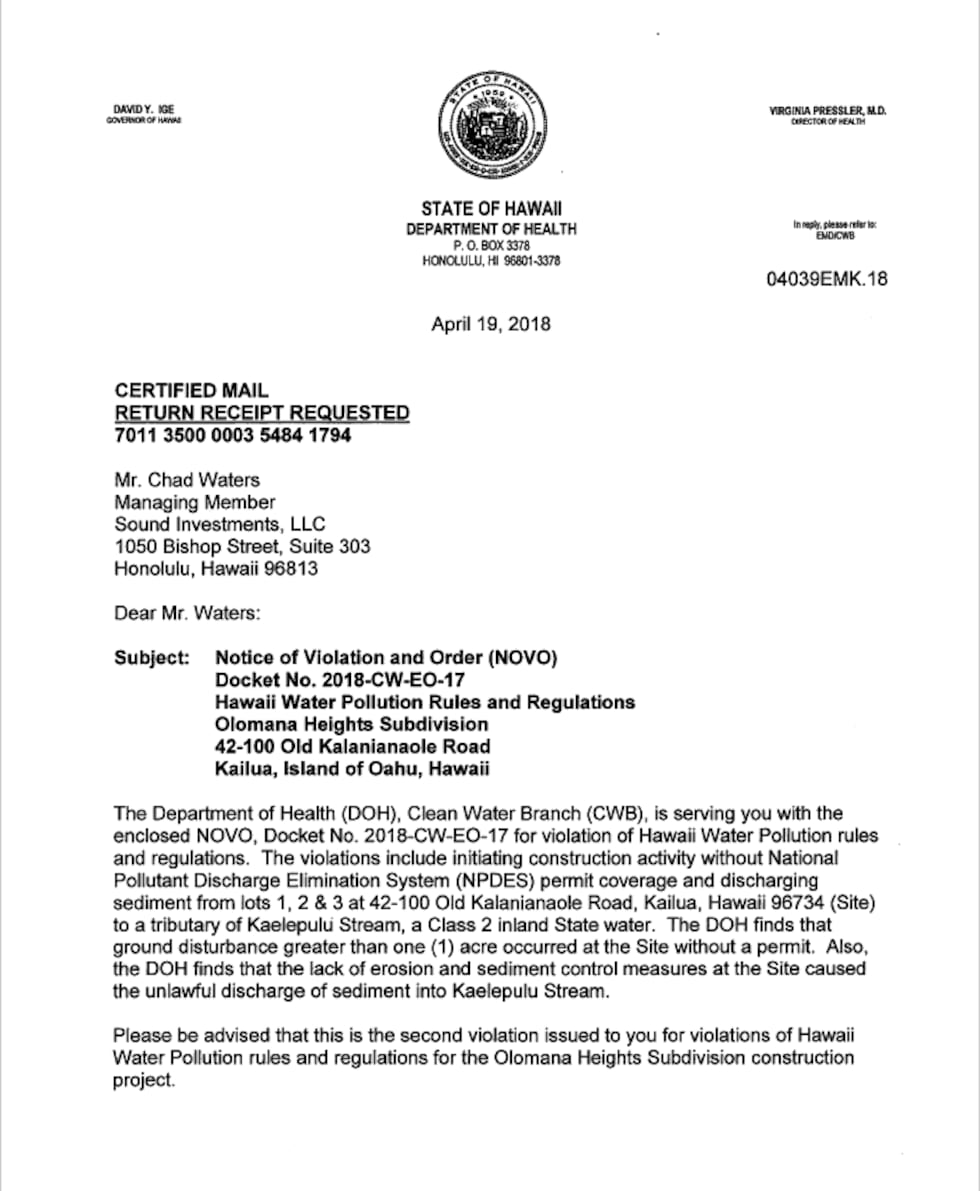 KAILUA, OAHU (HawaiiNewsNow) - The State Department of Health is fining the developer of the exclusive Olomana Heights project in Kailua $28,000 over allegations of illegal storm water discharges.
It's the second time this year that the DOH has fined developer Chad Waters.
In March, the department fined Waters' Waikalua Development arm $2,000 for not having adequate storm water pollution controls for its Kaneohe Bay housing project.
"The DOH finds that the lack of erosion and sediment control measures … caused the unlawful discharge of sediment into the Kaelepulu Stream," said Alec Wong, acting chief of the department's Environment Management Division, in an April 19 violation notice for the Olomana Heights project.
Waters could not be reached for immediate comment.
Video taken during heavy rains in February shows how brown water from the project emptied into a storm drain, then into a ditch, before making its way into the Kaelepulu Stream and the Kaelepulu Wetlands.
Area residents said the runoff is hurting Kailua's ecosystem.
"You end up with die offs of fish, you end up with water that stinks really bad," said Bob Bourke, scientific adviser for the Enchanted Lakes Residents Association.
"It can adversely impact the wetland birds and nobody wants that stuff running out to Kailua Beach," Bourke said.
Environmental activist Carroll Cox said that, with a starting price of $1.1 million for the Olomana homes, the developer can afford to pay the fine while avoiding more expensive fixes to stop future storm water runoff problems.
"I think the fine should also be a little steeper because we need a deterrent rather than (the developer) getting caught and getting slapped on the wrist," Cox said.
Copyright 2018 Hawaii News Now. All rights reserved.