FBI offers $20K reward for information on man's 2016 disappearance
Updated: May. 29, 2018 at 6:51 PM HST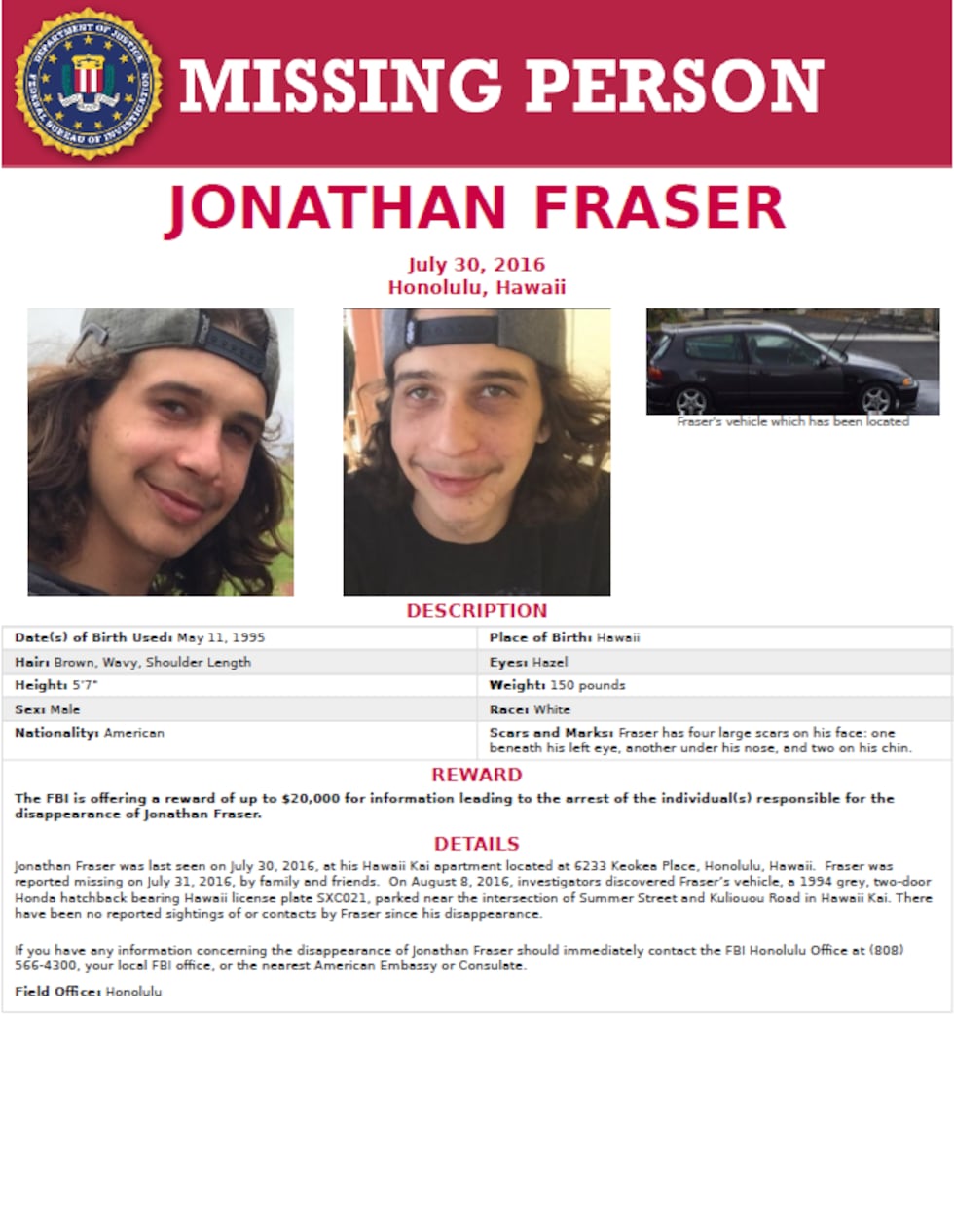 HAWAII KAI, OAHU (HawaiiNewsNow) - The FBI is offering a reward of up to $20,000 for information leading to the arrest of those responsible for the disappearance of a young Honolulu man.
Jonathan Fraser, who went missing in 2016, would have celebrated his 23rd birthday this month.
Fraser was last seen in his Hawaii Kai apartment on Keokea Place on July 30, 2016. He was reported missing by family and friends the following day and his mother suspected foul play from the beginning.
"My son didn't just disappear, he would never. Please be strong enough to come forward to speak to FBI directly," said Shelly Miguel. "I just want my son. I just want my son. Please."
The FBI says Fraser's vehicle, a 1994 gray, two-door Honda hatchback bearing Hawaii license plate SXC021, was discovered a week after he vanished. It was parked near the intersection of Summer Street and Kuliouou Road in Hawaii Kai.
"We're going to be pursuing all logical leads, to include individuals who are associated with his apartment, individuals associated with his vehicle," said Arnold Laanui, FBI special agent.
The HPD launched the investigation into Fraser's disappearance. But Laanui said the FBI got involved about a year ago.
"We are looking at other persons of interest that might be involved in the case ... that would fall under FBI federal jurisdiction," Laanui said.
Fraser got into a deadly car accident in November 2015 in Kaneohe. He survived, but the other person in the car did not. Because of the car accident, Fraser has four large scars on his face. One beneath his left eye, another under his nose, and two on his chin.
If you have any information concerning Fraser's disappearance, call the FBI Honolulu Office at 566-4300, your local FBI office, or the nearest American Embassy or Consulate.
Copyright 2018 Hawaii News Now. All rights reserved.