Officials continue storm damage assessment on flood-ravaged Kauai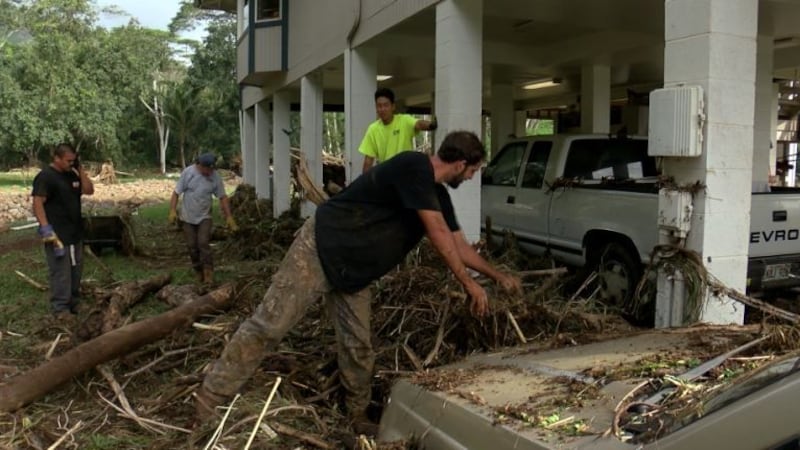 Published: Apr. 21, 2018 at 2:23 PM HST
|
Updated: Apr. 23, 2018 at 8:21 PM HST
KAUAI (HawaiiNewsNow) - A week after torrential rain and historic flooding devastated Kauai communities, authorities say they're still tallying up the total for the damage assessment – an important step in acquiring federal funds.
Authorities on Sunday surveyed neighborhoods in Hanalei, Wainiha and Haena – and they'll continue their efforts on Monday.
Homeowners and renters who were affected by the floods are asked to report it online.
Meanwhile, Kauai Mayor Bernard Carvalho on Sunday held a community meeting for isolated residents of Wainiha and Haena.
At the meeting, which had than 400 attendees, Carvalho announced that the county will be collecting household trash starting Monday morning.
Residents in the areas between Wainiha and Haena are being asked to put their household garbage outside along Kuhio Highway, where they will be picked up by Public Works employees, and flown out.
Bulky items will not be collected in these trash pickups.
The county will also begin rationing out fuel to residents in isolated areas by providing each household with five gallons of gasoline per week starting Monday.
Residents in those areas can either bring a five-gallon container or vehicle to the fuel site at Camp Naue from 8 a.m. to 12 p.m. or the Hanalei Colony Resort from 1 p.m. to 5 p.m.
He also announced that temporary classrooms -- serving a mixture of elementary, middle and high school students -- will be opened using rooms in the Hanalei Colony Resort. About 36 students and three teachers in the area will utilize the temporary classrooms beginning on Thursday.
The county planning director will be available at the Hanalei Colony Resort as a direct connection between the mayor's office and the community.
A medical clinic, also set up at the Colony Resort, will remain open from 8 a.m. to 8 p.m. So far, they've seen more than 100 people, mostly for cuts and scratches that have been infected by being in the water.
Carvalho also announced that water pumps were flown in from the Kauai Fire department to isolated areas to help decrease ponding on private properties, where garbage has begun piling up.
"We're trying to be effective and respond as quickly as we can," Carvalho said. "Other areas of sanitation are still being worked on."
In Hanalei, some residents living along Weke Road near Black Pot Beach were still without water, but a temporary water tank was set up. Princeville Utilities is asking its customers to conserve water until further notice.
All postal mail will be held at the Kilauea post office indefinitely, or at least until the resident is able to pick up their items.
"I can say without a shadow of a doubt that we have the hardest working people responding to this disaster recovery," Carvalho said. "Our Emergency Operations Center (EOC) remains activated 24/7, as it has for the past eight days, with a constant flow of new solutions and new problems coming through daily."
Community meetings in other parts of the Garden Isle are still being planned.
Copyright 2018. Hawaii News Now. All Rights Reserved.