Legendary surfer Laird Hamilton among those who came to rescue on Kauai
Updated: Apr. 18, 2018 at 5:46 PM HST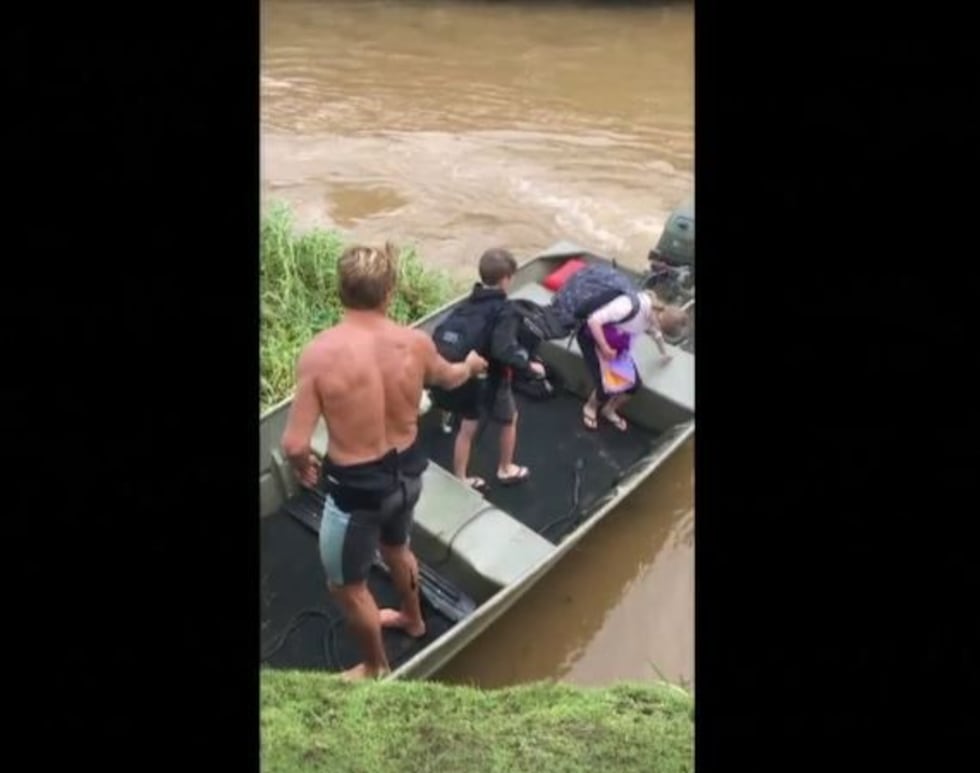 HANALEI, KAUAI (HawaiiNewsNow) - A San Diego family caught in the deluge of historic Kauai flooding this weekend was able to make their way to safety with the help of a legendary waterman who knows his way around Garden Isle waters.
The record 27 inches of rain that fell on Kauai in just 24 hours stranded the Gwilliam family on their last day of their vacation.
"We tried not to let the kids see, but I was terrified," Erin Gwilliam said.
"It was kind of like scary, and I just wanted to go home," added her daughter, Elin.
In the middle of the flooding and mudslides came help from an unexpected nearby resident: famed big wave surfer Laird Hamilton, who swooped in to save the stranded vacationers that were staying just across the river from his home.
The Gwilliams had rented a house along the river, but when the rain flooded the river past its banks and washed out a nearby bridge and surrounding roads, the Gwilliams with only one way out of the North Shore.
Hamilton, the pioneering leader of big wave tow-in surfing – where a person uses a personal watercraft to catch giant waves – came to the rescue.
"He just kind of boated right up and was like, 'OK, come through the mud and the slime and come throw your bags in and let's go,'" Erin said.
Hamilton's big wave reputation is well documented, but the Gwilliams got to know his good nature first hand. The family says Hamilton comforted the Gwilliam kids during the ferry ride, and they took many pictures and videos along the way.
"Now it just confirms him as being a total legend in my book," Jamas said.
Turns out, it wasn't just the Gwilliams that Hamilton managed to ferry off the North Shore. He spent the entire day Saturday helping stranded visitors.
Copyright 2018 Hawaii News Now, NBCUniversal Media, All rights reserved.