Kauai evacuations continue amid disaster assessment efforts
Published: Apr. 18, 2018 at 12:53 AM HST
|
Updated: Apr. 19, 2018 at 10:04 PM HST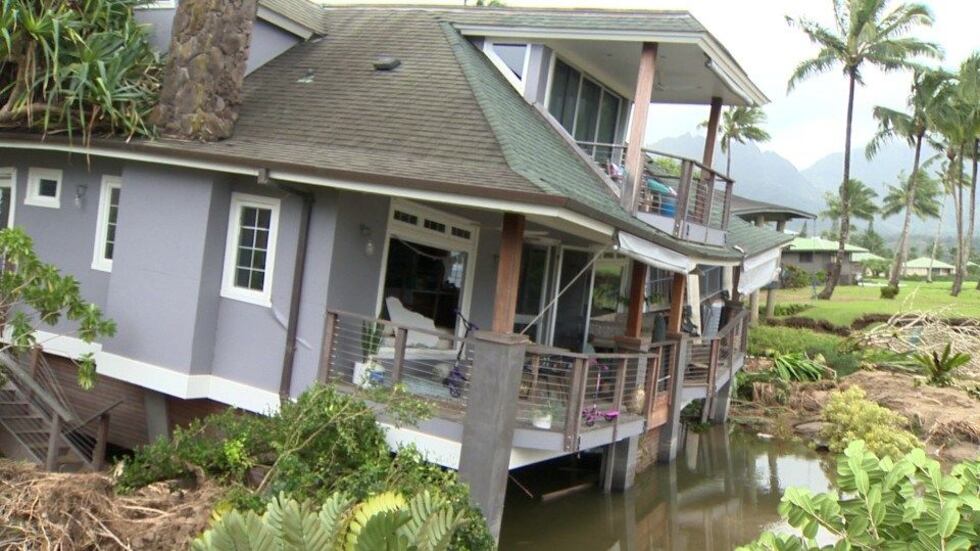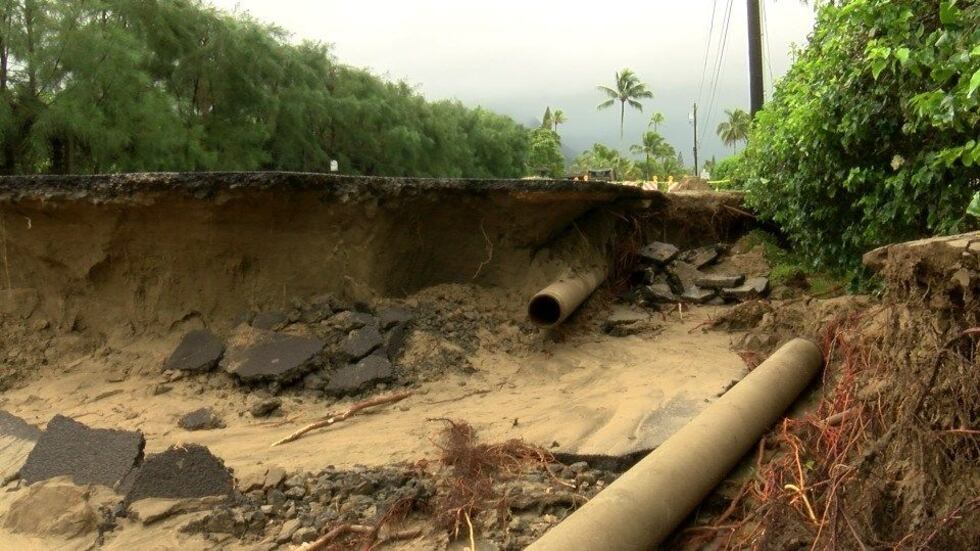 WAINIHA, KAUAI (HawaiiNewsNow) - Four days after historic flooding on Kauai, Red Cross and county assessment teams are still trying to get a scope of the disaster, traversing into communities cut off by mudslides and devastated by floodwaters that ripped homes from foundations and washed away roads.
An aerial survey conducted Wednesday of state-owned lands showed that the damage in some areas was much worse than previously thought.
Meanwhile, clean-up and recovery efforts continue alongside a push to ensure that flood victims in the hardest hit areas have access to the basics — bottled water, food, and a ride out on a helicopter if they want it.
On Thursday, power was cut to all of Kauai for several hours as crews made repairs to a transmission repair. Power was restored by 10 a.m., and crews were also able to replace two or three downed poles Wednesday near the Waikoko landslides, restoring power to hard-hit areas in Wainiha and Haena.
County officials were also able to lift a "do not drink" advisory for some areas of Kauai, but residents along a portion of Kuhio Highway in Haena are still being told they shouldn't drink or cook with tap water.
And Education Department officials are hopeful they'll be able to reopen Hanalei Elementary by Monday. The school has been closed for repairs.
Though life is slowly returning to normal in some spots, Kauai leaders continue to stress that the road to recovery will be a long one — and that simply reopening Kuhio Highway could take weeks.
Meanwhile, forecasters say another round of wet weather is set to move in starting Thursday. And while Kauai isn't expected to get the brunt of the heavy rains, they say that even moderate showers in flood-ravaged areas could trigger big problems.
"While this system isn't expected to be as severe as the last one, we will be keeping a close eye on the weather and make the necessary adjustments to keep all our people and visitors safe," Mayor Bernard Carvalho said, in a news release.
Since Monday, upwards of 500 people have been rescued from devastated communities on Kauai's north shore, some of whom escaped rising floodwaters by climbing to their rooftops. Over 446 people were airlifted to safety, and crews plan to resume rescue efforts on Thursday.
The push to get supplies to those who need it is also ongoing.
Government agencies and volunteers have come out in force to deliver pallets of water, canned goods, toilet paper, even blankets and clothes to those in communities cut off by severe damage to major roadways.
State and county officials say landslides that continue to block Kuhio Highway make it impossible to predict when evacuees might be able to return home.
The state Transportation Department said there's no timeline for repairs to the highway, and some think it could take months. Two areas of the road are severely damaged in Waikoko and Wainiha. The state confirms six minor and six large landslides.
"We're going to have people stranded across the river in Wainiha probably closer to a month — so this is not going to end," said Kauai Councilman Mel Rapozo. "They're going to need food and water and supplies."
The torrential rains that hit Kauai over the weekend and into Monday have been called unprecedented, and many were unprepared for the flooding that followed.
"People were stuck and the door, you couldn't push open because the water was right there," said Ehukai Gois-Mederios, describing the flooding in Koloa. "And water was already in their house. So we had to open screens, we had to open back doors, we had to do whatever we could to get them out."
Now, as the floodwaters recede, residents are coming to terms with the damage. Some have lost everything.
"There's a lot of stuff that we didn't pay off yet and everything's totaled," Koloa resident Qiana Quinn said, through tears.
MORE COVERAGE:
► Police investigate claims 'rescuers' demanded money from Kauai flood victims
► Legendary surfer Laird Hamilton among those who came to rescue on Kauai
► Take a look at the landslides blocking north shore families on Kauai
► What you can do: How to help Kauai flood victims
► PHOTOS: Widespread flooding destroys homes, closes roads on Kauai
But flood victims are being buoyed by the help of friends, community members — and complete strangers.
Ekolu Chong doesn't know anyone in Koloa, but wanted to drop off dumpster bins to help. "Why not? I mean look at these guys," he said. "They no more one house right now. They cannot sleep in their house. So speed up the process to get damaged goods out to get new stuff in."
In Kalaheo, kumu Hula Leina'ala Pavao-Jardin organized a community donation drive two nights in a row. She said it's a perfect example of the Kauai spirit coming through.
"Kauai is full of aloha," Pavao-Jardin said. "Last night, the donations that came in were beyond anything we ever expected, and then again today. Just spectacular our people."
And thousands of people have donated money to a number of funds aimed at getting help to those who need it. Among them: Facebook founder (and part-time Kauai resident) Mark Zuckerberg, who pledged $1 million for storm recovery.
For a full list of ways to donate and get involved, click here.
This story will be updated.
Copyright 2018 Hawaii News Now. All rights reserved.