Drenching rains, winds topping 60 mph batter Big Island
Published: Mar. 22, 2018 at 7:50 PM HST
|
Updated: Mar. 27, 2018 at 6:13 AM HST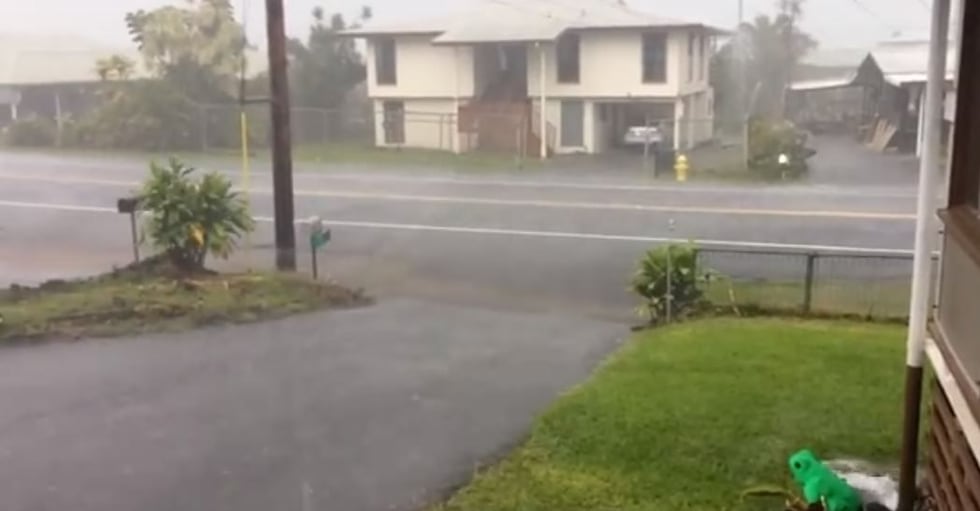 HONOLULU (HawaiiNewsNow) - Severe thunderstorms battered parts of the Big Island on Monday, bringing drenching rains and wind gusts topping 60 mph.
Although the worst of the storm has subsided, police urge drivers to be cautious of flooding and ponding, especially on Highway 11 near mile markers 58 and 59.
There were also several reports of fallen trees, wind damage to roofs and lightning strikes.
On Monday afternoon, high winds ripped off portions of rooftops on Pohai Street in Hilo and tossed backyard furniture into neighbors' yards.
"For a minute or so, it was just strong gusts," said resident Dennis Kauka, who estimated winds easily topped 60 mph in the area. "Lots of roofs came off and went into neighbors' yards."
Norma Richardson said several of her neighbors lost their roofs.
"It started raining really bad, thunder and lightning was really bad and the wind just picked up," she said. "It's sad to see them go through that."
Mona Brown said the wind ripped off her garage and part of her house.
"My grandson started crying, I picked him up and ran down the hallway and all I felt was the house just lifted up...it was like a tornado," said Brown.
According to the National Weather Service, it might have been a tornado or a microburst.
"A microburst is a small scale area of strong winds that emanates from the thunderstorm. It's a straight line wind damage," said Robert Ballard, National Weather Service Honolulu Science & Operations Officer. "A couple days ago, we were talking about the chance of damaging winds, even a possible tornado waterspout," Ballard said.
The American Red Cross of Hawaii has been deployed to assist families.
At one point, the severe weather knocked out power to 13,000 customers, though electricity has been restored in some areas.
National Weather Service forecasters said the storms primarily affected Hilo and Puna.
Elsewhere in the state, drier conditions are moving in after a wet weekend brought drenching rains to much of the state.
Kauai and Oahu had the heaviest rain overnight Friday, with Windward Oahu under a flash flood warning for most of the overnight hours.
On Oahu, the Poamoho rain gauge recorded 9.25 inches of rain in the 24-hour period that ended at 8 a.m. Saturday.
Several Oahu locations got around five inches of rainfall. The Moanalua gauge picked up 5.29 inches, while the Tunnel gauge recorded 5.01 inches.
In Windward Oahu, 5.15 inches fell at Punaluu Stream, 4.90 inches fell in Maunawili, and Ahuimanu Loop picked up 4.78 inches of rain.
This story will be updated.
Copyright 2018 Hawaii News Now. All rights reserved.