DNA test, luck reunite Hawaii man with the biological parents he never knew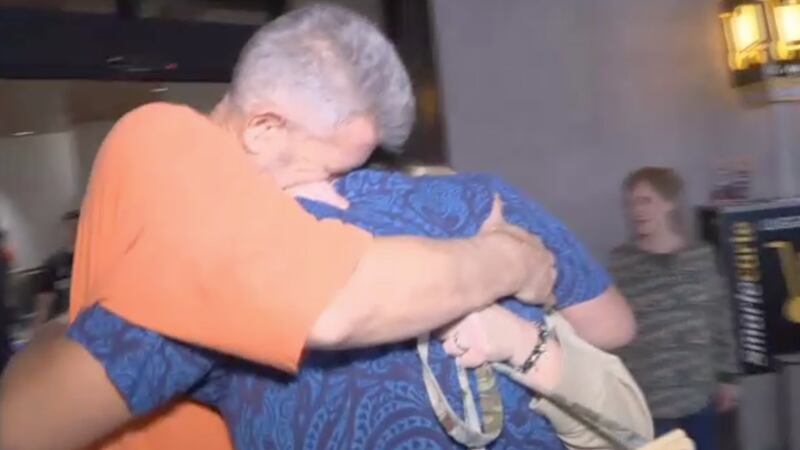 Updated: Feb. 7, 2018 at 11:39 PM HST
HONOLULU (HawaiiNewsNow) - Scott Sundby waited more than a half-hour at Daniel K. Inouye International Airport for a flight to arrive from Los Angeles.
He had actually waited nearly a half century for two certain passengers on that flight. Those two were his biological mother and father.
"Forty-nine years! It was worth the wait," said the North Shore resident, his arms around his parents for the first time after an emotional reunion. "I finally have my parents with me. It's amazing. Absolutely amazing."
It was just last November that Sundby took at DNA test on Ancestry.com. The test connected him with his biological mother, Wendy Lloyd of Arizona, who had posted her DNA results seven years earlier in a search for her son. And then it led to his biological father, Chris Carnes of California.
"I haven't got to touch him," said Carnes. "I waited 49 years and 49 days to touch him. I never got the chance."
"I got to hold him one time," said Lloyd. "Just one time and that was it."
Lloyd was just 16 when she was forced to give up her baby for adoption. Wednesday was the first time she'd seen Scott since that day.
"Oh, it's fabulous," she said. "I'm so excited. I haven't slept in days, I'm just so thrilled."
Carnes didn't have any say in the adoption, but remembered the son he never met every year.
"I celebrated his birthday for about eight years. And then I quietly celebrated myself after that," he said.
Carnes and Lloyd also got to meet their two granddaughters for the first time. He showed the two girls their names, which he had just tattooed to his right bicep, just beneath the names of his other grandchildren.
"His (Scott's) brother's children, and then I added the girls here," showing the names with the background of a hibiscus, Hawaii's state flower.
Sundby, Lloyd and Carnes spent most of their first moments together their arms around each other.
Carnes' wife, who's Sundby's stepmother, also made the trip. The three are staying a week with Sundby, his wife and two children at their North Shore home.
Sundby will meet the rest of his new family in May, when he will travel to California to meet his biological brother and grandmother.
So what's ahead for Scott and his mom and dad?
"Mostly we're going to go over pictures, family pictures an videos that I've shot," said Sundby.
"And stare at each other a lot," said Carnes.
"And a lot of hugging," added Sundby.
Copyright 2018 Hawaii News Now. All rights reserved.