In rebuttal to critics, Ige uses State of the State to highlight his wins
Published: Jan. 21, 2018 at 8:19 PM HST
|
Updated: Jan. 22, 2018 at 5:34 PM HST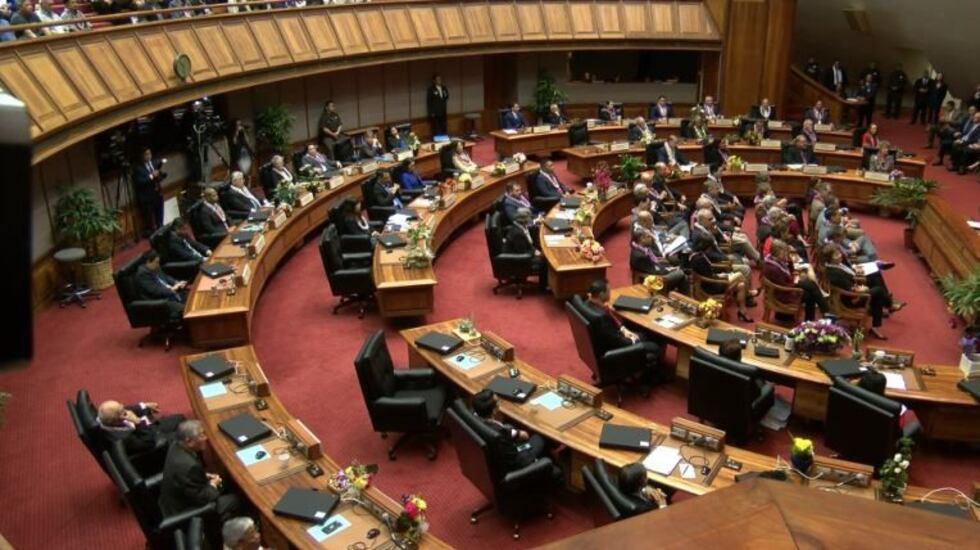 HONOLULU (HawaiiNewsNow) - Amid mounting questions over his leadership, Gov. David Ige struck an optimistic tone in his fourth State of the State address Monday, pointing to his accomplishments as Hawaii's chief executive but failing to offer many specifics about what he'll accomplish in the last year of his first term.
And in a strange omission, Ige didn't address the false missile alert that spurred 38 minutes of panic in Hawaii last Saturday.
Ige has faced big questions over his handling of the false alarm — and the length of time it took to put out a correction. On Friday, state officials said the governor knew within two minutes of the alert going out to all cellphones in Hawaii that it was a mistake.
Political analyst Colin Moore called the governor's apparent attempt to gloss over the issue, which has prompted state and national investigations and calls for resignations at the Hawaii Emergency Management Agency, "a critical error."
"He's taken this monumental error and then magnified it by not addressing it directly. This was his chance to explain how he's going to correct these problems going forward," Moore said, adding that Ige needed to "hit it out of the park" in his final State of the State.
The governor, Moore contends, fell short.
"If you can describe this speech, it's David Ige's greatest hits. What it really lacks is a focus on specifics," Moore said.
In his address, Ige said he is requesting $100 million to help produce more affordable homes statewide, as well as $15million in additional funding to get more homeless off the streets.
He also did point to several of his administration's wins, while acknowledging there was still much work to be done.
"The state of our state is strong. We are a resilient people and the future is bright," he said.
After highlighting several big goals for the islands, from increasing renewable energy sources to creating a more diversified economy, Ige said: "This future Hawaii isn't as far off as it seems. We've already set things in motion. We've put stakes in the ground and we're making progress."
In his speech, Ige also touched on a number of other key priority areas, including homelessness and the high cost of living in the islands.
"So many of us are living paycheck to paycheck, relying heavily on our extended family to make ends meet," he said. "Owning a home, is out of reach for many families, with housing costs rising faster than wages."
And he highlighted his administration's efforts to fight back against policies coming out of the White House. The state has repeatedly gone to the courts over Trump's travel bans, and also adopted key pledges of the Paris Climate Accord (a deal the U.S. opted to abandon).
Seeking to push back against critiques of his leadership, Ige pointed to a number of his administration's key accomplishments in his address:
More than 1,200 classrooms are cooler — equipped with ACs, fans or other upgrades — thanks to a statewide effort;

The state is on track to meet its goal of adding 10,000 new housing units by 2020, at least 40 percent of which are affordable;

Homelessness is down slightly statewide, and the state has expanded efforts to house those on the streets.
But some lawmakers say they felt his speech lacked details and direction.
" I think I would have liked to see a little bit more meat in it as to how we were going to work with our new superintendent and look at some of the issues such as teacher recruiting and retention," said Sen. Michelle Kidani, chair of the Senate Committee on Education.
House Speaker Rep. Scott Saiki says the governor sent his package of bills to lawmakers this morning.
"Although the governor's address did lack some details and initiatives, we're assuming his package will flesh out his program for this year," Saiki said.
Later, in a press conference, Ige said the specifics for his vision are laid out in his budget requests, and with Monday's address, he says he simply did not want to take up too much time.
"I guess it's a balance in the speech whether I want to talk for 2 hours or 15 minutes, and it really is about what we include and what we don't have time for," Ige said.
Whether he's lived up to his bigger pledges — and left people feeling they're better off — will be a key question before voters this year.
In this year's governor's race, Ige is facing a Democrat challenger in U.S. Rep. Colleen Hanabusa. Meanwhile, Tupola officially announced a gubernatorial run this weekend on the Republican ticket.
Both Hanabusa and Tupola have made criticism of Ige's leadership central to their campaign messaging.
Earlier this month, in a news conference to officially announce her campaign for governor, Hanabusa called the state "rudderless" and "adrift."
Ige, meanwhile, has said he welcomes the chance to defend his record.
"It is one thing to criticize, and it is another to get the people's business done," Ige said. "I am proud of our record during the last three years. We have made hard decisions, sometimes unpopular decisions, because it was the right thing to do and in the best interests of the people of this state."
This story will be updated. 
Copyright 2018 Hawaii News Now. All rights reserved.