Former detective, facing TRO, fights off charges he's neighbor from hell
Published: Nov. 21, 2017 at 3:44 AM HST
|
Updated: Nov. 21, 2017 at 9:49 AM HST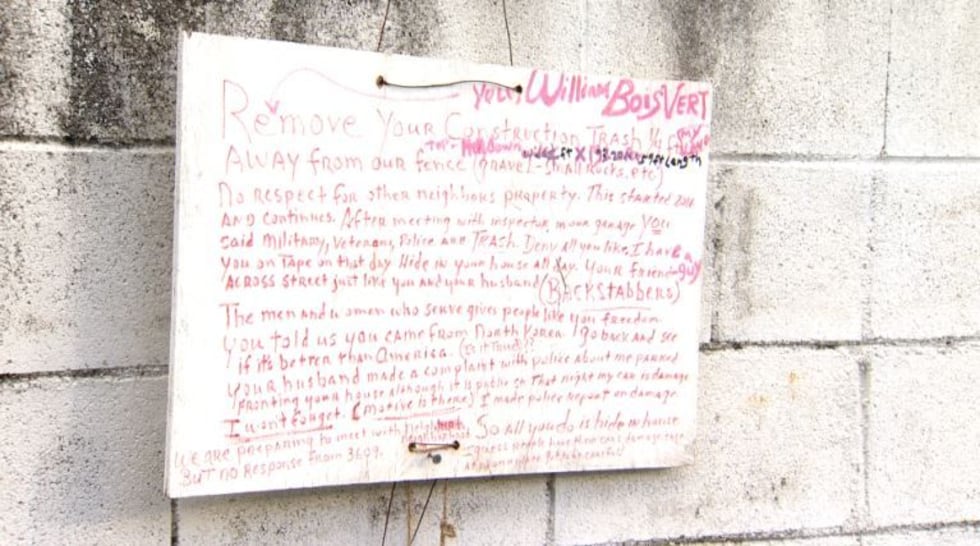 MANOA, OAHU (HawaiiNewsNow) - A temporary restraining order has been filed against a former Kauai police detective amid an escalating dispute among neighbors in Manoa.
The detective has also had to hand his rifle over to authorities.
Robert Castro spent 27 years with the Kauai Police Department and served in the Air Force for 20 years. Now, he's under court order to stay away from his neighbors after they claim Castro and his wife have been terrorizing them since moving to Manoa three years ago.
"They would come home and toot the horn loudly, play the radio really loud in the morning at like six and pound the wall," said neighbor Paul Tamashiro. "The wife would yell at us and call me names like 'backstabber.' She called my neighbor a North Korean communist and loud speaker, just derogatory things."
Castro said the disputes started when he built up a brick wall surrounding his yard about two years ago. He said he did it for added privacy.
"Our master bedroom is right there," said Castro. "We never had all of these trees and you could see right in if the light was on."
Tamashiro said when he inquired with the city about the wall, that triggered the alleged verbal abuse and obnoxious behavior from Castro and his wife.
"I thought it was illegal so I just wanted to make sure it was legal," said Tamashiro.
Castro said he obtained the proper permits to build the wall and denied the accusations made against him and his wife.
"He says people walk by the house and we swear and yell at them. We don't do those things," said Castro.
Castro will have his day in court next Tuesday. Tamashiro, who's also the designated block captain of the neighborhood watch security, filed a TRO against Castro and his wife last week.
When police served the TRO on Friday, they also seized Castro's firearm.
"I guess it's law," said Castro. "They (the neighbors) said they felt harm to themselves or whatever so they took my rifle and I said fine."
The words "Keep Out" and "Do Not Damage Wall" are plastered all over Castro's wall surrounding his home at the corner of Luolu and Kumuone streets.
Some of the dispute is evident on a wooden placard he hangs from his wall that refers to trash placement and parking.
Castro intends to fight the TRO and prove that it is frivolous.
He also plans to get his gun back — and he's eyeing Tamashiro's position as neighborhood security captain.
"I'm better qualified than him and I'm going to take that title," said Castro. "I want it after all of this is over."
Copyright 2017 Hawaii News Now. All rights reserved.