Mapunapuna blaze knocks out phone, cable service to thousands
Published: Nov. 16, 2017 at 10:56 AM HST
|
Updated: Nov. 16, 2017 at 10:48 PM HST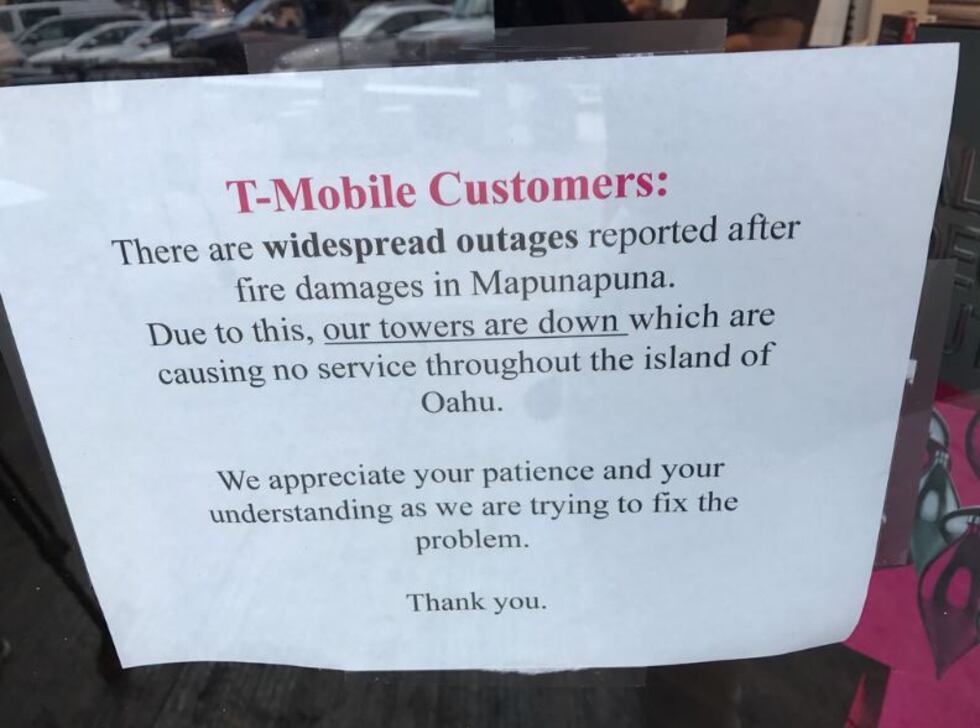 MAPUNAPUNA (HawaiiNewsNow) - A blaze in Mapunapuna knocked out internet, television and cell phone service to thousands of Hawaii customers through much of the day.
Spectrum reported that its cable TV service had been restored on Oahu by 4:30 p.m.
Hawaiian Telcom was also making repairs, and T-Mobile said its service was also down through much of the day.
Officials said a fire under the H-1 Airport Viaduct is to blame for the outages, after it damaged fiber-optic cables.
The blaze happened about 10:30 p.m. Wednesday, and took about a half an hour to extinguish.
"We heard a lot of sirens. They blocked Nimitz, so we had to come home on Dillingham," said Kalihi resident Lana Idao. "Next thing I know, everything's out." Meanwhile, T-Mobile said the issue is disrupting service islandwide.
At the T-Mobile store at Ala Moana Center on Thursday morning, a number of customers were gathered in hopes of getting updates.  A sign posted at the store said that there are "widespread outages" and that "due to this, our towers are down, which are causing no service throughout the island of Oahu."
The cause of the fire is unknown, but it appears to be in an area where homeless squatters have frequented.
The state has grappled for years with people camping under or near the H-1 Airport Viaduct, and officials acknowledged after a recent sweep that many homeless in the area had simply moved to parcels nearby.
Councilman Joey Manahan, who represents the area, said the first step to preventing more trouble is completing a more thorough homeless sweep.
"When they swept under the viaduct…they moved from underneath the viaduct to the bike path which is right beside. It's literally from one side of the fence to the other," Councilman Manahan said. "Apart from it being obstructed and impassable, I expressed concerns about...that feeling you get there's illegal activity going on in the area and something isn't right," he said.
Manahan said he reached out to the state to hopefully work something out.
"Either get them to continue clearing that area because it falls under their jurisdiction or if we could work something out where the city could partner up with them," said the councilman.
Crews say a cinderblock wall was broken down to access the area where the lines were, and they saw a message in graffiti nearby suggesting the fire was intentional.
Hawaiian Telcom said the fire caused phone and Internet outages for roughly 30 business and government customers.
It's not known how many Spectrum customers on Oahu were affected. Customers on Maui also reported outages.
Although T-Mobile said its service has been restored, companies that rely on the company, like BikeShare Hawaii, are still reporting issues.
"The good news is that you can still use Biki. About half of our stations are up. And the best thing for people to do is to call our customer service center and then they'll give them advice specifically," BikeShare Hawaii Executive Director Lori McCarney said.
The number for BikeShare Hawaii's customer service is (888) 340-2454.
Among those impacted: The Hawaii Medical Service Association, which its network is down through much of the day.
This story will be updated.
Copyright 2017 Hawaii News Now. All rights reserved.