Years in the making: How prosecutors built their case against the Kealohas
Published: Oct. 26, 2017 at 10:07 PM HST
|
Updated: Oct. 27, 2017 at 10:48 AM HST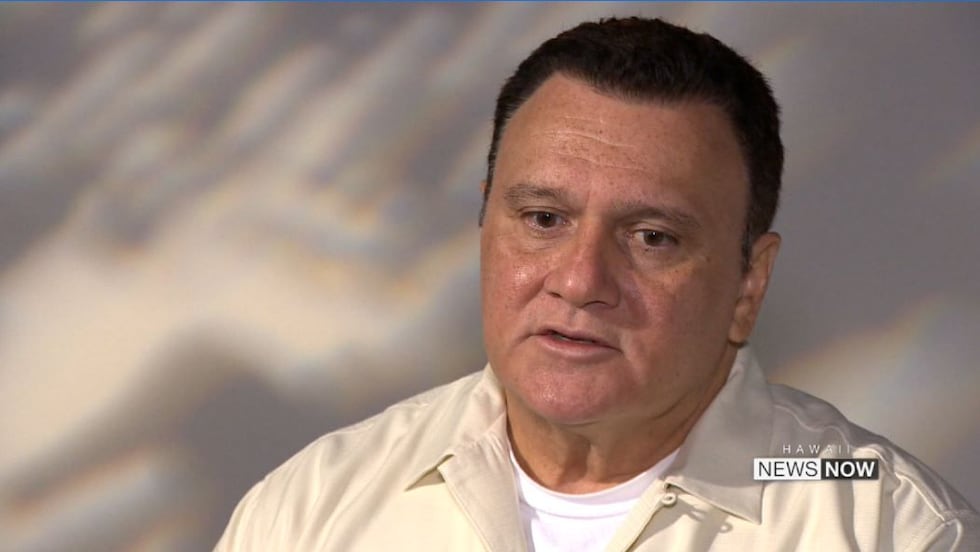 IT'S THE BIGGEST abuse of power case in modern Hawaii history.
The seven defendants – former Police Chief Louis Kealoha, his deputy prosecutor wife, Katherine, and five former or current police officers – were all entrusted with powers to protect the public.
But a 42-page, 20-count indictment, the result of three years of investigations, alleges they betrayed that trust. They're facing a laundry list of corruption charges, which they've pleaded not guilty to: Conspiracy, fraud, obstruction of justice, identity theft, lying to federal agents.
It's a case on an unprecedented scale that's rocked Honolulu's law enforcement community.
And to understand how it all started, you have to go back about a decade – to when the Kealohas first squared off with relatives over money.
Gerard Puana says his niece, Katherine Kealoha, was revered in the family.
"We all looked up to her. She's a very intelligent woman and very strong and just a sweetheart," he said.
It's hard for Puana to reconcile the niece he thought he knew with the one who is accused of ruining his life, with the help of her husband, the police chief, and an elite team of officers he oversaw.
"It's been really, really hard on the whole family, especially my mom and I," he said.
The problems started in 2007: A trust for Puana was set up, with Kealoha as the trustee. That gave her power of attorney, and control over most of his personal assets.
But, Puana said, "There was no trust document, I never had a trust document."
And, he alleges, Kealoha created a fraudulent trust document – without his approval and with his signature forged.
In December, Kealoha and her attorney, Myles Breiner, went to Honolulu's federal courthouse to provide handwriting samples for an expert hired as part of the federal corruption probe, sources said.
For authorities, another name on the document stood out: Alison Lee Wong. Wong notarized that trust document but, prosecutors say, she doesn't exist.
Kealoha's other attorney, Kevin Sumida, tried to find Wong for court proceedings. In 2014, he even asked the state Attorney General's office for help tracking her down.
Documents obtained by Hawaii News Now show, the office couldn't find a notary by that name.
According to the federal indictment, Alison Lee Wong was Kealoha's alias: A made-up person used to create notarized documents.
"They swindled hundreds of thousands of dollars from banks, credit unions, and some of the most vulnerable members of the community," said acting U.S. Attorney Alana Robinson, after the Kealohas were arrested and appeared in court last week.
Federal prosecutors say the Kealohas had at least 30 bank accounts, including a joint account with Puana and his elderly mother Florence, Kealoha's grandmother.
The money in that joint account came from the trust document Puana says was forged and from a reverse mortgage Kealoha set up on her grandmother's Wilhelmina Rise home.
The Puanas say that joint account was raided, and that would eventually cause Florence Puana to lose her home.
"Shocked. She basically went through $140,000 in a matter of months, of my mother's money," Gerard Puana said.
Kealoha has said that was money she was owed for helping with the finances. She used some of it to throw her husband a lavish, party after he was sworn in as chief, it cost about $25,000.
The account was eventually closed with about $300,000 gone.
For the Kealohas and the Puanas, that was the end of their close family ties and the beginning of the family feud.
The relationship soured even more, ending up in civil court. But before that trial could begin, Gerard Puana was arrested.
In June 2013, the Kealohas reported their mailbox stolen.
It was a seemingly cut and dry case – a slam dunk – complete with video.
But inconsistencies with the Honolulu Police Department's investigation raised suspicion that the suspect – Gerard Puana – may have been telling the truth: That he was framed.
"I know you guys don't believe me," he said, at the time, "but I'm telling you, I did not take this mailbox and this is all about a bigger thing."
The first clue something was amiss was the timing.
It happened after Puana's family filed a civil lawsuit against the Kealohas over money missing from a joint account. That case was going to trial. It would be Katherine Kealoha's word against her uncle's, and a felony conviction would make him much less credible to a jury.
"At first I was confused, and then I was scared and then I got terrified," Puana said.
And he had reason to be.
READ: Indictment against former police chief, his wife
SLIDESHOW of players involved
Right after the mailbox was reported stolen, Puana had a feeling he was being followed.
He started taking pictures on his phone: A Black Ford Explorer driving back and forth on his dead-end street, a Silver Toyota 4Runner, a Black Nissan pickup that seemed to follow him to the store.
He wrote down the exact dates and times that he noticed the vehicles and the license plates. And his attorney later confirmed the plates belonged to Honolulu police subsidized vehicles from the Crime Reduction Unit and CIU -- the elite Criminal Intelligence Unit.
Adding to his paranoia, his raging feud with his niece, Katherine Kealoha, and her husband, the chief of police.
"These are powerful people with the resources that they have, I was terrified," Puana said.
Three days after taking notes on the surveillance, on June 29, 2013, he was arrested for stealing the Kealohas' mailbox. The mailbox had been taken eight days earlier.
"We went to church and as we were parking the car, these CRU members with guns drawn, big refrigerator guys, huge guys," he said.
The primary evidence in the case: A grainy, black and white surveillance video from the Kealohas' home showing a man calmly get out of a car, walking up to the mailbox, rocking it and then lifting it off its pedestal.
Katherine Kealoha reported the theft on June 22, the next day. And the report is the first of many that seem to conflict with facts that come out later.
She called 911 at 1:30 in the afternoon.
The arriving officer's report says, "She has security cameras in the area but she has not reviewed the video at this time."
It says she is waiting for "a relative" to retrieve "it for her to review."
The officer also writes, she'll call HPD and "submit the DVD."
But what's not in that report: That a CIU officer did a separate report saying he had already taken the surveillance video four-and-a-half hours earlier, at 8:59 a.m.
As a postal theft, the case moved to federal court, where Puana was appointed public defender Alexander Silvert. Like many, Silvert didn't believe Puana – at first
Puana recalls those early conversations: There was "a defense attorney telling me shut up, let me tell you the law, because this isn't the state. This is the federal government."
But Puana was adamant: He hand't done anything wrong. He wasn't going to plead guilty. And, he maintained, he was being framed
So Silvert started examining the evidence and immediately caught the discrepancy about when the surveillance video was retrieved.
"How can you seize evidence at 8:59 the same morning when there's no (911) call, no information nothing? So right off the bat that set up alarms, something is wrong with this."
The most suspicious piece of evidence turned out to be the mailbox itself.
Google Earth, surveillance video and other images show the Kealohas' mailbox had a pointed top, was made by Gibralter, and sells for less than $200.
But the mailbox that Kealoha reported stolen was a Gaines Brand deluxe model with a rounded roof. An HPD officer appraised it at $375 – almost twice the value of the other mailbox.
Silvert said boosting the value of the mailbox was a serious problem.
"This was not only a falsehood, but it was a falsehood with a purpose," he said. "The purpose was to make it a felony under state law, versus a misdemeanor. "
Puana was charged with the felony, arrested as he walked to church just days after he started noticing that he was being followed by officers in unmarked cars.
His criminal trial for the mailbox theft started just months before the civil trial with the Kealohas over the missing money. Both sides had a lot at stake. If the jury convicted Puana of the federal felony, it would give the Kealohas the upper hand in the civil case.
But before the jury could hear all the evidence, something unexpected happened.
On Dec. 4, 2014, the first day of Puana's trial for stealing a mailbox, he and his lawyer were ready.
"We had tons of other evidence to show that this was a poor investigation a set up a frame," said Silvert, Puana's public defender. "We had the motivation we had the intent."
Silvert's strategy in court included props – two actual mailboxes – duplicates of the model that was taken and the one the Kealohas reported stolen.
"We had them physically in the courtroom for cross examination, where we were going to surprise Chief Kealoha and his wife and confront them with the mailboxes and the pictures," Silvert said.
Jurors were warned this would be a high-profile case, but didn't realize the police chief and his wife were the alleged victims.
"We weren't sure at the time who it was and when we saw who it was, you know, and we saw it was the chief we were kind of shocked," said juror Devin Gomes. "And we weren't sure how everything was going to play out."
It would play out like no one expected.
The first witness was former HPD officer Niall Silva, who testified that he went to the Kealoha's house just before 9 a.m. on the day the mailbox was reported missing to "recover a hard drive from a security system."
Silva also told the jury that he "made sure it was operating correctly," reviewed the video, and then "put it in evidence."
The second witness was Chief Louis Kealoha, who testified that he went surfing between 5:30 and 6 a.m. and "noticed our mailbox isn't there."
He said he didn't report it or tell his wife until he got back about 9:30 a.m. But Niall Silva had just testified that he was sent to pick up evidence at the house at 8:59 a.m. And the official police report said Katherine Kealoha didn't even report the mailbox stolen until hours later – at 1:30 p.m.
The contradictions were obvious.
MORE COVERAGE:
'I felt like I was nothing': Grandma who launched Kealoha probe speaks out?
Officer, HPD major charged in growing public corruption scandal
Embattled former Honolulu police chief ends 33-year career with HPD
The infamous surveillance video of someone taking the Kealohas' mailbox was also played for the jurors, but it apparently wasn't good enough to convince them all it was Puana.
"Whoever that was in the video was covered up, but some people thought it was, some didn't," said Gomes, the juror. "I wasn't too sure."
Puana said the man in the video wasn't him. "It doesn't look like me," he said.
But Chief Kealoha testified that it was, saying, "I've known Gerard for over 30 years. I know how he walks, the kind of clothes that he wore."
Kealoha was asked to compare the way that Puana looked when the mailbox was stolen to how he looked at the moment, a year and a half later, with the trial underway. The chief answered: "Well, he's picked up a lot of weight since that time."
He added, "How he looks in this video is how he looked when he was charged and convicted for breaking into his neighbor's house."
The judge called an immediate recess, and Kealoha stumbled out an apology.
"I'm sorry, your honor," he said.
But the damage was done. The trial was derailed, leaving jurors baffled.
"The judge just said … come back in 15 minutes," Gomes said. "She called us back, said it's a mistrial."
What the chief had said was both inadmissible and factually incorrect. Puana had been charged with walking into a neighbor's house to complain about a parked car, but not convicted of breaking into anyone's house.
The defense believed Kealoha deliberately sabotaged the trial to prevent damaging information from getting out.
"To me, the chief had to stop the trial and that's why I always thought it was intentional," said Silvert, Puana's defense attorney. "Because of the evidence that now is in this indictment, the evidence that we had – that he knew we had – and he had to stop the trial so I couldn't present that."
The chief admitted a mistake, but denied it was deliberate.
While Silvert had won the day for his client, he missed out on an opportunity to ambush the chief with his evidence.
But all that preparation did not go to waste. Silvert shared his findings with investigators, all the charges against Puana were dropped, and a meeting was arranged with the FBI.
Silvert said the initial reception at that meeting was cold.
"They didn't think we had anything," Silvert said. "They thought that this was just another defense attorney trying to show them how his client was set up."
But then he started to break down the evidence. And within 20 minutes, he says the FBI agents were on their hands and knees examining the evidence he had, including the mailboxes.
"There was no doubt in my mind that at the end of the three hours, they knew that this had been a set up and that they were with us and this was going to go somewhere," Silvert said.
Two years after that meeting, it is clear that the FBI did agreed that Puana was framed.
A special prosecutor from California was assigned to the case. And in December, Silva – now no longer with HPD – admitted he lied on the stand.
He never went to the Kealoha home at all to get that surveillance video and admitted the theft was "part of a conspiracy … to frame and discredit" Puana ... and to "conceal and alter evidence."
"He's taken full responsibility for what he did," said his attorney, William Harrison. "It's a very courageous decision on his part and after this he just hopes to put his life together and go on with this matter."
That plea deal was when the tables turned for Puana – when the suspect, became the victim.
Silva was the first domino to fall. He will be sentenced when the case concludes, after he testifies against the others.
Six others are described in federal documents as co-conspirators. Chief Kealoha is co-conspirator no. 6. His wife, Katherine: Co-conspirator no. 1.
All the others, all police officers, were assigned to the Criminal Intelligence Unit – a group selected by the chief that answers only to the chief.
CIU is supposed to investigate organized crime, but federal prosecutors say in 2013, they were the ones committing crimes – at the direction of the Kealohas.
The CIU officers involved also named as co-conspirators are:
Officer Bobby Nguyen, co-conspirator no. 2 -- Known as the "man in the middle" because he has close ties to everyone involved.
He was related by marriage to Katherine Kealoha and for awhile he was even living on the Kealoha's property in a guest house.
According to court documents, it was Nguyen who actually took the surveillance video hard drive from the Kealohas home, and investigators that the man in
the video was Gerard Puana.
Nguyen is accused of lying to the grand jury and federal agents when questioned about the mailbox theft.
Lt. Derek Hahn, co-conspirator no. 3 -- The feds say Hahn was "calling the shots" as the CIU lieutenant.  Hahn is a close friend of Katherine Kealoha.
State documents show they owned a solar company years ago.
Maj. Gordon Shiraishi, co-conspirator no. 4 – Retired earlier this year. He was the commander of CIU, and is charged with obstruction.
Prosecutors say he also lied to the grand jury.
Detective Danny Sellers, co-conspirator no. 5 -- Sellers is a longtime friend of Katherine Kealoha; the two dated in college only is he accused of lying to the grand jury, authorities say he was also part of an illegal search of Gerard Puana's home.
The indictment explains in detail how CIU officers allegedly pulled off the staged crime, but does not identify who the investigators think the person in the
Kealoha surveillance video is.The FBI does point out that the mailbox was very easily removed, implying that someone loosened it in advance.
And agents say phone records put Lt. Derek Hahn near the mailbox, hours before it was removed.
But the video that would have shown someone altering the pedestal was erased.
The FBI says just after HPD got a subpoena for the video hard drive, someone mysteriously recorded over it, showing the ceiling of the CIU office for six straight days, and deleting any video that would have incriminated anyone, except Gerard Puana.
Louis and Katherine Kealoha are represented by attorney Myles Breiner.
He wasn't available for this special report, but outside the federal courthouse on the day his clients were indicted, he maintained that entire federal case is weak because it's based on one witness: Silva, the former officer who admitted to lying under oath.
"My clients are innocent and I believe that ultimately will be vindicated," he said. "But for Niall Silva, no one has come forward with a smoking gun, if there is a smoking gun."
Breiner argues that without Silva, the mailbox investigation is full of circumstantial evidence. He has not responded to the bank  fraud and identity theft allegations, which other attorneys say will be difficult to defend.
And it's not over yet, more arrests could come as another grand jury has already been formed in connection with the case – a case that continues to broaden.
"This is just the beginning," said Robinson, the acting U.S. attorney, after the Kealoha indictments were handed down.
The new grand jury will begin hearing evidence early next month.
Copyright 2017 Hawaii News Now. All rights reserved.