Changes could come to Waikiki with new traffic management agency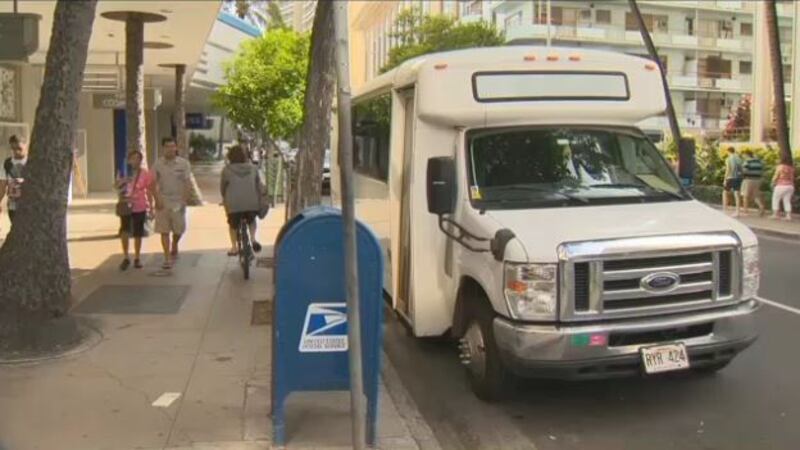 Updated: Oct. 21, 2017 at 4:18 PM HST
WAIKIKI (HawaiiNewsNow) - Changes in traffic management could be coming to Waikiki.
The Honolulu City Council recently passed a bill that establishes an association to manage traffic related policies in Waikiki.
Bill 64 creates the Waikiki Transportation Management Association Special Improvement District No. 4. This allows a Waikiki Transportation Management Plan to be implemented which gives residents and businesses the opportunity to set guidelines on various issues including vendor delivery times, private transportation providers and even a possible permit system for residential street parking.
"Waikiki covers less than four square miles, but hosts over five million visitors a year and generates seven percent of the state's gross domestic product," Mayor Caldwell said in a statement. "The new Waikiki Transportation Management Special Improvement District will allow the people who live and work in Waikiki to do what's best for them and our visitors in regards to transportation, which is not only good for Oahu, but for the entire state."
The managing organization will be governed by a board of directors that includes the mayor, Department of Transportation Services officials, budget and fiscal services personnel, neighborhood board representatives and local business leaders.
"There have been too few solutions to address the daily traffic congestion faced by businesses, residents and our visitors," Councilman Trevor Ozawa, bill introducer, said.
Hawaii News Now first reported on the proposed change in June when the neighborhood board came out in support of the idea.
Traffic code enforcement will still be handled by the city and county.
The bill, along with related Bill 63, passed the third reading in mid-October.
"The new transportation management district will be an important partner with the city and local residents as we look to improve access to and from Waikiki," Rick Egged, president of the Waikiki Improvement Association said.
Copyright 2017 Hawaii News Now. All rights reserved.