Officer, HPD major charged in growing public corruption scandal
Published: Oct. 15, 2017 at 4:57 PM HST
|
Updated: Oct. 16, 2017 at 7:09 PM HST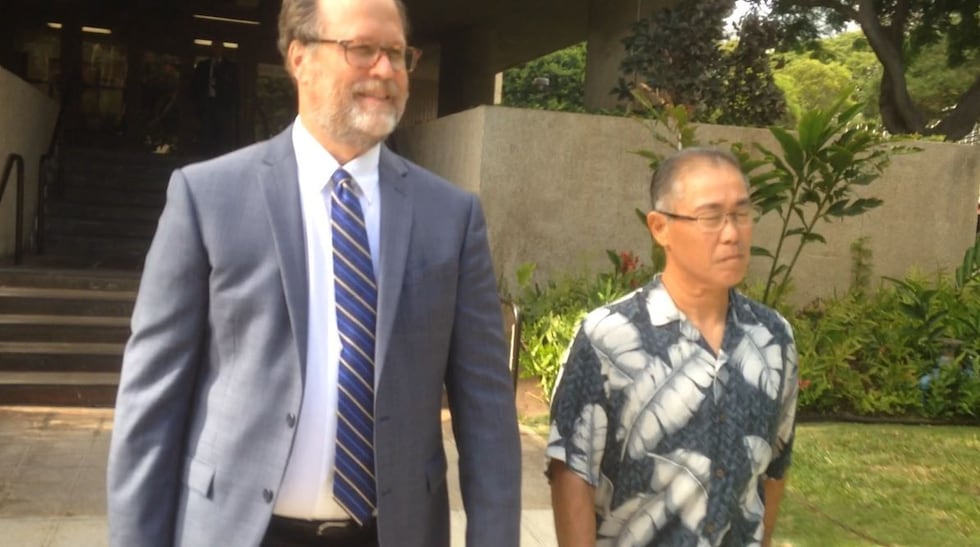 HONOLULU (HawaiiNewsNow) - A Honolulu police officer and retired major appeared in court Monday after being charged as part of the years-long federal investigation into public corruption at some of the highest levels of Oahu's law enforcement.
Former HPD Maj. Gordon Shiraishi, 61, and HPD officer Bobby Nguyen, 43, are the first people arrested in a corruption probe linked to former Police Chief Louis Kealoha and his wife, Katherine, a deputy city prosecutor.
Shiraishi has been charged with obstruction of justice, while Nguyen has been charged with conspiracy to obstruct.
"Corrupt activities, such as those alleged to have been committed, erode the public's faith in law enforcement," said FBI Special Agent in Charge Paul Delacourt, in a news release.
"The citizens of Hawaii demand and deserve diligent police officers who adhere to the highest standards of conduct. Police corruption is among the FBI's highest priorities and we are committed to investigating and prosecuting to the fullest extent those who violate the civil rights of others."
In detailed complaints unsealed Monday, Kealoha is identified as "co-conspirator 6." It's the first time the former chief is identified in court documents as a player in the conspiracy to lie to federal authorities.
The former head of HPD has not been arrested, but attorneys for people involved believe the arrests of Nguyen and Shiraishi send a message.
"This matter has not concluded... if they don't cooperate they will be arrested," says Myles Breiner, attorney for the Kealohas.  Breiner says he is not surprised by the arrests but did question the need to execute them on a Sunday believing it was a way for the prosecution to get more attention to the case.
"If it happened on a Friday, or a normal business day, the arrested would have been processed and they would have been released immediately. To do it on a Sunday, on a slow news day, so it would get the most attention.  So it was the top story," says Breiner.
In court Monday, special prosecutor Colin McDonald said Shiraishi and Nguyen violated the oath they took to protect the people.
The case is tied to the theft of the Kealohas' mailbox in June 2013, a crime the FBI says was made up to frame Gerard Puana, who is Katherine Kealoha's uncle.  At the time, the two sides were involved in a bitter family dispute over money.
In court Monday, a judge ruled Shiraishi could be released on a $50,000 unsecured bond, and cannot leave the state unless the travel is approved. If convicted, Shiraishi faced 30 to 35 months behind bars.
Nguyen is to be released on a $50,000 unsecured bond, and he also must surrender his guns.
Complaints unsealed Monday accuse Shiraishi of lying under oath to a federal grand jury investigating the corruption allegations, while Nguyen allegedly conspired with others to provide false testimony and falsified evidence in connection with the investigation into the mailbox theft case.
Both received target letters from federal authorities last year. Target letters are sent to the subjects of FBI probes to inform them that they are the "target" of an investigation and that their cooperation is being sought.
Former HPD Chief Louis Kealoha also got a target letter as part of the corruption probe, and was forced to retire as a result of the ongoing investigation.
COURT DOCUMENTS UNSEALED:
Read the Shiraishi complaint here.
Read the Nguyen complaint here.
Nguyen, who has 11 years on the force, is a relative of the Kealohas and was even living on their property at one time.
HPD said Nguyen has had his police powers removed, and will be placed on leave without pay pending an investigation.
Meanwhile, Shiraishi was head of the Criminal Intelligence Unit for HPD when the mailbox theft happened (and Nguyen is described as a "footman" for CIU in the federal complaints). Shiraishi retired in March 2017 as a major with 33 years of service.
CIU was the investigating unit of the mailbox theft, which was later thrown out in federal court with prejudice.
That vindicated Puana, and essentially turned the tables: The FBI began investigating the Kealohas and the CIU officers involved for allegedly framing someone for a crime.
Puana's attorney, Ali Silvert, says the charges against Nguyen and Shiraishi are significant, and just the beginning, "This has been a long time in coming," Silvert says, "Mr Puana feels very vindicated and very happy at this point that the prosecution has moved to this stage."
In December, a retired Honolulu police officer pleaded guilty to lying under oath as part of the conspiracy to frame the Kealohas' uncle. Niall Silva was a detective in CIU.  Silva is now a key witness in the case.  He is awaiting sentencing for his role in the alleged fake mailbox theft, but that can't happen until after he testifies against the others.  His attorney, Bill Harrison, says Silva is anxious to get that done.
"It's been awhile for this thing to come down," says Harrison, "He really wants to put all this behind him and get on with his life, and this is sort of complicating his life at this point. So he's happy to see movement in this case."
Copyright 2017 Hawaii News Now. All rights reserved.