Study: Hawaii would take big hit from GOP health bill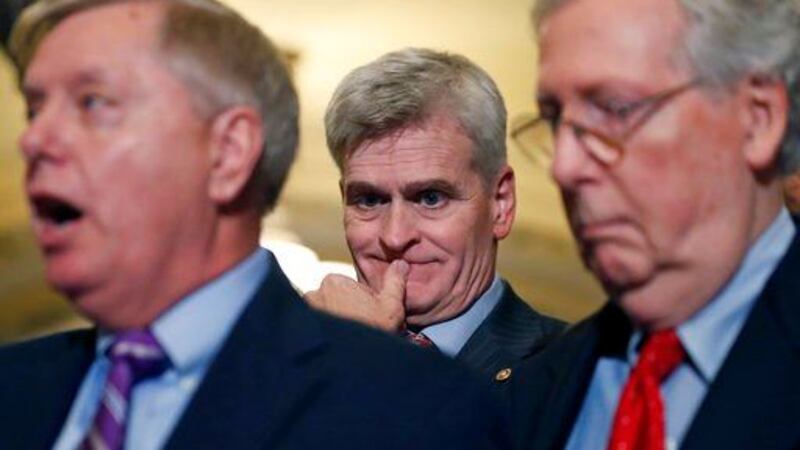 Updated: Sep. 20, 2017 at 1:24 PM HST
Hawaii stands to lose $5 billion in federal funding for health insurance within a decade if the latest Senate GOP health care bill becomes law.
That's according to a new analysis released Wednesday.
The study by the consulting firm Avalere Health found that the Graham-Cassidy bill could lead to an overall $215 billion cut to states by 2026.
And in 2027, thanks to a funding cliff, the reduction could hit $498 billion.
"A reduction in federal subsidies for health insurance is likely to result in more people being uninsured," said Caroline Pearson, a senior vice president at Avalere, which specializes in health industry research. The study itself did not make estimates of the impact on insurance coverage.
Hawaii, the analysis found, would lose $4 billion because of proposed funding reductions from 2020 to 2026.
By 2027, the loss to Hawaii would grow to $5 billion. And by 2036, if funding isn't reauthorized, Hawaii could lose $30 billion.
The Avalere analysis comes as Senate leaders are rushing a vote on the legislation by the end of the month, before the expiration of special budget rules that allow passage by a simple majority. The findings could take on added importance, because the nonpartisan Congressional Budget Office says it can't complete a full analysis of the bill by the Sep. 30 vote deadline.
Named for Republican Sens. Lindsey Graham of South Carolina and Bill Cassidy of Louisiana, the bill would repeal much of the Obama-era Affordable Care Act and limit future federal funding for Medicaid.
That federal-state health insurance program covers more than 70 million low-income people, ranging from newborns to elderly nursing home residents. Compared to current projected levels, Medicaid spending would be reduced by more than $1 trillion, or 12 percent, from 2020-2036, the study found.
The bill would also end Obama's health insurance subsidies and put money into a big pot that would distributed among the states. Governors and legislatures would have broad leeway on how to spend the money, and could also seek waivers from ACA insurance requirements. Though insurers would still have to cover people with medical problems, in some states they may be able to charge them more.
The Avalere study also found that over 20 years cuts could potentially total more than $4 trillion, but that scenario appears unlikely.
It's based on a literal reading of the bill, under which legal authority for the big pot of money to subsidize coverage would expire after 2026. Typically, Congress renews expiring programs.
Still, the study found more losers than winners. Thirty-four states would see cuts by 2026, while 16 would see increases. Among the losers are several states that were key for President Donald Trump, including Florida, Pennsylvania, Michigan, and Ohio.
Funding for the Avalere report was provided by the Center for American Progress, a liberal think tank. Avalere said it maintained full control over the research and the think tank did not influence the findings.
The Associated Press contributed to this report.
Copyright 2017 Hawaii News Now. All rights reserved.