'Open and loving': 4 victims in small plane crash remembered
Published: Jul. 29, 2017 at 7:38 PM HST
|
Updated: Jul. 30, 2017 at 6:25 PM HST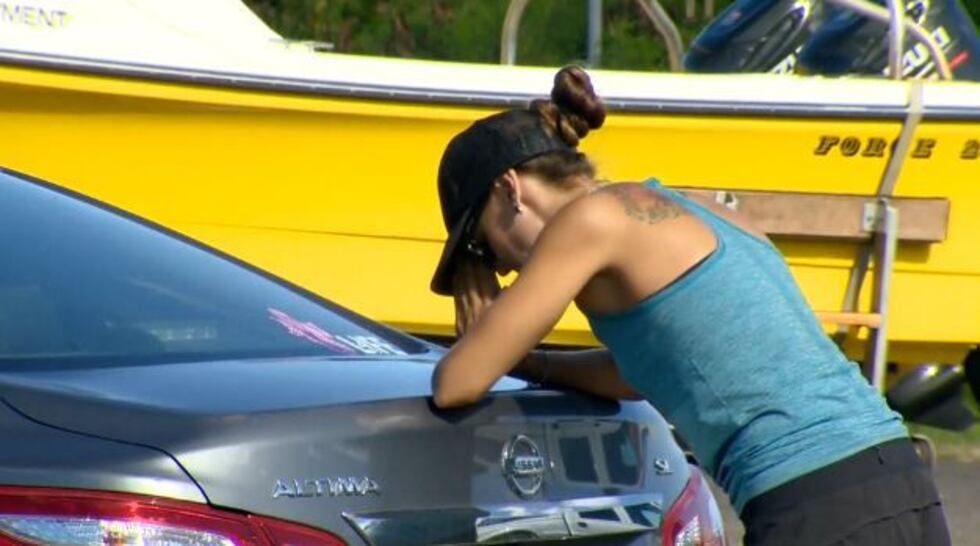 HONOLULU (HawaiiNewsNow) - Four bodies were recovered Saturday from the wreckage of a single-engine plane crash on a remote mountainside above Kunia.
The Beech 19A fixed wing single-engine aircraft, with tail number N6142N, went missing on Friday evening, though the search didn't begin until 10 a.m. Saturday. The craft was found about 3:20 p.m. in an area inaccessible by vehicles.
Friends and family identified the four in the plane as Gerrit Evensen, his girlfriend Heather Riley, Alexis Aaron, and pilot Dean Hutton.
Authorities said the wreckage was found above the Kunia Loa ridge farmlands.
Just before 5:45 p.m. Saturday, the Honolulu Fire Department's Air One helicopter recovered the body of the first victim. All four bodies have since been transferred off the site.
Honolulu Fire Department Battalion Chief Craig Uchimura said three of the victims were found inside the downed plane, while one was found outside.
"The wreckage was in an area that was very remote and inaccessible by vehicle," Uchimura said. "Our rescue personnel had to repel off our Air One helicopter to be inserted on the mountainside. It's pretty treacherous up there."
Family, friends remember those lost
At a staging area at Hawaii Country Club on Saturday, family and friends of the victims were overcome with grief.
Lealyn Toponi, who was friends with three of the victims, said she was supposed to be on the downed plane.
"Alexis asked my boyfriend and I to go on the plane with them on Friday and we weren't able to make it. And so Heather and Gerrit were asked to take our place," she said. "They were just very open and loving people that were just leaders. They were the kind of people that inspired you to try anything."
Evensen, 28, was a graduate of Punahou School. Riley was 27.
Riley's mother said she had been informed of her daughter's death, but declined comment.
The FAA said the aircraft last communicated with air traffic controllers around 6:37 p.m. Friday. At that point, the plane was reportedly near Kaena Point.
Owner of plane linked to crash in June
The plane took off from Honolulu's airport on Friday, and it wasn't clear why the plane wasn't reported missing until Saturday morning.
Officials also said the aircraft diverted from its original flight path.
The plane is registered to Jahn Mueller, who confirmed to Hawaii News Now on Saturday that he owns the aircraft.
On Sunday, Mueller issued this statement:
"I am deeply saddened by this tragic event and my prayers go out to all affected. I don't want to speculate on the cause of this accident as that will be determined by professionals in due time. I knew Dean and he loved flying and had many hours in that plane. He had an alternator problem several flights ago and handled it like a professional."
Mueller also said the plane had been previously repaired, and experienced no further issues.
In a bizarre twist, Mueller also owned the single-engine, fixed wing Piper PA-28 that crashed June 30 into a stream just shy of Moanalua Gardens. The pilot and two passengers were seriously injured in that crash.
A preliminary NTSB report said the plane had lost engine power shortly after takeoff.
A spokeswoman said the four killed in the crash were friends of Lyssa Chapman, of TV's "Dog the Bounty Hunter" fame, and that their car was recovered Friday night on Lagoon Drive.
"The families are also asking for your prayers," spokeswoman Mona Wood-Sword said, in a statement.
Copyright 2017 Hawaii News Now. All rights reserved.