Fernanda no longer a tropical cyclone, but could still bring rain, high humidity to isles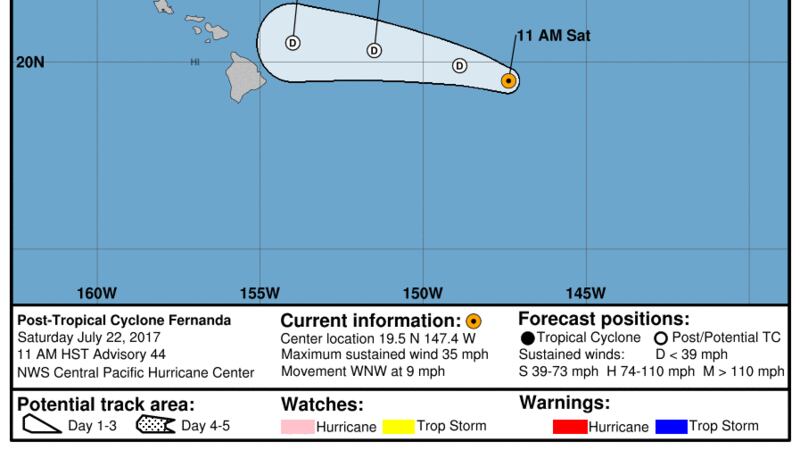 Published: Jul. 12, 2017 at 10:06 AM HST
|
Updated: Jul. 22, 2017 at 10:52 AM HST
HONOLULU (HawaiiNewsNow) - After several days trudging from the Eastern Pacific toward the Hawaiian islands, Fernanda has fizzled out. But we could still feel what's left of the storm as it approaches the state.
Forecasters at the Central Pacific Hurricane Center said at 11 a.m. Saturday, Fernanda weakened into a post-tropical cyclone remnant low with maximum sustained winds near 35 miles per hour. The system was moving to the west-northwest at 9 miles per hour.
Forecasters say the islands could experience high humidity, warm temperatures and heavy showers as a result of Fernanda, most likely Sunday night into Monday.
Fernanda's remnant was about 500 miles east of Hilo and 690 miles east of Honolulu.
The storm is pushing up surf for some of the Hawaiian islands. A High Surf Advisory is in effect for east shores of the Big Island, Maui, Molokai, Oahu and Kauai.
Check out our Hurricane Tracker here.
LINK: What you need in your emergency supplies kit.
Go to the Hawaii News Now Weather page for the latest forecast or check out our Interactive radar.
To get the latest weather conditions on your mobile device click HERE.
Copyright 2017 Hawaii News Now. All rights reserved.