Hundreds rescued from 'floatilla' off Waikiki, 10 taken to hospitals
Published: Jul. 4, 2017 at 8:30 PM HST
|
Updated: Jul. 4, 2017 at 11:05 PM HST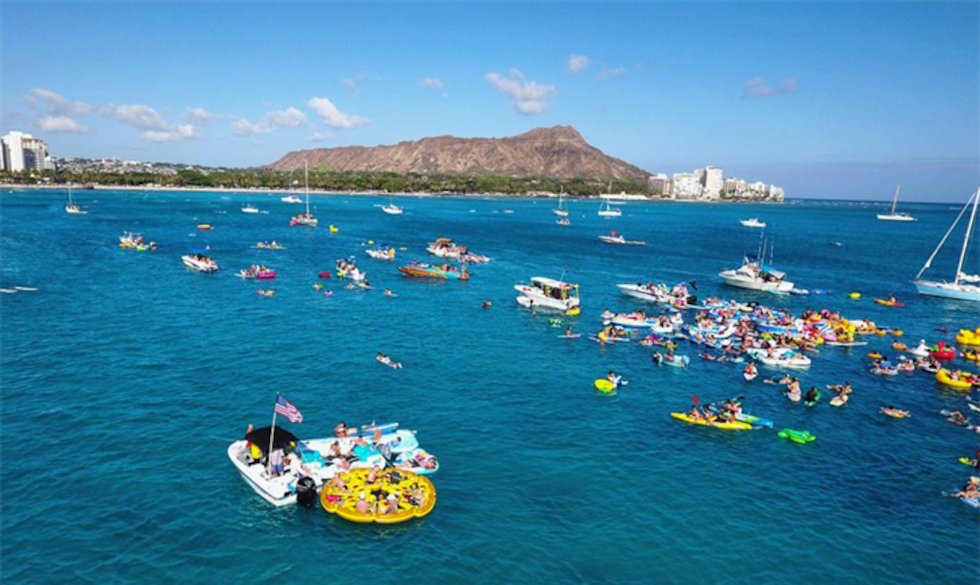 WAIKIKI (HawaiiNewsNow) - A so-called July Fourth "floatilla" party off Waikiki quickly dissolved into chaos Tuesday afternoon, with hundreds being rescued from the water and at least 10 people taken to hospitals with alcohol-related injuries.
One of those transported, a 19-year-old woman, was in critical condition while nine others were in serious condition.
Ten attendees, meanwhile, were treated by paramedics at the scene.
Officials said as many as 10,000 people flocked to the event, in which participants gather in the water on floaties, kayaks, paddleboards and boats. Posts on social media show crowds of people drinking as they floated in the water.
Those who required medical care ranged in age from 17 to 26 years old.
"The day started out quiet, but by 2 p.m., one after another medical emergency call came in," said Shayne Enright, spokeswoman for the Hawaii Emergency Services Department. "Lifeguards say this was one of the most dangerous floatillas, when it comes to the number of emergencies that were responded to."
The event came on a day when state Division of Conservation and Resources Enforcement officers and other law enforcement agencies were out in force in Waikiki — and warning beachgoers about the dangers of mixing swimming and drinking.
"Everyday is challenging working along Waikiki Beach when so many people try to do so many things, but these big holidays are even more challenging because alcohol comes out," said  DOCARE Chief Robert Farrell.
Hawaii law prohibits anyone from operating a vessel while intoxicated, but it is legal for those 21 and up to drink in the water.
"Unfortunately, some people like to drink too much and celebrate a little too hard," Farrell said.
Some 14 conservation officers on seven Jet Skis and one vessel weaved through the water, monitoring underage drinkers and conducting safety checks. Ocean Safety lifeguards and U.S. Coast Guard boat patrols were also there to assist.
This isn't the first time a floatilla event has caused a big problem in Oahu waters.
Last May, floatilla attendees left behind a big mess in Waikiki.
And last July Fourth, even with stepped up enforcement and a much smaller crowd, several floatilla attendees needed medical attention.
Copyright 2017 Hawaii News Now. All rights reserved.