It could soon be illegal to look at your cellphone while crossing the street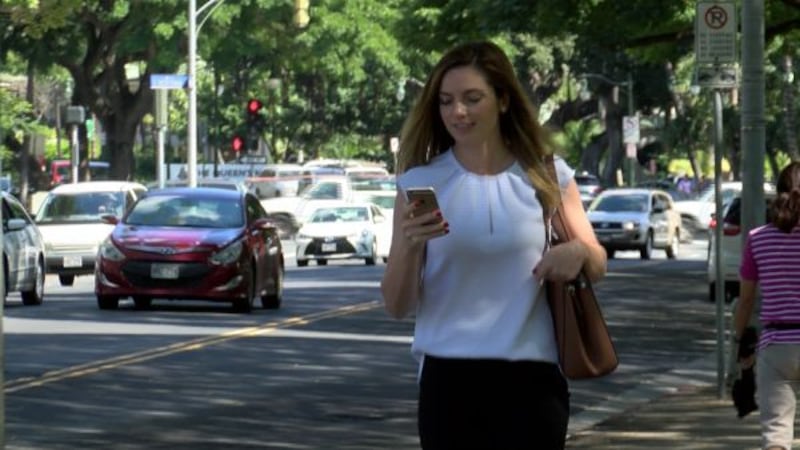 Updated: Jun. 6, 2017 at 8:40 AM HST
HONOLULU (HawaiiNewsNow) - It's already illegal to use your phone while driving, but Honolulu City Council members are considering a measure that would make it illegal to use or look at a cellphone or other mobile electronic devices when crossing a street or highway -- even if you're in a marked crosswalk.
Bill 6 would also prevent the use of a pager, tablet, laptop computer, handheld video game or digital camera while crossing the street -- but it doesn't prohibit audio equipment, so listening to music will still be allowed.
Emergency responders would be exempt from the ban, which was introduced by City Council Member Brandon Elefante to curb distracted pedestrians and bicyclists.
The bill has the full support of the Honolulu Police Department, but members of the public have been more divided -- with some saying it's needed to ensure pedestrian safety and others calling it an attempt at local government overreach.
One supporter is a local high school teacher who testified that he witnesses students crossing the street while texting every day and believes they are at a higher risk for potential injuries because they're so distracted by their devices.
However, an opponent called it an "intrusive bill"  and "another attempt at local government overreach." He testified that while it is against better judgement to use mobile devices while in a crosswalk, it should not be penalized by law enforcement.
A 2016 study by the Governors Highway Safety Association found pedestrian deaths are climbing faster than motorist fatalities, reaching nearly 6,000 last year — that's the highest total in more than 20 years. The report indicates that pedestrian fatalities increased by 25 percent from 2010 to 2015. While it's hard to confirm, researchers say they think the biggest factor may be more drivers and pedestrians distracted by electronic devices.

This isn't the first time a ban like this has been brought up in Hawaii. Both city and the state lawmakers have attempted to pass something with no success.
If Bill 6 passes, the fine could be up to $100 for the first offense and up to $500 for a third citation.
The bill is up for discussion and a final decision before the full City Council Wednesday morning at 10 a.m. at Honolulu Hale.
Copyright 2017 Hawaii News Now. All rights reserved.