Suspect in cockpit threat on Honolulu flight had been detained at LAX
Published: May. 19, 2017 at 3:08 PM HST
|
Updated: May. 22, 2017 at 8:58 AM HST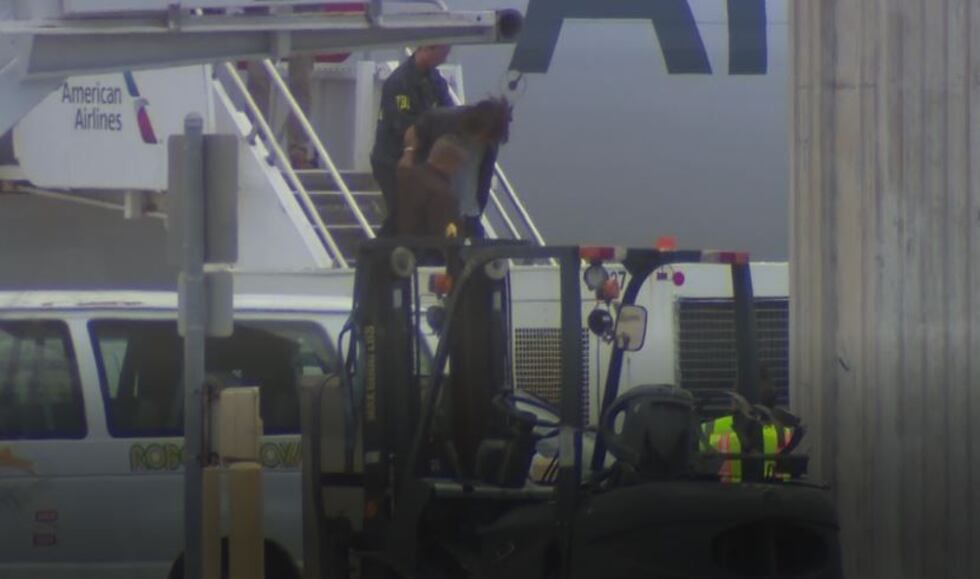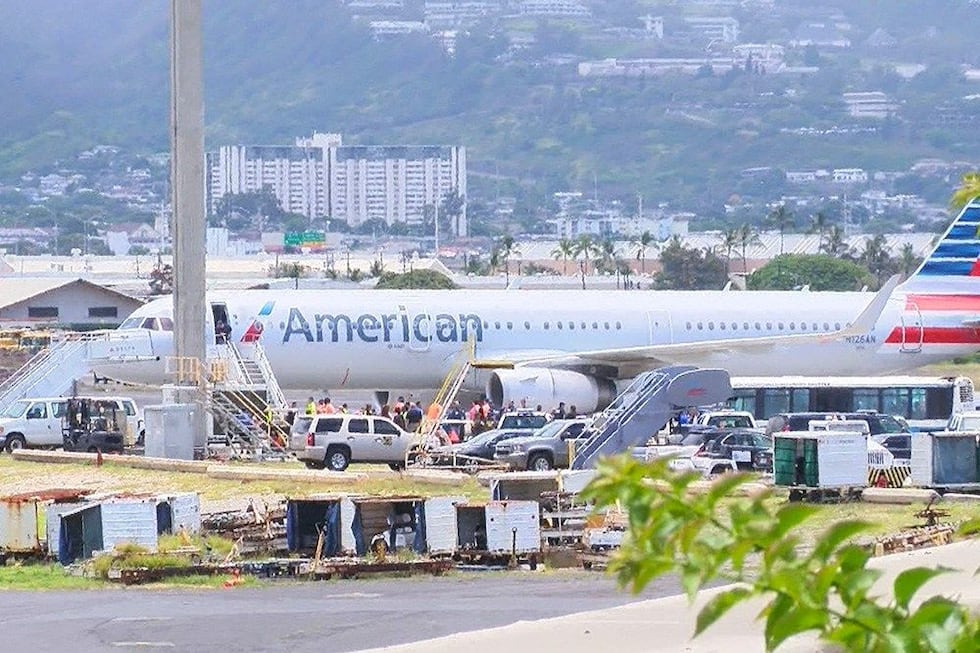 HONOLULU (HawaiiNewsNow) - A Turkish national who tried to break into the cockpit Friday of a Honolulu-bound flight was subdued by passengers and flight crew shortly after charging his way into the first-class cabin.
They used duct tape, pillows and blankets to make sure he couldn't get out of his seat in a security scare that prompted U.S. Pacific Command to scramble two F-22 Raptors from the Hawaii Air National Guard, which escorted the flight into Honolulu International Airport about 11:35 a.m.
The man, identified as 25-year-old Anil Uskanli, was on board AA Flight 31, which departed from Los Angeles International Airport at 8:34 a.m. local time.
The Los Angeles airport police said at LAX, Uskanli was involved in a separate security incident and was detained but subsequently released.
Police said the suspect went through a door from an LAX concourse that led onto an airfield ramp. He was spotted by a contractor and detained. Airport police investigated and determined that Uskanli had been drinking. He was arrested for misdemeanor trespassing, cited and released.
The suspect subsequently got on board the American Airlines flight. Several hours in, passengers and authorities said, he allegedly tried to breach the cockpit door, throwing himself up against a beverage cart as he tried to force his way into the first-class cabin.
Passengers said the man had a blanket or towel on his head, and didn't say anything as he pushed forward.
Flight attendants, an off-duty Los Angeles police officer and other passengers were able to stop the man and secure him in a seat, and no injuries were reported.
"It was all kind of surreal," said Penny Lorenzen, a passenger on the flight. "It's amazing to me how calm everybody stayed. Angels were watching out for us."
Her husband was among those who got up to try to stop the man.
"It took seconds," said Lee Lorenzen, of Orange County, Calif. "He was pushing against the cart and a bunch of guys grabbed him. They found some duct tape. There were pillows and blankets. And they taped him to his chair."
He added, "It was all over very quickly. They really deserve a medal for what they did."
MORE COVERAGE:
TIMELINE: Events leading up to the security scare
PHOTOS: Authorities respond after man tries to breach cockpit
After the incident, some three hours into the flight, the plane descended to about 10,000 feet -- standard procedure in situations that involve an explosives scare.
FBI Special Agent in Charge Paul Delacourt said Friday evening that there were no explosives found on board.
The suspect was taken into custody after the plane landed, and was to undergo a medical evaluation before being transferred to the Honolulu federal detention center.
Uskanli was in the United States on tourist and student visas, and both have been revoked, sources said.
Sources also tell Hawaii News Now that Uskanli's student visa was for an acting school in Santa Monica, Calif. The Michelle Danner Acting Studio confirmed that he was a student up until last week.
One passenger on board the plane posted a video on Instagram showing FBI agents on the aircraft after it had landed in Honolulu.
"Crazy! Someone tried to break into the cockpit on my flight from LA to Honolulu," the Instagram user wrote. "We were greeted by the FBI. They are now taking us off the plane a few rows at a time for dog sniffing and interviews."
Passenger Tainoa Foster said he was sleeping during the flight when he heard a commotion at the front of the plane.
"I get up, hear noise, and everybody's kind of freaking out. (A) man has a blanket over his head and they're like, 'Somebody please help, somebody please help,'" he said. "He wasn't really saying anything. He just had his head down with the towel over so no one could really see him."
It's unclear what charges Uskanli might face. At a minimum, he might be charged with interfering with a flight crew, which carries a minimum penalty of 10 years behind bars.
Meanwhile, in a statement, the U.S. Department of Homeland Security said it had been briefed on the incident.
"We continue to monitor all flights out of an abundance of caution," DHS said. "At this time, there are no other reports of disruptions to flights."
The state said the incident caused about a 30-minute backlog in flights after all ground movements were halted as the flight came in.
Copyright 2017 Hawaii News Now. All rights reserved.