Vice president ends whirlwind Asia-Pacific tour with stop in Hawaii
Published: Apr. 14, 2017 at 3:14 PM HST
|
Updated: Apr. 24, 2017 at 3:00 PM HST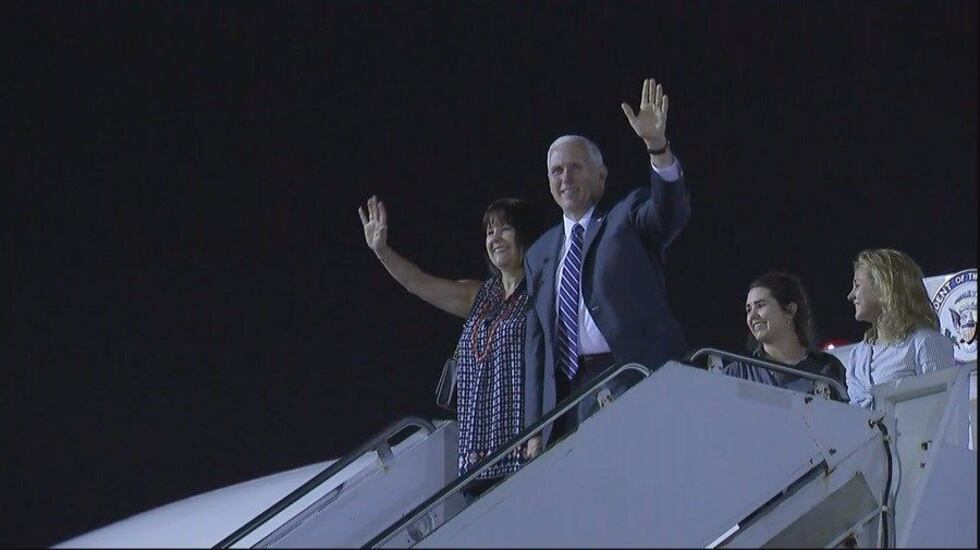 HONOLULU (HawaiiNewsNow) - Vice President Mike Pence made a brief stop in the islands Monday, speaking to members of the military — and snarling traffic along the way.
Police closed the H-1 Freeway eastbound just before noon Monday and then again a few hours later, bringing traffic to a standstill. A third shutdown happened about 3 p.m., but was relatively brief.
During the earlier closures, drivers reported people reversing on the freeway to get onto an exit, and others simply getting out of their cars and walking along the side of the roadway.
Pence made his Hawaii stopover after wrapping up a 10-day, four-nation tour of the Asia-Pacific region.
On Monday afternoon, the vice president told Hawaii-based members of the military that he's committed to bolster military funding.
"In these days that lie ahead, in these uncertain times, people who serve here ... (should know) you have a president who is going to fight to re-build our military, restore the arsenal of democracy," said Pence, speaking at Joint Base Pearl Harbor-Hickam. "The president truly believes that the time has come to rebuild this military."
Pence arrived at Joint Base Pearl Harbor-Hickam early Monday, along with his wife and two daughters. They were greeted by Gov. David Ige and his wife.
The vice president shortened his stay in the islands to a few hours so that he could fly back to Washington to address pressing issues, including a tax reform plan announcement and the government funding deadline, an aide said.
His office canceled a planned visit to the USS Arizona Memorial in Pearl Harbor.
Second Lady Karen Pence and daughters Audrey and Charlotte are also expected to visit Schofield Barracks to see how the base is integrating its behavioral health unit to treat post-traumatic stress disorder.
During his trip across the Pacific, Pence visited South Korea, Japan, Australia, Indonesia and American Samoa.
Officials said the purpose of his trip was to emphasize President Donald Trump's continued commitment to U.S. alliances and partnerships in the Asia-Pacific region, and to show support for American troops at home and abroad.
Demonstrators will be protesting Pence's visit on Monday. The Women's March Hawaii, Hawaii J-20 Plus and the Hawaii Chapter of "World Can't Wait" are teaming up to hold a rally at the federal building. The event's organizer says the vice president is a threat to women's rights.
Copyright 2017 Hawaii News Now. All rights reserved.