Vice President Mike Pence to stop in Hawaii during Asia-Pacific tour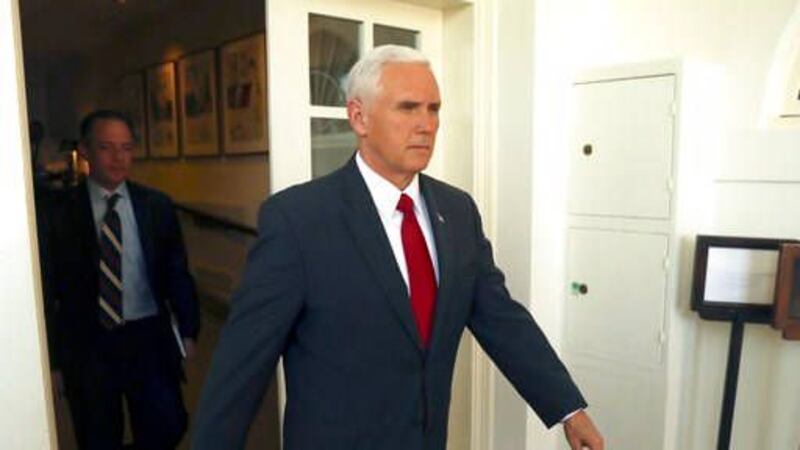 Updated: Apr. 6, 2017 at 6:30 AM HST
By KEN THOMAS
Associated Press
WASHINGTON (AP) - Vice President Mike Pence plans to travel to South Korea and Japan later this month amid simmering tensions along the Korean peninsula over North Korea's attempts to advance its nuclear and missile programs.
The White House said Thursday that Pence would depart April 15 on a 10-day, four-nation tour of the Asia-Pacific region that will also include stops in Indonesia and Australia and a visit with U.S. troops in Hawaii.
Pence's itinerary will focus on U.S. military and economic alliances in the region and feature sessions with business executives and foreign leaders.
The vice president is expected to meet with acting South Korea Prime Minister Hwang Kyo-ahn, Japanese Prime Minister Shinzo Abe, Indonesian President Joko "Jokowi" Widodo and Australian Prime Minister Malcolm Turnbull.
The visit will include an Easter Sunday gathering with U.S. and South Korean troops and their families, a tour of the USS Ronald Reagan in Japan and meetings with officials with the 10-nation Association of Southeast Asian Nations, or ASEAN.
Before returning to Washington, Pence will honor U.S. service members who fought and died during the attack on Pearl Harbor by visiting the USS Arizona Memorial in Hawaii.
The trip, Pence's first to the region as vice president, will follow North Korea's firing of a ballistic missile into waters off its east coast. President Donald Trump warned this week that the U.S. would act unilaterally to stop North Korean aggression. He is expected to raise the issue in his meetings this week with Chinese leader Xi Jinping at the president's South Florida resort.
Kim Jong Un's government has sought to upgrade North Korea's weapons systems in response to what it has called U.S. hostility. Weapons experts have said North Korea could have a functioning nuclear-tipped missile capable of reaching the continental U.S. within a few years. North Korea conducted two nuclear tests last year.
Copyright 2017 The Associated Press. All rights reserved. This material may not be published, broadcast, rewritten or redistributed.