'Some degree of closure': Peter Boy's father pleads guilty to manslaughter
Published: Apr. 4, 2017 at 5:13 PM HST
|
Updated: Apr. 6, 2017 at 4:53 AM HST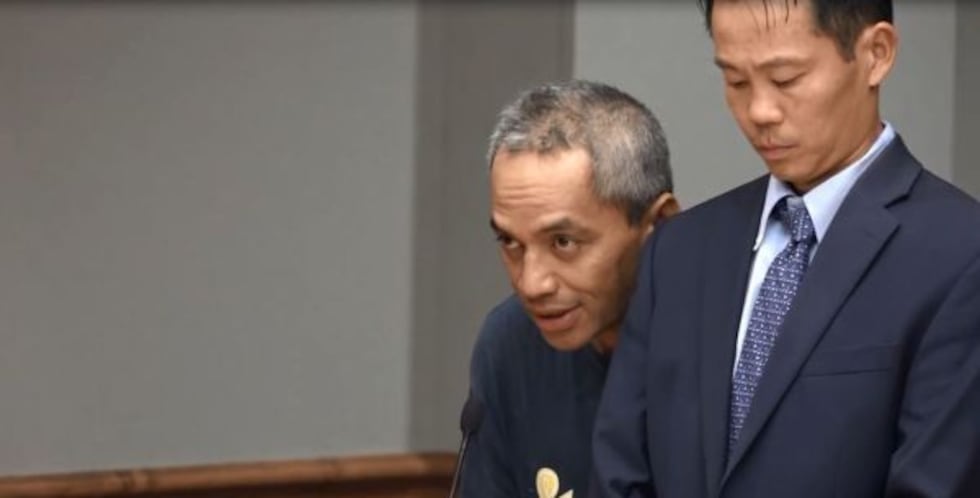 HILO, BIG ISLAND (HawaiiNewsNow) - In a groundbreaking development to one of Hawaii's most well-known murder cases, Peter Kema, Sr. pleaded guilty to manslaughter on Wednesday for the 1997 death of his 6-year-old son, "Peter Boy."
Sources tell Hawaii News Now that Kema and his attorney spent weeks negotiating a deal that would allow him to avoid a murder trial.
According to the terms of his plea arrangement, Kema will be spared the possibility of spending life in prison, instead serving a 20-year sentence for manslaughter and a five-year sentence for hindering prosecution.
He'll be allowed to serve the terms concurrently as long as he shows authorities where his son's remains are. If the remains can't be recovered, he'll have to pass a polygraph test to prove he's being honest.
A formal sentencing hearing in the case has been scheduled for June 9.
Kema was wearing an orange jumpsuit and shackles in a Hilo courtroom Wednesday afternoon, and only offered short answers to Judge Greg Nakamura's questions.
Nakamura: Do you believe that you are guilty?
Kema: "Yes, I am your honor."
Nakamura: "Do you understand the terms of this agreement?"
Kema: "Yes, your honor."
Hawaii County deputy Prosecutor Ricky Roy Damerville said he was a little surprised that Kema actually took the plea deal.
"I kind of thought that he might decide to go to trial," he said. "It's good to be almost over."
Hawaii County Police Capt. Randy Medeiros added he's relieved "that the family gets some degree of closure now."
Reports of the lighter sentence drew criticism after Hawaii News Now first broke the story about the arrangement Tuesday, but Peter Boy's family has long made clear what they want more than anything else is answers.
"My wife said before she passed, don't give up," Peter Boy's grandfather, Jimmy Acol, told Hawaii News Now in 2015. He and his wife, Yolanda, raised Peter Boy's siblings after the state took them from the Kemas when the child disappeared. Yolanda Acol died in 2011.
The guilty plea came as prosecutors were preparing to go to trial in the case.
Former City Prosecutor Peter Carlisle said Tuesday that making deals like this one are often difficult for law enforcement.
"There is a value to finding out, what is done, where a body is, closure for the family," Carlisle said. "And if it is making a deal with the devil, that is also necessary to see the longer picture."
FROM OUR ARCHIVES: Stories about "Peter Boy" Kema's disappearance
Last April, Kema and his wife, Jaylin, were indicted for Peter Boy's death and subsequently pleaded not guilty to second-degree murder charges.
But in December, a big breakthrough: Jaylin Kema changed her plea to manslaughter, agreeing to testify in court against her husband.
"I failed to protect my son," she said in Hilo courtroom, in response to a judge's question about why she believes she was guilty.
A case that rocked Hawaii
Peter Boy disappeared from his Hawaii Island home in 1997; the last time his siblings saw him alive was in June of that year.
While his body was never found, police concluded that he was murdered.
Peter Boy's parents have long been the main suspects in their son's disappearance, but previous prosecutors never moved forward with charges, citing a lack of evidence.
The child's disappearance two decades ago set off intense police investigations and a media firestorm.
"It's been haunting the entire island community for so long but I feel like everybody in the state is just waiting for that closure. What really happened to Peter?" said Adam Langsner, of Kapoho, after hearing about the guilty plea Wednesday.
Big Island Mayor Harry Kim said the guilty plea will bring closure, but "nothing is going to take away the sadness of it."
The Peter Boy case raised serious questions about state Child Protective Services, and triggered a series of reforms aimed at better protecting abused kids.
The Kemas had been facing state CPS investigations for years before Peter Boy's death, and documents showed he had been the victim of repeated incidents of abuse. At just 3 months old, he was brought to Hilo Hospital with multiple new and healing fractures.
Peter Boy's parents didn't officially report him missing until January 1998, months after he was last seen alive.
Later, Peter Kema Sr. would say that he had traveled to Oahu in August 1997 to look for a job, and had given the boy to a friend he knew as "Auntie Rose" Makuakane. Police were never able to find evidence that the woman existed, and couldn't confirm the father and son had been on a plane.
Meanwhile, his mother told CPS investigators that her son had moved out of the house in June 1997.
New leads announced in 2014
It was three years ago, in 2014, that Hawaii County officials announced they finally had new leads in the case. But they stressed that moving forward with charges would take time.
Over the years, Peter Boy's siblings have spoken publicly about their pain, and tried to recount what they remembered from all those years ago.
Lina Acol, Peter Boy's younger sister, told Hawaii News Now in 2014 that she believes she saw her brother's lifeless body in a box in 1997, when she was 4.
"At the time, I seen my mom. It looked like she was trying to kiss him and then, I saw my dad trying to beat on his chest. I opened the door more, cause the door was cracked, and they just yelled at me to go back to sleep," said Acol, who later realized her parents were probably giving Peter Boy CPR.
Acol said that later the same day she saw Peter Boy in a box in her parents' closet, and they told him he was sleeping.
Mobile users: See a slideshow of Peter Boy's young life by clicking here.
Copyright 2017 Hawaii News Now. All rights reserved.