In aftermath of Pearl Harbor attack, Hawaii grappled with martial law
Updated: Dec. 8, 2016 at 4:33 PM HST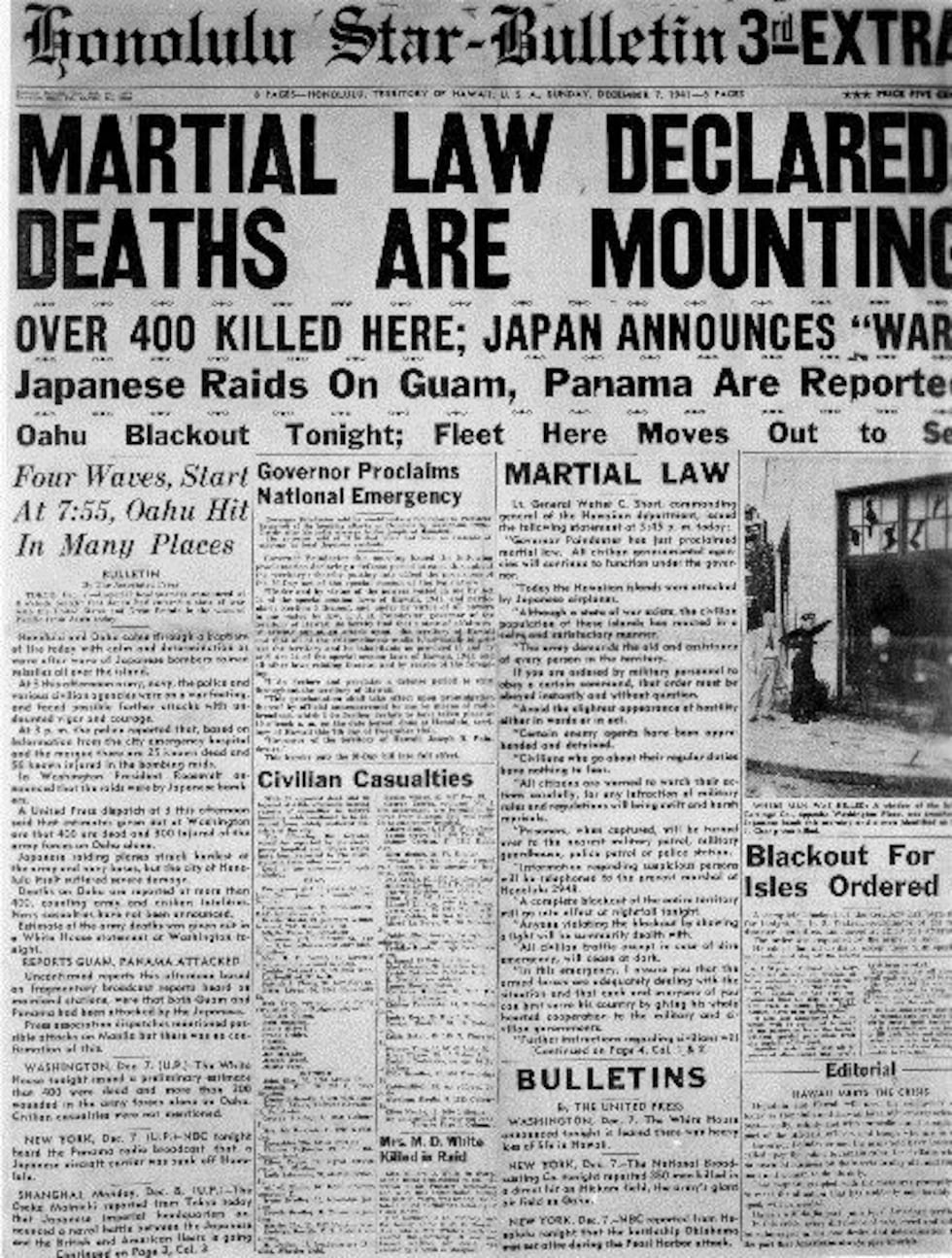 HONOLULU (HawaiiNewsNow) - Just hours after the attack on Pearl Harbor, martial law was declared in Hawaii.
It would remain in effect for three long years, and affect virtually every aspect of civilian life in Hawaii.
Over the period, military officers moved into Iolani Palace and assumed all legislative, executive, and judicial powers, curfews and blackouts were enforced, the military took over parks and schools, and mail and newspaper censorship were put in place.
"You almost want to say it affected every aspect of life, every aspect we normally think of," Historian Tom Coffman said.
Censorship, job restrictions, and the suspension of constitutional protections -- all became the norm. But not everyone was treated the same.
"Martial law was targeted against Japanese-Americans," said Professor Jonathan Y. Okamura, of the University of Hawaii at Manoa's Ethnic Studies Department.
About 400 people suspected of sympathizing with Japan or Germany were arrested immediately after the attacks on Pearl Harbor. "That struck a kind of terror through the whole community," Coffman said, "because the people who were interned were prominent people. They were well-known people."
Okamura added, "Particularly for the Japanese-American community was the closure of the Japanese language schools, the arrests of the principals and teachers. The closure of the Buddhist temples."
Until October 1944, when martial law was lifted, daily life included 6 p.m. curfews, a ban on large gatherings, food and fuel rationing, and barbed wire on beaches.
"It was very regimented there were some 130-something general orders that amounted to a new set of military laws." Coffman said.
The necessity for martial law here is still debated; some argue it was motivated by racism.
"Internment of Japanese Americans in Hawaii couldn't occur on a mass basis like as on the continent because they represented 40 percent of the labor force -- the civilian labor force in Hawaii -- so the economy would've shut down." Okamura said.
"Any lessons to be learned from that period in Hawaii's history? Well, we should not use race as the basis for how we treat people differently especially if they're U.S. citizens."
Copyright 2016 Hawaii News Now. All rights reserved.