Vietnam veteran's dying wish: Improve VA health care
Published: Sep. 13, 2016 at 10:44 PM HST
|
Updated: Feb. 1, 2017 at 3:40 AM HST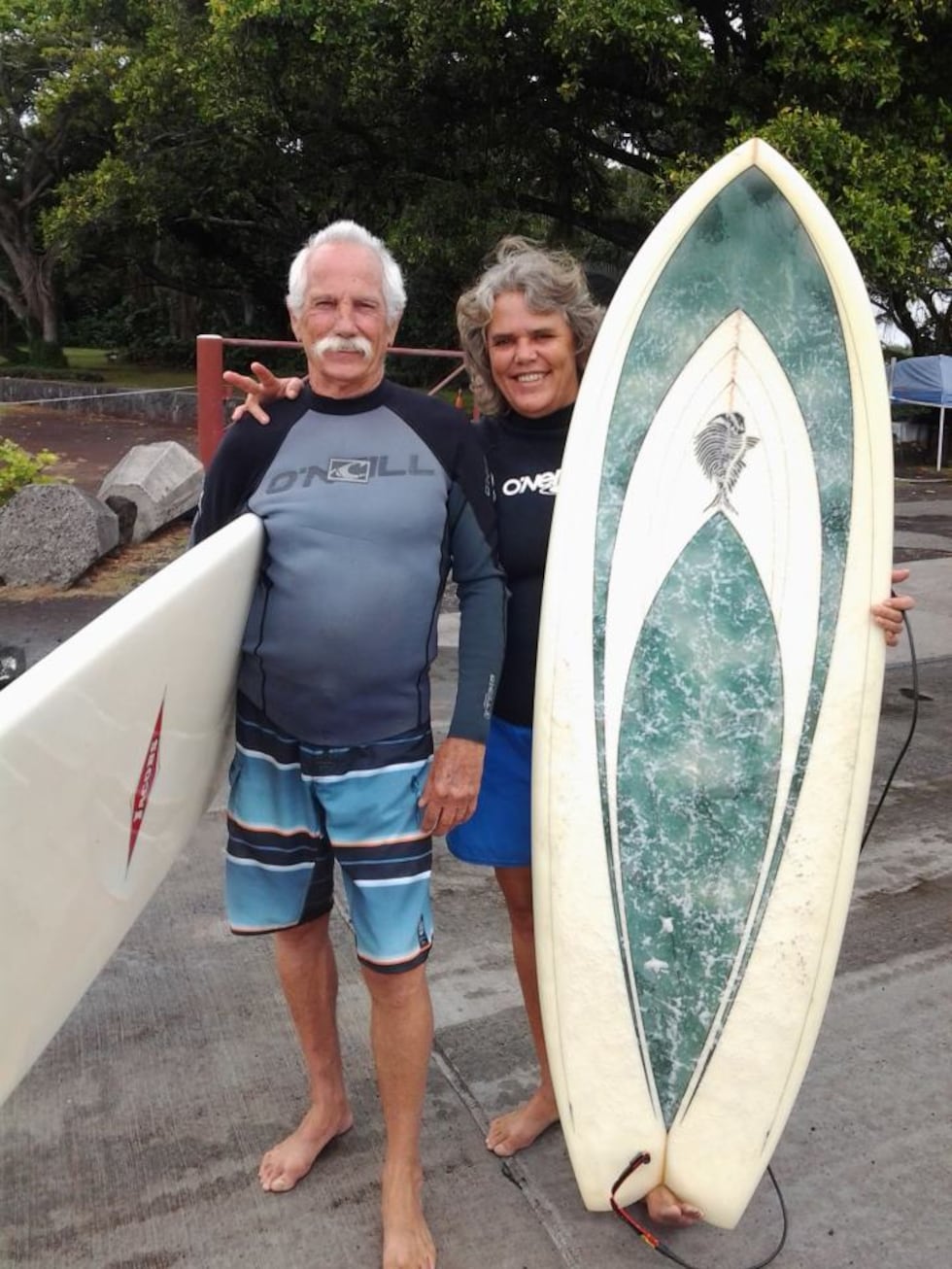 KALAPANA, BIG ISLAND (HawaiiNewsNow) - Roy Hall was holding his wife Edy's hand when he died Saturday.
The combat-wounded Vietnam veteran, 68, passed away exactly one month after he was diagnosed with lung cancer at a Hilo emergency room.
Hall was a long-time U.S. Department of Veterans Affairs patient who claims his VA doctor missed the diagnosis -- and by the time someone else caught it, it was terminal. He was also one of more than 4,300 veterans receiving VA care on the Big Island, where there are only four VA doctors.
It was Hall's dying wish to share his story with others in hopes that it could lead to improved health care for all service members.
His wife, a veteran herself who served in the Air Force and beat both breast and colon cancer, calls it her husband's final mission.
During an interview at their Kalapana home last week, Hall grimaced in pain while his wife stroked his back and helped him find the words he was looking for.
"It's OK, babe," Edy Hall said.
"I'm trying not to hate anyone," Roy Hall said, tears in his eyes.
"I wish I would've gotten killed in Vietnam," he added. "Then I wouldn't have to go through this. I f***ing hate it."
'It's my mission'
His wife continued to soothe him, "That's why, just make it my mission. It's my mission.
"You know me, smarter not harder. I'll write letters. I'll do everything I can so it doesn't happen to another veteran. Somebody else's husband, somebody else's father. Somebody else's grandfather. Everybody. Nobody deserves this."
In the final days of his life, it was physical pain that brought Roy Hall to his knees — as the tumors from metastatic lung cancer pushed through walls of his chest leaving masses on his back.
Hall suspects Agent Orange, which he came into contact with in Vietnam, is to blame.
"They would spray it and walk us right through it," he said.
"He thought he'd be OK because he did what they said, 'Don't breathe deep. Put your sleeves down. Your hats on,'" his wife said. "They didn't even have gas masks back then."
Decades after his service as a Marine in Vietnam, the horrors of war still tormented him.
"I f***ing killed so many people," Roy Hall said, crying.
"I know, honey. War is horrible," his wife said, comforting him. "It still haunts you, 50 years later."
"Unnecessary. It's terrible," he said.
"It's OK, buddy. It's OK," Edy Hall returned.
Years of questions, and then a diagnosis
The problems started in August 2014. That month, Hall went to the Hilo VA primary care clinic seeking treatment for debilitating back pain.
Over the next two and a half years, Roy and Edy Hall say his physician repeatedly prescribed him pain pills and referred him to his VA psychiatrist for management of his PTSD.
Then, eight months ago, Hall's health took a turn.
"He started slowing down," Edy Hall said. "The pain was getting worse and worse. He didn't want to go back to the doctor because he kept telling him it was his PTSD or he was surfing too much, instead of even doing just an X-ray. Then he started losing weight like crazy. And then he even said, 'I think I have cancer.'"
On March 17, Roy Hall landed in the ER. He had jumped over a fence to save a neighbor's puppy and threw his back out.
"Their dog was stuck in the fence halfway through," he said, struggling for a breath. "And not thinking I ..."
"You were 20 when you jumped," his wife finished, "and 70 when you landed."
Roy Hall was told to follow-up with his primary care physician at the VA, who saw him on April 8.
The VA says there's no record of a chest X-ray taken during Hall's March 17 visit to the ER; such a test, officials said, would not routinely be done to evaluate lower back pain. But the Halls say his VA doctor ordered no additional tests or scans, and again referred him for mental health treatment along with physical therapy.
In the weeks and months that followed, Edy Hall watched her husband rapidly disintegrate from the pain.
"Excruciating. He wants to shoot himself. He wants to run in front of a car. He wants to do anything he can to end the pain, because he thinks he's just going crazy," she said.
Roy Hall wound up back in the ER three more times between April 8 and August 10. And it was on that last visit that an ER doctor told Hall he likely had lung cancer.
"Some GQ-looking doctor actually listens to his chest and says, 'I'm going to get an X-ray. I don't hear any air moving in your right lung,'" Edy Hall said.
"The X-ray shows tumors inside and outside. The largest one was two centimeters that day. Three days later, it had turned into a mass — which means that it was more than three centimeters. Three days. That's how aggressive this stuff was at that time."
A week later, a specialist confirmed Roy Hall's condition was terminal.
"It was such a relief to him to have cancer. How screwed up is that? Because than he knows it's not just PTSD," his wife said.
In a statement to Hawaii News Now, the VA said it believes its doctors cared for Hall appropriately.
VA officials said that during Roy Hall's April 8 visit, he did not complain about shortness of breath or any other symptoms of lung problems to his provider.
"We take all allegations seriously. However, after a thorough review of Mr. Hall's medical records, the VA-Pacific Islands Health Care System can confidently say that all was done appropriately to provide the highest quality of care for him," the VA said in a statement.
But Hall blames his VA doctor for the missed diagnosis.
"If I had the right doctor. I could have got this taken care of five months ago," he said.
"Right? And we could be surfing another 10 years," said his wife, squeezing his hand.
'How hard do you have to fight to see a doctor?'
Roy and Edy Hall fell in love in the water — surfing at San Onofre, where they later got married. Less than a year ago, Edy Hall said her husband was dominating the line-up at Pohoiki, his favorite spot on Hawaii Island.
The couple found the water so healing, they started a stand-up paddleboard group for veterans in Hilo.
"I don't care how bad our enemies are. I don't want them to go through this ever again. Ever," Roy Hall said.
Hall's PTSD had gotten so bad, he and Edy couldn't even share a bed for the last 10 years. But Edy Hall never left her husband's side.
"Our frustration with the VA is now — it's embarrassing. It really is. How hard do you have to fight to see a doctor? How hard do you have to fight to stay alive? How hard do you have to fight just to love your husband and be able to take care of him?" Edy Hall said, struggling to remain composed.
Because of his PTSD, crowds overwhelmed Roy Hall.
And so, the couple worked out a system. When he would start to get anxious, his wife would shout out, "I love you." But she was saying it so often, he would start to get embarrassed. So instead, she started calling out, "I love cake."
In their final days together, the two repeated the phrase often.
"I love you, Roy," Edy Hall said, to which her husband shot her a scolding look. She laughed.
"I love cake, Roy," she corrected.
"I love cake, Edy," her husband replied.
Copyright 2016 Hawaii News Now. All rights reserved.