Ohana Cup 2016 Rugby League Festival: International event to feature the best in Rugby League
Published: Jun. 13, 2016 at 7:20 PM HST
|
Updated: Jun. 14, 2016 at 10:35 PM HST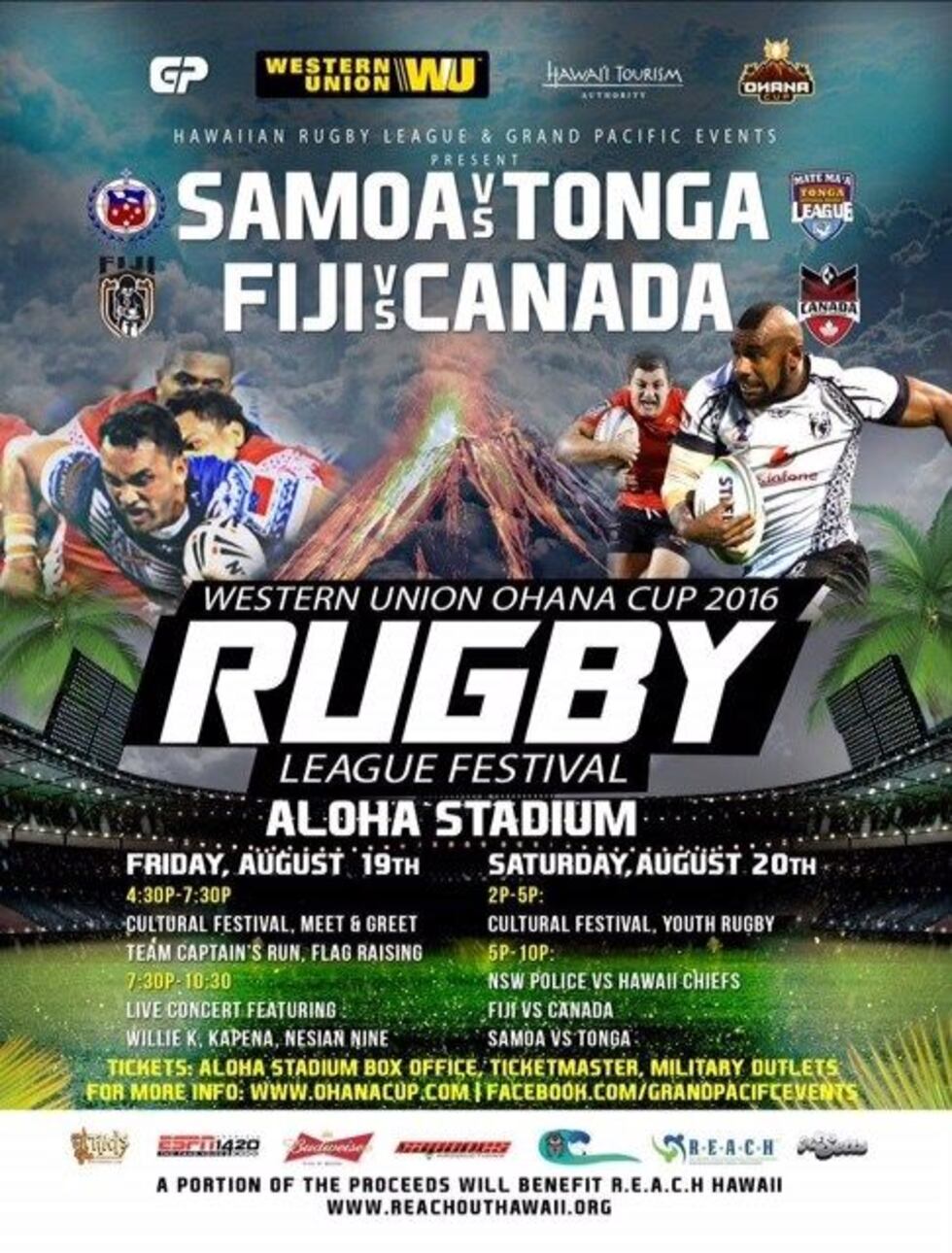 HONOLULU (HawaiiNewsNow) - Hawaiian Rugby League and Grand Pacific Events are pleased to announce the Western Union Ohana Cup 2016 Rugby League Festival.  This spectacular two-day event will take place at Aloha Stadium beginning Friday, August 19 as Polynesian recording artists Willie K, Kapena, Siaosi and Nesian Nine take the stage for a once in a lifetime pre game concert produced by leading entertainment company Capones Productions. There will also be food vendors and a meet and greet with the players.
This year's festival will culminate with the main event on Saturday August 20 as teams go head to head competing for the prestigious Ohana Cup. This year's all star lineup includes international Rugby League powerhouse Mate Ma'a Tonga versus arch rival Toa Samoa, Canada versus Fiji, and the NSW Police versus Hawaii Chiefs.
The Western Union Ohana Cup 2016 Rugby League Festival is made possible by generous sponsorship of The Hawaii Tourism Authority and Western Union.
"It is a tremendous honor, to have again the support of the Hawaii Tourism Authority and Western Union as our sponsors for this event. Through this special partnership, we have been able to grow the game of Rugby League in Hawaii so that now the residents and visitors alike are hungry for our events, and with each passing year we further cement the distinction that Hawaii is the premier destination for International and Professional Rugby and Rugby League events throughout the Asia - Pacific Region…these events continue to generate global exposure for our local athletes and also provide a nice economic boost for our tourism industry." said Kelly McGill, former USA Tomahawk Rugby League player, assistant coach and now President of Grand Pacific Events.
If you are unable to make it down to Aloha Stadium ESPN 1420 AM will broadcast the event live as well as streaming via their website at www.espn1420am.com. Tickets for the game go on sale at the Aloha Stadium box office beginning July 1 2016.
Ticket prices are as follows: TWO DAY PASSES: $40 (Includes General Admission to concert and Game) SINGLE EVENT TICKETS: Adults - $25, Military (with ID) - $20 and Keiki (under 12 years old) - $15. There is no charge for Keiki ages 5 and under. Tickets will also be available at most Morale, Welfare and Recreation (MWR) offices on military bases across the island.
A portion of this year's event will benefit R.E.A.C.H. (Resources for Enrichment, Athletics, Culture, and Health) an initiative by Lieutenant Governor Shan Tsutsui that provides an organizational framework for after-school programs for students in grades 6 to 8 throughout the state.
Grand Pacific Events Release