Hawaii wastes $1B worth of food a year, and consumers are the worst culprits
Published: May. 3, 2016 at 6:07 PM HST
|
Updated: May. 3, 2016 at 6:35 PM HST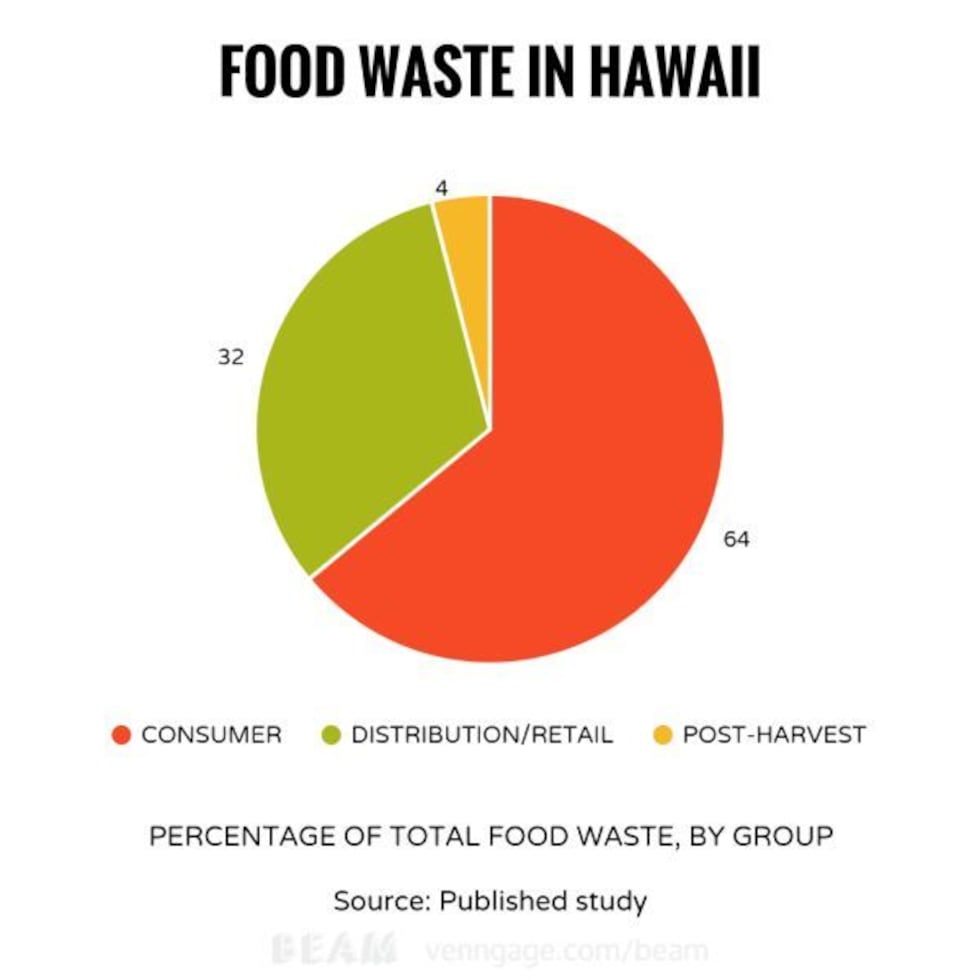 HONOLULU (HawaiiNewsNow) - The problem of food waste in America has gained significant traction in recent months, vaulted into the headlines by new awareness efforts locally and nationally.
There are campaigns aimed at wasting less food at farms and in the supply chain, wasting less food at eateries, and wasting less food at your dinner table.
And thanks to two Hawaii researchers, we now have a better clue about how much we actually waste here in the islands.
The researchers – Matthew Loke of the University of Hawaii and PingSun Leung of the state Department of Agriculture – looked at food waste at the consumer stage, distribution and retail stage, and post-harvest and packing stage.
Writing in the journal Waste Management and Research, they estimated Hawaii wasted 261,382 tons of food in 2010 – or about 26 percent of the available food supply.
That equates to 360 pounds of food wasted per person per year – or about 503 billion calories. Estimated price tag of all that wasted food (in a state with some of the priciest food in the nation): $1 billion.
(Sliced another way: Food waste is costing every Hawaii resident $698 a year, or nearly $2 a day.)
The good news is that Hawaii residents waste less food per capita than the national average, which is about 429 pounds per person.
The bad news: The largest chunk of Hawaii's food waste can be blamed on consumers, not farmers, packing companies, or eateries.
In fact, consumers wasted about 16 percent of all edible food in Hawaii. Distribution and retail stage waste accounted for 8 percent of the food supply, and post-harvest and packing stage equated to about 1 percent.
The researchers note that all that food waste is happening in a state where nearly one-fifth of residents rely on the Hawaii Foodbank, and where thousands of Hawaii families must decide whether to fill their refrigerators or pay for other basic needs.
At the consumer level, the proportion of food waste is highest in seafood protein, following by rice, fresh fruits and fresh vegetables.
The study says an awareness campaign targeting consumers and retailers could go far in reducing food waste in the islands, where the vast majority of food is shipped in.
"Interventions at the consumer stage should focus on two protein groups, as well as fresh fruits and vegetables," they wrote.
That's as good a call to action as we could wish for.
Copyright 2016 Hawaii News Now. All rights reserved.