Rail work on Dillingham could alter, cancel busy bus routes
Published: Apr. 22, 2016 at 9:37 PM HST
|
Updated: Apr. 22, 2016 at 10:05 PM HST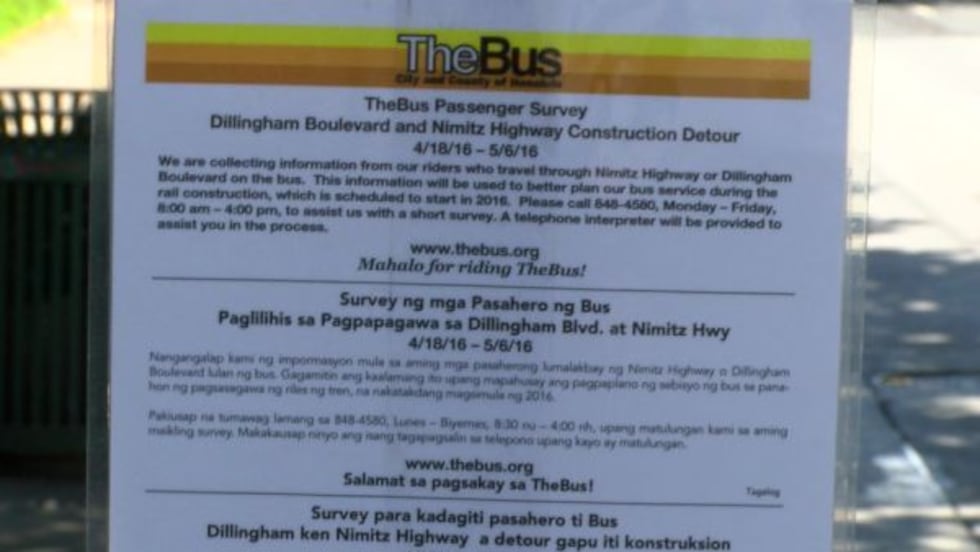 KALIHI (HawaiiNewsNow) - The city is trying to minimize delays from rail construction work in Kalihi set to begin by the end of the year.
Utility relocation tied to the rail project is expected to reach Dillingham Boulevard by late 2016, snarling daily commutes and affecting more than 3,000 bus riders each week.
Eight bus routes run through Dillingham Boulevard, which has two dozen bus routes.
City Transportation Deputy Director Mark Garrity said bus passengers on the routes are being surveyed so the city can better understand what changes it can make to minimize traffic delays.
Last year, rail work on Kamehameha HIghway put some buses 60 minutes behind schedule.
That worries Irene Miguel.
"Oh, wow! That's super long. I don't want to wait for 60 minutes just to ride the bus," she said.
Garrity said the city is weighing a number of options to tackle the anticipated traffic.
"In some cases construction activity may warrant completely moving all the buses off for a period of time or it may be such that we can continue to run buses through the corridor," he said. "A lot of our bus routes could be diverted to parallel routes like King Street or Nimitz."
When rail work slowed traffic in Pearl City, TheBus ran a shuttle for people who needed to get on and off on the main drag.
The city will do the same thing on Dillingham.
Bus rider Autumn Fairall is planning ahead.
"It means I'm probably going to have to get up earlier and try and figure out a different bus route so I can get to school," she said.
Garrity hopes routing buses around construction keeps them closer to being on schedule. But he's warning bus riders that their regular bus stop may be temporarily shut down.
"It is possible, especially if there's construction happening right in front of a particular bus stop," he said.
And a special warning for late night bus riders: Rail construction work could shut down Dillingham Boulevard completely overnight.
Copyright 2016 Hawaii News Now. All rights reserved.