EXCLUSIVE: Video shows tense police standoff on Maui
Published: Mar. 10, 2016 at 9:09 PM HST
|
Updated: Mar. 10, 2016 at 11:25 PM HST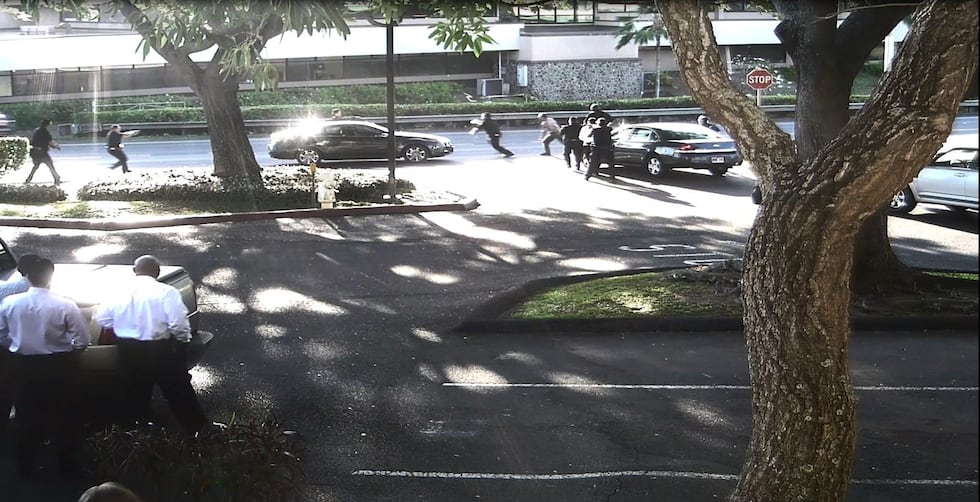 WAILUKU, MAUI (HawaiiNewsNow) - Exclusive new video shows Maui police officers successfully defusing a tense situation involving a mentally ill teenager, who acted as if he had a gun and wouldn't comply with officers' commands.
The officers involved are being praised for their quick thinking. So is new training the officers recently received, called the Crisis Intervention Team program, which is designed to help officers better deal with people who aren't mentally stable.
Maui's police chief Tivoli Faaumu said the training made the difference between life and death for the teen. Instead of being shot, the teen was tased and transported for treatment.
"I want to commend them for making the right choice, and as the chief, you always want to provide your officers with the proper tools, proper training that will allow them to make critical decisions at times when something like this happens," Faaumu said.
"They came across this and they acted appropriately, and as the chief, I thank them for doing that for making the right choice and I think that contributes to the training that we provided to them," he said.
The stand-off happened last month in front of the Maui Police Department Headquarters in Wailuku. A group of officers were outside the building at the time, taking a group photo.
In the video, a gray car can be seen pulling up to the entrance and stopping. Witnesses said the teen behind the wheel was revving his engine.
Some officers thought he'd stalled out; others get suspicious.
In the video, the teen can then be seen getting out of his car. Police start to approach the vehicle, and they believe he has something in his hand.
Cops give him verbal commands to show his hands, and to drop what's in his hands, but he doesn't comply.
At this point, some officers draw their weapons.
That's when one cop yells, "He might have a gun!" Suddenly, all weapons are drawn and officers take cover.
The young man stretches his arm out of front of him, and points it at an officer.
But the teen didn't have a weapon.
It's at this point, onlookers say, that the Crisis Intervention Team training kicks into high gear. Instead of shooting the teen who's seen as a threat, the officer tase him and de-escalate the situation.
Dr. Dara Rampersad said the standoff could have gone much differently if the officers hadn't undergone the Crisis Intervention Team training, which is being adopted by police department across the nation.
Rampersad trained the Maui officers involved in the standoff. He said other police departments in Hawaii were offered the same training, but they all declined.
After the stand-off, Rampersad said, the teen got help "and the mom called the police station to say she was very grateful that her child had not been killed that day."
Hawaii News Now law enforcement expert Tommy Aiu said the episode underscores how tough it is to be an officer.
"You have to be able to make that judgment in a millisecond," he said. "These officers are well-trained, you can tell the way they approached, they were careful, they made a careful tactical approach ... once they could see that the object in his hand was not a deadly weapon, they took appropriate action, they rushed him, tackled him, handcuffed him, that was the proper thing to do."
Rampersad says the 17-year-old boy suffers from Post Traumatic Stress Disorder and didn't want to live anymore.
"I would like to tell the officers who saved that kid's life a couple of weeks ago that they are heroes and that I am very proud of them," he said.
"The department is very proud of them, the community is very proud of them. Our officers are true heroes that recognized an illness and were able intervene in an appropriate manner that helped preserve life. And I think it was very commendable."
Copyright 2016 Hawaii News Now. All rights reserved.