Man who captured tour helicopter crash video recalls stunning coincidence
Published: Feb. 20, 2016 at 2:48 AM HST
|
Updated: Jun. 1, 2016 at 7:36 PM HST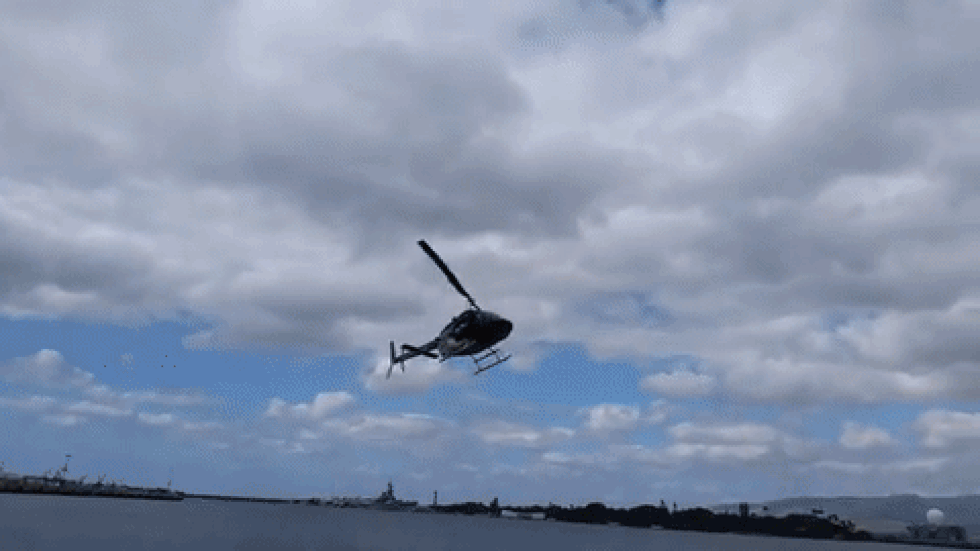 JOINT BASE PEARL HARBOR-HICKAM (HawaiiNewsNow) - Wisconsin-native Shawn Winrich captured video of the Bell 206 tour helicopter plunging into the waters near the USS Arizona Memorial Thursday. In a remarkable coincidence, Winrich tells Hawaii News Now it was the same exact chopper he rode two weeks ago, when he first began his Hawaii vacation.
"I double checked my video and you could see the numbers there, it laying there in the water and I was like 'wow'," Winrich said.
The stunning realization came when Winrich connected the downed chopper's tail number, N80918, to the same helicopter in a picture he captured before he boarded. In another twist to the story, Winrich said his February 2nd tour was delayed because of a small plane that crash landed in Keehi Lagoon due to engine and landing gear failure.
"We got to the taxi area and we had to halt and wait for clearance from air traffic control," he said.
Winrich said his aerial tour was smooth and breathtaking, but it's still scary to think it could have been him and his wife aboard the downed chopper Thursday.
"A lot of it was thankfulness it wasn't, amazement and surprise," he said.
What started as a relaxing vacation, has suddenly turned into a whirlwind experience.
"I was almost instantly bombarded with phone calls, emails and comments of people trying to reach and get a hold of me," Winrich said.
In 24 hours, Winrich's 11-second YouTube video has gone viral. It's been seen around the world and broadcast by several media outlets. Not to mention, the original video has been viewed over 2.9 million times.
"I thought it had the potential to turn into something big, but I really wasn't expecting quite the attention it's gotten," said Winrich.
But Winrich said the attention is all worth it if his video helps with the investigation.
Copyright 2016 Hawaii News Now. All rights reserved.