Makakilo residents decry illegal dumping on streets
Published: Dec. 29, 2015 at 10:21 PM HST
|
Updated: Dec. 29, 2015 at 11:49 PM HST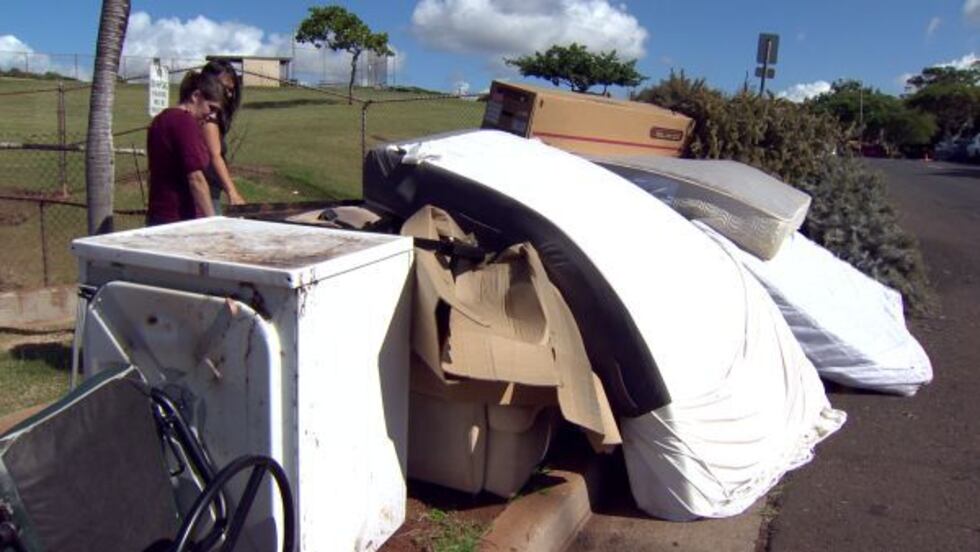 MAKAKILO, OAHU (HawaiiNewsNow) - For years, the Panana Street curbside next to the Palehua Villas condo project in Makakilo has served as an illegal dump site for household appliances, construction waste and even Christmas trees.
"We've seen folks in big trucks coming to dump. I've seen building materials, rolls of carpet, lumber just dumped like it's someone's personal dumping ground," said Makakilo resident Mericia Palma Elmore, who also is a member of the Makakilo Neighborhood Board.
"I've been here 14 years and this is the worst I've seen it. I feel like every year it gets worse."
There are dozens of smaller sites like this around the city caused by people who are either unaware or defiant of the rules for city pick-up. But few have been around so long.
"It's very clear that there's a culture going out out here where people think it's okay to put trash on the side of the road," said city Councilwoman Kymberly Pine.
"The residents of Makakilo are sick and tired of people trashing their community by making their sidewalk a daily illegal dumping zone."
And parents say the dump is a hazard for children who attend nearby Mauka Lani Elementary School.
"(There are) three or four refrigerators there. I see them jump in the refrigerators, closing the doors,other kids holding them in," said Maryann Laskarakis, resident manager at the Palehua Villas apartments.
Residents can place their bulky items on the curbside, but only the night before the city's scheduled pick up.
In Makakilo, it's the first Monday of the month.
Illegal dumping isn't limited to this neighborhood. Through November, the city has issued more than 550 notices of violations, up from 383 the year before.
The city issued one of those violations for the Panana Street site. The problem is they docked the Palehua Villas apartments $250 and not the actual dumpers. That's because the city can only issue fines against owners of properties.
"My complaint is that the law reads as a proximity fine. Because we're the nearest condominium we get blamed," said property manager Bryn James.
Residents are appealing and Pine said she will push for stiffer penalties for the actual dumpers, not residents.
Copyright 2015 Hawaii News Now. All rights reserved.