DOH completes 10K food establishment inspections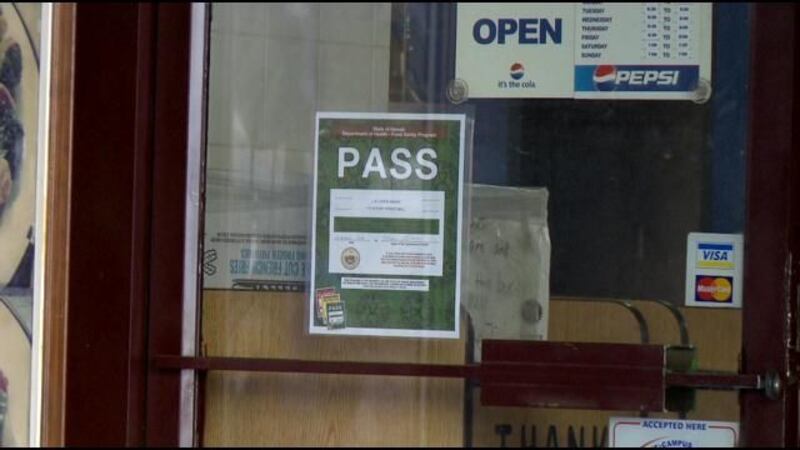 Published: Dec. 14, 2015 at 8:16 PM HST
|
Updated: Dec. 15, 2015 at 2:16 AM HST
HONOLULU (HawaiiNewsNow) - By Victoria Cuba
The Hawaii State Department of Health Sanitation Branch has completed 10,000 inspections on food establishments statewide.
The inspections uses a green-yellow-red placard system to ensured that all food establishments complied with the DOH food safety code.
A total of 45 DOH inspectors covered 6,000 establishments on Oahu, 1,800 on Hawaii Island, 1,700 in Maui county and 690 establishments on Kauai.
"The good news is that the majority of Hawaii's establishments are in compliance with the state's food safety code," said Peter Oshiro, DOH inspection program supervisor.
Only three establishments were temporarily closed after being issued a red placard by the DOH since the beginning of the program. Blue Water Shrimp and Seafood Market, Makitti Hawaii Japanese Seafood Buffet in Waikiki and Paalaa Kai Bakery all have since fixed the issues and received a green placard within a week of closing.
Meanwhile, DOH issued 2,105 yellow placards or conditional passes to address the establishments' violations. Corrections were made within an average of two to three days after the placards were issued.
"There has been a voluntary compliance rate of over 99.8% for those food facilities that were issued a yellow placard," said Oshiro. "This confirms that the placarding program has been a huge success in terms of influencing rapid and voluntary correction of food safety violations."
Some mobile food service establishments and others may have not been inspected yet. If the public does not see a placard at an eatery, they are encouraged to inform the Hawaii Department of Health so that an inspection can be scheduled at that site. The public can notify the Department of Health about these sites at 586-8000.
The DOH is planning to launch an online website that will allow the public can access the inspection results online. The system will also allow food establishments to apply and pay for their permits. It is scheduled launch sometime in 2016.
For more information on the inspections, click here.
Copyright 2015 Hawaii News Now. All rights reserved.