Court orders city to stop destroying property in homeless sweeps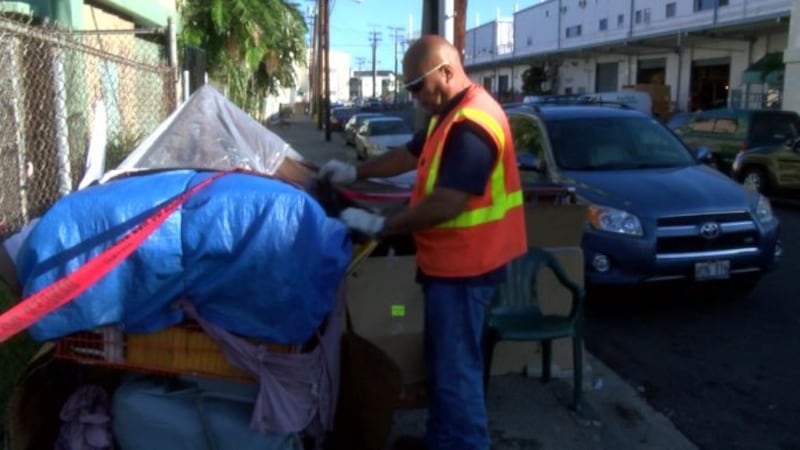 Published: Nov. 19, 2015 at 9:56 PM HST
HONOLULU (HawaiiNewsNow) - A federal judge has ordered the city to stop destroying property picked up during homeless sweeps.
The ACLU had brought a lawsuit against the city, alleging crews were illegally destroying unattended property as soon as it collects it.
The city told the court it wasn't destroying homeless people's possessions, but the ACLU cited statements made by city employees.
A city spokesman on Thursday said the court order would not halt homeless sweeps. "The crew goes to locations around Oahu where they receive complaints five days a week and will continue to do so," said city spokesman Jesse Broder van Dyke.
ACLU Legal Director Dan Gluck said the order "gives the plaintiffs in our lawsuit significant relief, and substantially changes what the city has been doing during its sweeps of homeless encampments."
Under the order, the city can only destroy items that are clearly trash or are hazardous.
The order requires the city to:
Tag and store all property that does not pose a public health or safety risk;

Post notices of sweeps and recovery directions for owners who aren't present;

Ease the waiver process for storage fees;

Document with video when city crews determine an item must be destroyed.
According to the ACLU, the city has about 1,000 square feet of storage space for items picked up in homeless sweeps. The city did not immediately comment on the figure, or say whether more storage space would be needed.
Copyright 2015 Hawaii News Now. All rights reserved.