Thieves caught on camera siphoning off gas from school bus
Published: Nov. 19, 2015 at 11:18 AM HST
|
Updated: Nov. 20, 2015 at 1:34 AM HST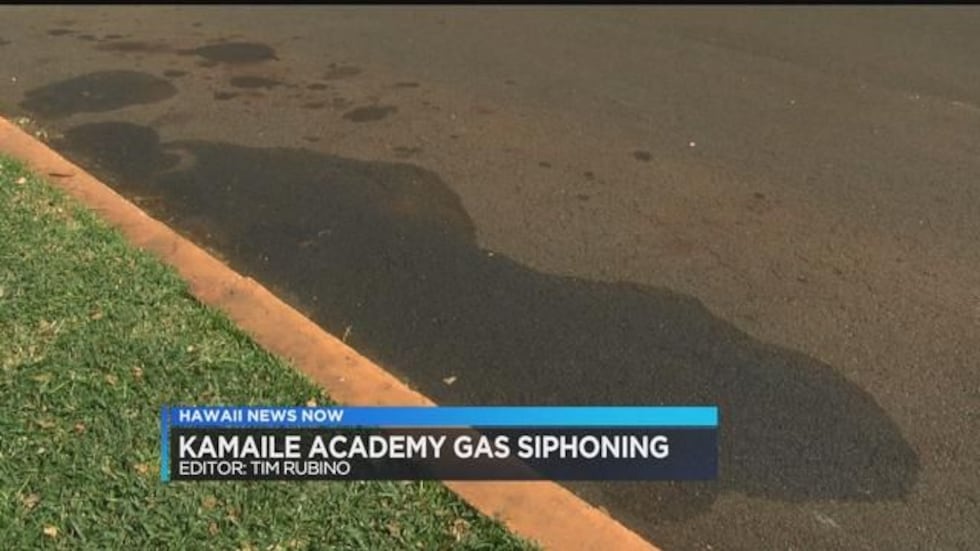 WAIANAE, OAHU (HawaiiNewsNow) - Officials at Kamaile Academy, a public charter school in Waianae, are asking the public to help them locate two thieves who were caught on camera siphoning off gas from a school bus.
Officials said the gas heist happened Monday and is the third time in a year that thieves hit the school.
"It's sad that a few individuals are taking advantage of our children and our community," said associate Principal Paul Kepka.
Surveillance video from about 12:30 a.m. Monday shows a man casing the sidewalk where the bus is parked. He appears to have the siphon and a gas can in hand. Three minutes later, he re-appears in the frame, and signals to an unseen accomplice.
Around 12:40 a.m., the suspect slides under the bus, as the second suspect walks by, apparently to serve as a lookout.
The bus is now being repaired, leaving the school with just one bus to transport students. The academy serves underprivileged and homeless children.
School officials have turned the surveillance video over to police.
"I think for our school community, they feel a little violated," Kepka said.
Anyone with information is asked to call police.
Copyright 2015 Hawaii News Now. All rights reserved.