Paddlers stranded on Molokai after race canceled say Hawaiian Airlines jacked up prices
Published: Sep. 27, 2015 at 10:09 PM HST
|
Updated: Sep. 28, 2015 at 3:27 PM HST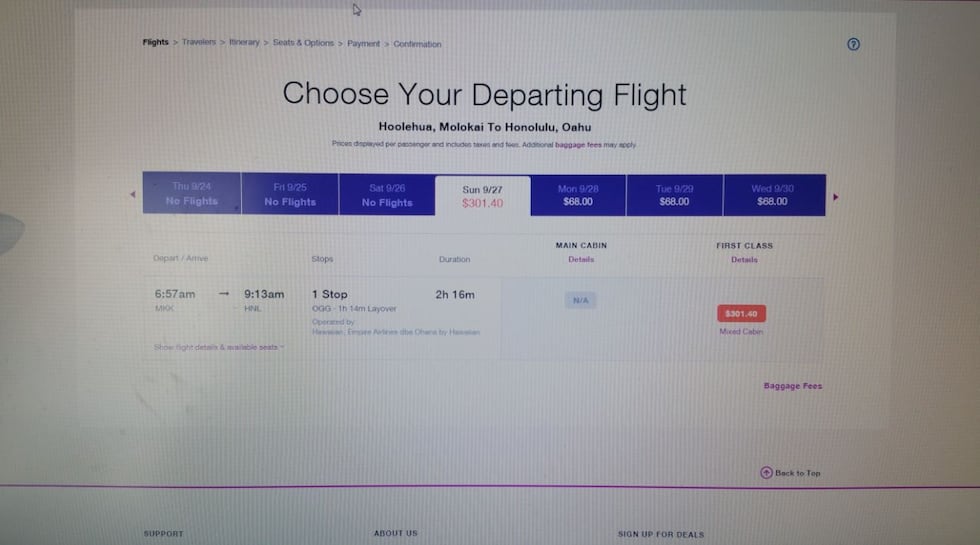 Huge swells and dangerous winds led to the cancellation of a world-renowned canoe race leaving hundreds of heartbroken paddlers stuck on Molokai. There were 72 crews registered for the race, that is about 750 paddlers. Hawaiian Airlines added flights to help out. But some say the company jacking up its prices was unethical.
Hawaiian Airlines sponsors Na Wahine O Ke Kai. So many people are upset fares more than tripled right after the race was called off.
Na Wahine O Ke Kai is considered the world championship of outrigger canoe racing. So when it was suddenly cancelled, many were disappointed.
"Feeling just kind of the hurt for all the ladies who worked so hard all year and for some folks many many years to get to this point…so kind of devastation," said Susan Duprey, a Lanikai paddler.
Duprey said the race cancellation wasn't the worst of it.
"The huge thing was just trying to get flights out. So everyone was on the phone, on the computer, just trying to get flights out of town," Duprey said.
"And to go from Molokai to Honolulu, it was a one-way $300 ticket for that person! Unanticipated," she said.
Callers into our newsroom said fares went from $89 to $301.40 in an hour following the race cancellation.
Some people messaged Hawaii News Now saying, "Paddlers train ALL year for a seat in this race. The cancellation stranded hundreds of heartbroken paddlers on Molokai without transportation back to Honolulu. HAWAIIAN AIRLINES, who is a sponsor of this race, chose to act out of greed and corporate gain rather than Aloha by doubling and even tripling their fares. Imagine paying $300 for a one way 20 minute flight. Hawaiian Air is a monopoly here and this is not pono."
Hawaiian Airlines issued a statement saying, "Due to the cancellation of the Na Wahine O Ke Kai, Ohana by Hawaiian has added extra flights to accommodate passengers traveling from Molokai to Honolulu."
The spokeswoman for the airlines said the high demand led to lower fares starting to sell out and when they learned of the race cancellation, they added five extra flights at $89, all-inclusive. She said the majority of their customers paid under $100 for a one-way ticket.
Hawaiian Airlines told Hawaii News Now on Monday that because its software, which raises or lowers fares automatically according to demand, was responsible for the price hike, the airline may offer partial refunds since nobody intended for the fares to be so high.
Copyright 2015 Hawaii News Now. All rights reserved.