Wife of Foodland founder passes away at 94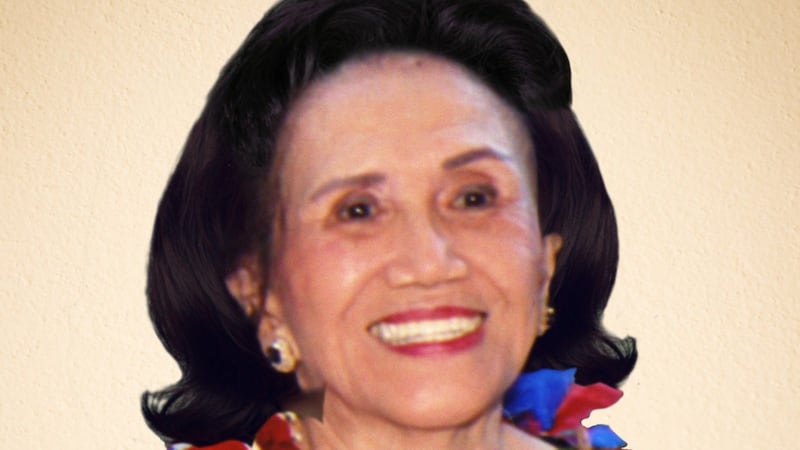 Published: Sep. 2, 2015 at 10:24 PM HST
|
Updated: Sep. 3, 2015 at 2:10 AM HST
HONOLULU (HawaiiNewsNow) - Joanna Sullivan, philanthropist and wife of the late businessman, Foodland founder and entrepreneur Maurice J. " Sully" Sullivan, passed away Wednesday. She was 94 years old.
Born on July 4, 1921 in Honolulu, Hawaii to Chinese immigrants, Joanna was a graduate of McKinley High School and was pursuing studies at the University of Hawaii when she left college to help her mother run Lanikai Store, a small grocery store the Laus had purchased in Kailua. Determined to ensure the store's success, Joanna helped everywhere she could, serving customers, stocking shelves, handling the bookkeeping and more. It was at the store that Joanna met the man who would later become her family's business partner and her husband, Maurice J. "Sully" Sullivan, an Irish immigrant and U.S. Air Force Sergeant who was stationed at Hickam Air Force Base. Joanna and her family befriended Sully and soon he spent his days off working at the store. After World War II, the Laus asked Sully to remain in Hawaii to help them run Lanikai Store. Although he declined at first, a few weeks of winter weather in Buffalo, New York were just enough to change his mind and he returned to Hawaii to work with Joanna's family. Sully had two conditions for his return: first, the Laus would remodel the store and second, they would promise to help him fulfill his dream of opening a full-service supermarket like those he had worked in on the mainland.
That dream became a reality when Joanna, her family, and Sully opened Foodland on May 6, 1948. It was Joanna who named the store. "I wanted a name that would tell people exactly what we offered," she recalled on the company's 65th anniversary in 2013. "It was going to be a place with lots of food – more than they had ever seen in one store – so the name Foodland seemed to make a lot of sense."
Foodland was a big hit with Hawaii customers, and Joanna, Sully, and the Lau family worked hard to ensure the business would grow and prosper. They opened a store a year for the next ten years before taking a "breather" to get married on February 14, 1958. And although four children soon followed, the couple kept working! Joanna continued to help in the company's office for many years and with her sharp mind and sound business sense, she supported, advised, and encouraged Sullivan as he opened new stores and brought new businesses to the islands. She was also a devoted mother, exposing her children to arts, culture, and music and encouraging them to work hard and try new things in order to find what brought them success and joy.
Joanna and Sully supported many causes and organizations together and Joanna continued to build upon her husband's legacy after his death. In addition to funding scholarships at 'Iolani and Punahou Schools, Chaminade University, and the Hawaii Rotary Youth Foundation, Joanna has made lead gifts to St. Francis Cardiac Care Center, the Cancer Research Center of Hawaii, Ronald McDonald House, The Queen's Medical Center West Oahu, the Honolulu Museum of Art, the Sullivan Administration building at Punahou School, the Sullivan Library at Chaminade University, and The Sullivan Center for Innovation and Leadership at 'Iolani School. Passionate about the many organizations she supported, Joanna was a donor who continually showed she cared through her many acts of graciousness, kindness, and support. She was named Philanthropist of the Year by the Association of Fundraising Professionals -- Honolulu Chapter in 2008 and again in 2013.
An active shareholder and member of the boards of several of the companies she started with her late husband, Joanna loved to visit stores and share her feedback on what was needed to improve. She was a stickler for details and was relentless about pushing the companies to excel and grow. In fact, even in her later years, Joanna remained as passionate and committed to the success of her family's businesses as she was as a young girl working long hours at Lanikai Store. Thanks in part to her dedication and commitment to continuing her family's legacy, The Sullivan Family of Companies includes Hawaii's largest grocery retailer with 32 Foodland and Sack N Save stores statewide, as well as more than 150 retail stores across 9 states and 4,000 employees.
Joanna is survived by her four children Kitty Sullivan Wo, Jenai Sullivan Wall, Colleen Sullivan, and Patrick Sullivan and five grandchildren Marisa Wo Azevedo, Liza Wo Davis, Emma Wo, and Alana and Eamon Wall.
Funeral services are pending.
Copyright 2015 Hawaii News Now. All rights reserved.