Navy, EPA plan to improve Red Hill fuel facility draws hundreds concerned about drinking water
Published: Jun. 19, 2015 at 1:24 AM HST
|
Updated: Jun. 19, 2015 at 4:08 AM HST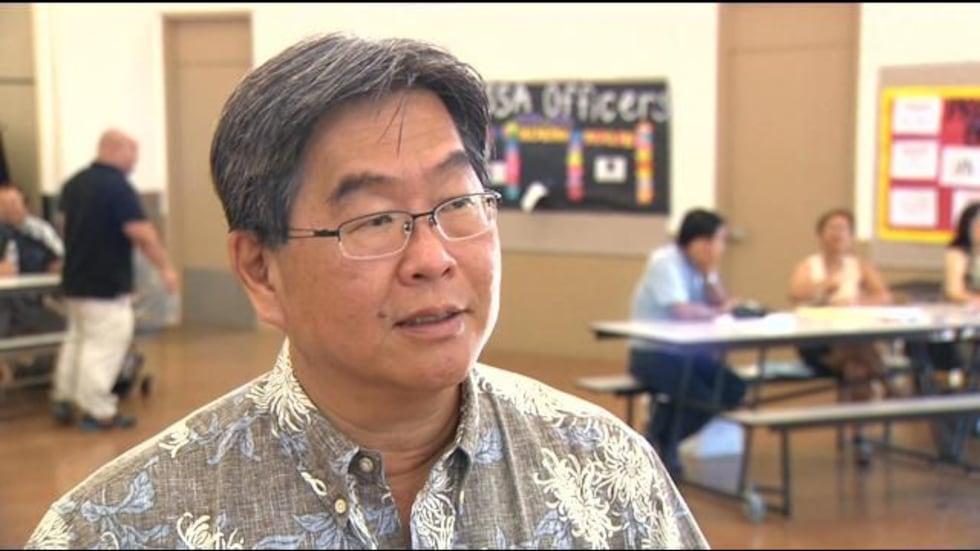 MOANALUA, OAHU (HawaiiNewsNow) - Hundreds of people packed the Moanalua Middle School cafeteria Thursday night to hear a draft plan to improve the Navy's fuel tank facility at Red Hill.
About 27,000 gallons of jet fuel oil leaked from one of the tanks last year, prompting concerns about whether nearby drinking water supplies were affected.
"We haven't detected petroleum at this time," said Ernest Lau, manager and chief engineer of the Board of Water Supply. "However, we're concerned because there's evidence that fuel has already contaminated the groundwater below the facility and around the facility."
The Navy said residents shouldn't be worried. "The drinking water well closest to Red Hill is the navy's drinking water well at Red Hill, about three thousand feet down gradient," said Capt. Dean Tufts, regional engineer with Navy Region Hawaii. "We've always tested clean for drinking water. And it's non-negotiable for the Navy."
Despite that assurance, many at the public hearing remained skeptical about the proposed deal for a long-term overhaul of the Red Hill fuel tanks. The Board of Water Supply said last year's leak happened just a hundred feet above a groundwater aquifer that supplies residents from Moanalua to Hawaii Kai.
The Navy, the Environmental Protection Agency and the state Health Department have agreed on a plan to first study possible tank upgrade options, and then each of the massive underground storage tanks would be upgraded over a 20-year period.
"This is a deal we feel good about," said Tom Huetteman of the EPA. "It's comprehensive. There's a lot of work ahead of us and we're going to move quickly."
"I'm not sure why we're having a discussion about a plan that's going to take 20 years to implement," said Honolulu resident Allison Bhattacharyya. "It should be what are we doing today to fix this problem?"
"They come out now and say, you know, we really care, we're responsible, we'll try to take care of this. But that should have been done, like, 40 years ago," said another Honolulu resident, Karen Murray.
No decision-making was made at the meeting, but written public comments on the plan will be taken through July 1.
Related links:
and
Previous story:
Copyright 2015 HawaiiNewsNow.  All rights reserved.