Defense Secretary Ash Carter in Honolulu for Change of Command ceremony
Published: May. 27, 2015 at 8:19 AM HST
|
Updated: May. 27, 2015 at 12:34 PM HST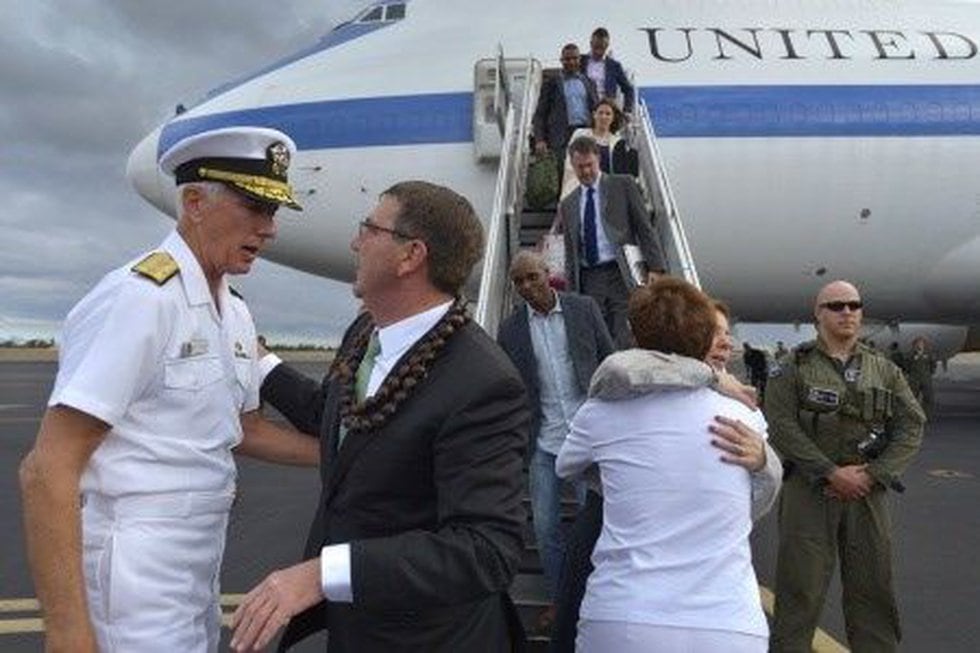 JOINT BASE PEARL HARBOR-HICKAM (HawaiiNewsNow) - Secretary of Defense Ash Carter will attend the Change of Command ceremony for the U.S. Pacific Command and U.S. Pacific Fleet at Joint Base Pearl Harbor-Hickam Wednesday morning.
Defense Secretary Carter arrived with his wife, Stephanie, Tuesday in Honolulu as the first part of his 10-day international trip. He will be present when Adm. Scott H. Swift assumes command of U.S. Pacific Fleet from Adm. Harry B. Harris, Jr.
Immediately following the U.S. Pacific Fleet ceremony, Adm. Harris will assume command of U.S. Pacific Command from Adm. Samuel J. Locklear, III.  The Chief of Naval Operations Adm. Jonathan Greenert will also be in attendance, Navy officials say.
The ceremony will be covered real time on U.S. Pacific Command social media sites and streamed live at www.defense.gov.

According to his official biography, Adm. Harris is the highest-ranking Asian-American in the history of the United States Navy, and the first to attain the rank of 4-star admiral. The Naval Academy graduate is a Naval flight officer who has flown and been in command positions with patrol and reconnaissance air wings.
Harris assumed command of the U.S. Pacific Fleet in October of 2013. Harris' graduate education focused on East-Asia security and recent staff assignments include being the assistant to the chairman of the Joint Chiefs of Staff.
According to Pacific Command public affairs officials, immediately after the ceremony, Defense Secretary Carter will depart for Singapore where the Shangri-La Dialogues will be held. Adm. Harris will attend an hour-long staff meeting before also departing for Singapore to attend the Shangri-La Dialogues as commander of USPACOM.
Copyright 2015 Hawaii News Now. All rights reserved.