Large cracks develop along rail line
Published: Apr. 17, 2015 at 12:21 AM HST
|
Updated: Apr. 17, 2015 at 4:21 PM HST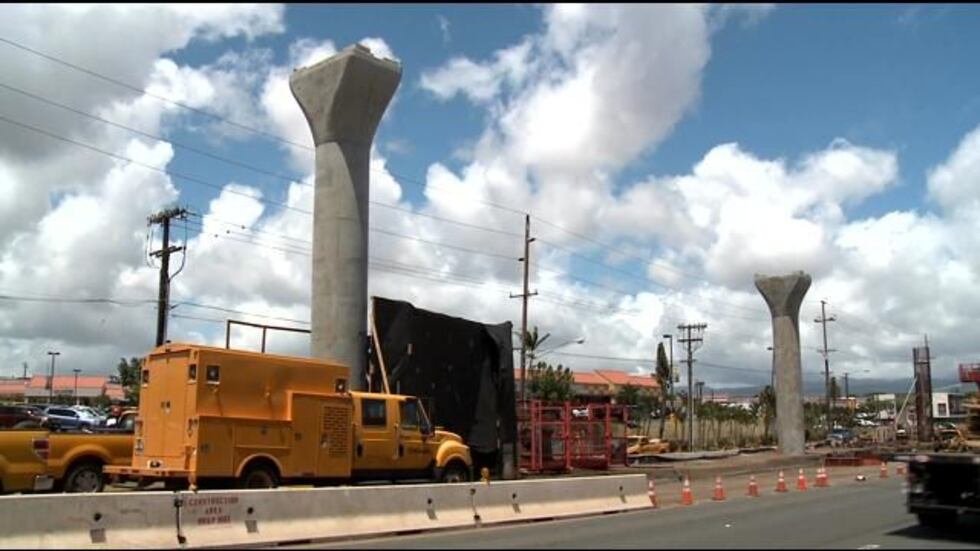 KAPOLEI, OAHU (HawaiiNewsNow) - Many of the concrete segments on Honolulu's rail transit system are only a few months old but already cracks are beginning to show.
The most notable cracks can be seen at the end of a 150-foot long section across from the University of Hawaii West Oahu on Kualakai Parkway.
In Waipahu, some of the concrete on a column on Farrington Highway appears to have fallen off, exposing the reinforcing bar.
Experts said it's not unusual to see problems like these on large projects. But they are surprised that they're showing up so early in the construction stage.
"There is evidence for concern at this point. There are some obvious failures," said Panos Prevedouros, a frequent rail critic and a University of Hawaii civil engineering professor.
Rail officials said the project is safe, having undergone a number of quality and safety inspections. They said the segment and the column either will be replaced or repaired by the contractor Kiewit at Kiewit's cost.
"We've had a couple of issues with quality and we've held Kiewit's feet to the fire and in each instance we've required them to replace and repair at their cost any errors," said Dan Grabauskas, CEO of the Honolulu Authority for Rapid Transportation.
Prevedouros, who also opposes rail, said fixing the cracks on the guideway could be expensive since the segment is already in place.
"It's not a hairline crack, it's a crack that should concern us," he said.
Prevedouros said the Waipahu problem is probably an easier fix because it's a stand-alone column and that construction workers could patch up its surface.
When Hawaii News Now began filming that column, Kiewit employees appeared to try to hide the flaws.
One worker covered portions of the cracks with a black canvas while another placed a company truck in front of section that the problem area.
Grabauskas said he will call in Kiewit executives to his office on Friday to explain what happened. He said that if there was any effort to conceal anything, it could lead to disciplinary action against Kiewit employees.
"The message we send out there is that we are transparent and open," he said.
"We're spending taxpayer money. We're in the public roadways and people have a right to see how their money's being spent."