EXCLUSIVE: Zoo nonprofit gives just 10 percent of its funds to Honolulu Zoo
Published: Feb. 5, 2015 at 10:37 PM HST
|
Updated: Feb. 6, 2015 at 1:00 AM HST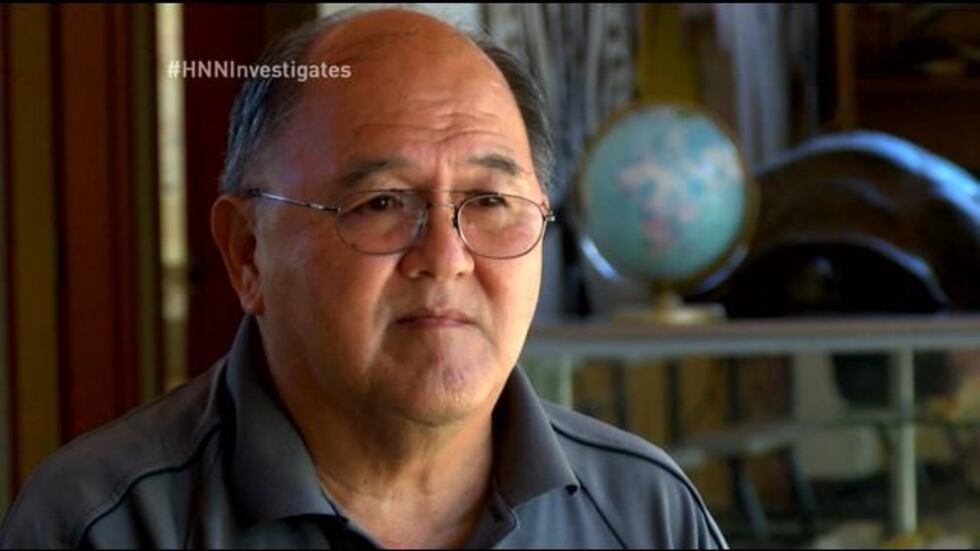 HONOLULU (HawaiiNewsNow) - Two former Honolulu Zoo directors said the nonprofit Honolulu Zoo Society is failing to help the zoo that's in dire need of financial assistance, just a year before it faces a crucial re-accreditation inspection.
The society gives the zoo only about 10 percent of its annual budget in direct assistance, but the head of the group said it provides valuable support to the zoo in other ways.
The zoo is a favorite place for families to enjoy animals big and small but lately zoo visitors are seeing more empty exhibits, like a crocodile habitat at the entrance to the zoo's African Savanna area that's been without any crocs for a couple of years.
The old elephant exhibit temporarily houses a hippo that's not visible to the public, but has been empty since the pachyderms moved to a new habitat three years ago.
"It just seems like our animals are missing. Everywhere you go, oh, animals not here. This section under renovation," said Keith Trigg of Aiea, who was visiting the zoo with his family last Friday.
City budget cuts have left the zoo with few funds for renovations and new exhibits. Last year, the city cut 10 percent of zoo staff, equal to seven vacant funded positions.
Hawaii News Now asked Ted Otaguro, the executive director of the Honolulu Zoo Society, if he agreed the zoo is in a dire situation.
"Yes, and that is right now, the road that we're going on is that OK, we need to switch gears here. We need to start making monies to help you with repair and maintenance. We got it," said Otaguro, who has headed the society for nearly four years.
The Honolulu Zoo Society is a nonprofit group set up in 1969 to support the zoo.
The group's under fire from two former zoo directors who said it's not doing enough to help the zoo with basic, badly needed expenses.
"It appeared to me that it became an organization that was really there to satisfy its needs and not the needs of the zoo in general," said Manuel Mollinedo, who was Honolulu Zoo director for three and a half years and is now the parks director in Fresno, California.
"All they did was put programs on that would benefit their organization and not benefit the Honolulu Zoo," added Mollinedo, the former head of the San Francisco Zoo.
Jeff Wilkinson, who just resigned as Honolulu Zoo director in January, said, "If output is a measure of performance, the Honolulu Zoo Society wouldn't receive a passing grade on any scale. There is no accountability or leadership in that organization."
City Managing Director Roy Amemiya, who just joined the Caldwell administration at the start of the year, is working to fix years of bad blood and mistrust between zoo employees and the nonprofit that's supposed to support them.
"We're concerned about it, but we are meeting with the Zoo Society and are encouraged that we will be getting a better relationship going forward, it has been a strained relationship in the past," Amemiya said.
Families that buy annual $45 or $55 passes may be surprised to find out that money does not go directly to zoo operations.
Instead, the Zoo Society collects and keeps the roughly $500,000 in membership dues every year.
In the last four years, the nonprofit has given the zoo a fraction of that back, an average of $157,000 in direct aid each year, according to figures released by the society. That's only ten percent of the nonprofit's operating budget of about $1.5 million a year.
"If the organization was created for the zoo then that should be the facility that's benefiting from it. So if a very small percentage of the funds are being allocated toward the zoo, it sounds a little corrupt," said Kashara Ward of Kapolei, who visited the zoo last week with her 3-year-old daughter and other family members.
Not so, said Otaguro. The society spends the bulk of its money on salaries for 11 employees: six full-timers and five part timers who Otaguro said carry out important programs for the zoo at no cost to taxpayers.
"I think with our emphasis on education, conservation, volunteers, membership, animal enrichment, I think we've done a very good job in providing those services and programs," Otaguro said.
A full-time volunteer director coordinates more than 230 volunteers, he said.
Three full-timers and a part-time employee, along with eight summer time on-call part-timers provided education programs for more than 31,000 children in the last year, Otaguro said.
But there have been missteps by the society, cutting its income.
Last year, the city stopped allowing the Zoo Society to hold after-hours events such as sleep overs and twilight tours that raised about $100,000 annually for the nonprofit. That's because on several occasions Zoo Society chaperones failed to stay with campers in a grassy area near the tiger enclosures, and instead spent the night in the zoo's air conditioned education building, putting the safety of campers and animals at risk.
The nonprofit fired two of those employees, Otaguro said.
"One of the reasons why the programs were suspended until we could adequately show that we had covered all their concerns, at which point I think we have done that, so now we are once again discussing returning those programs," Otaguro said. "When they cut out or suspended our programs, it severely impacted our ability to support the zoo."
The society laid off three full-timers in the last year because of the elimination of those after-hours programs, he said.
Amemiya, the city's managing director, said, "If we can put aside past differences, and get past that, we can work together on what we want to do going forward."
Amemiya has provided the Zoo Society a list of needed projects the city would like the nonprofit to pay for, such as fixing the primate island filtration system, where the water is gross, green and slimy.
The list also includes repairing a water fountain in the orangutan habitat and resurfacing a pond used by the zoo's Galapagos turtles.
Time is of the essence on those repairs, because next January a team will visit the zoo to decide if it will be re-accredited by the Association of Zoos and Aquariums.
"Hopefully, early next year, we will be accredited. Failure is not an option," Amemiya said.
Zoo employees have long said the AZA will be hard-pressed to re-accredit the zoo because of its lack of stable leadership in recent years, budget cuts, empty and broken exhibits and staffing shortages. Without AZA accreditation, Honolulu Zoo could lose some of its animals belonging to other AZA institutions and would not be able to get more creatures from AZA facilities in the future.
The city will hire former city parks director Bill Balfour on a contract to work specifically on re-accreditation, Amemiya added.
Amemiya said the Caldwell administration will ask the Honolulu City Council for an increase in operating funds and construction money for the zoo when it proposes its budget March 2. He declined to release specific amounts and projects.
But zoo employees are concerned that the AZA accreditation team will be wary of the high level of instability at the zoo, which has had four directors in the last three and a half years in a city department that's gone through three directors in that same time.
Amemiya said the city is limiting applicants for the vacant zoo director's job to current city employees.
"Our hope is that we will find a qualified zoo director within our ranks and hopefully that will create more stability over at the zoo and give someone a promotion," Amemiya said. "Having somebody come in and learn everything and getting to know the staff has not worked in the past and we're going to try something different."
Wilkinson, the zoo director who resigned in January, was in charge of the zoo for just nine months before quitting to move back to his family in California. Jeff Mahon, the director before Wilkinson, spent only six months at the zoo before quitting. Neither of them had previous zoo experience.
Acting Zoo Director Baird Fleming, who has been the assistant zoo director under the last three directors, is the leading candidate for the permanent job, sources said. He is popular with the staff, devoted to the animals and has a good rapport with City Hall, sources said.
The city has created a new position of zoo keeper trainee, in an attempt to stop the revolving door of mainland zoo workers who are hired, experience sticker shock from high prices on Oahu or island fever and then quit a year or two later. Honolulu zoo keepers are required to have previous zoo experience. But now, the city is allowing trainees to be hired, so they can gain experience at the zoo.
Two people have been selected for those new trainee positions so far, Amemiya said.
"One of our main priorities is to stabilize the zoo employees," Amemiya added.
"We need to step it up. But so does the city. And I think if we both do our parts, we'll have a heck of a zoo," Otaguro said.
The Zoo Society plans to spend significantly more on improving zoo exhibits this year, Otaguro said, bolstered by a $250,000 bequeath from a zoo supporter and $800,000 from the sale of a condominium that the Zoo Society inherited from another patron.
"I would gladly give them all the credit if they had a fundraising department and were fostering these donations. But they happen by accident because their name is on the Honolulu Zoo website," said Wilkinson, the immediate past zoo director.
Wilkinson said the man who left the zoo $250,000 was "never courted by HZS' development team. In fact, they had no idea who he was. Yet they received the money and we had to beg them for it."
And the former city enterprise services director, who oversaw the zoo for six years, said those are one-time windfalls and the zoo needs a long-term funding solution.
"They need to hire a full-time development director, a dedicated person to go out and raise money," said Sidney Quintal, who was enterprise services director from Jan. 2005 to July 2011 before he retired and is now living in Whangarei, New Zealand.
"They (the Zoo Society) have to understand that it's not them running the zoo, it's them helping the zoo," Quintal said. "You got people who want to be on the board to be on the board. They need to put their money where their mouth is."
Otaguro said the society plans to hire a fundraising firm and a grant writer on contract to help bring in more donations and funding.
"Our role is support, right? We do not put out the $5.5 million to operate the zoo. That is done by the city," Otaguro said. "But we will do our best to help."
Battles between the zoo employees and the Zoo Society are a long simmering problem.
A memo outlining a 2002 meeting with then-Honolulu Mayor Jeremy Harris and zoo employees obtained by Hawaii News Now complained that "events sanctioned by the zoo director generate funds for the HZS at the expense of the zoo and animal welfare."
"Funds earned have provided little or no benefit to the zoo or its animals," the 13-year-old memo said.
Copyright 2015 Hawaii News Now. All rights reserved.