Hawaii Poll: Hawaiian Electric sale
Published: Feb. 2, 2015 at 3:25 AM HST
|
Updated: Feb. 2, 2015 at 4:12 PM HST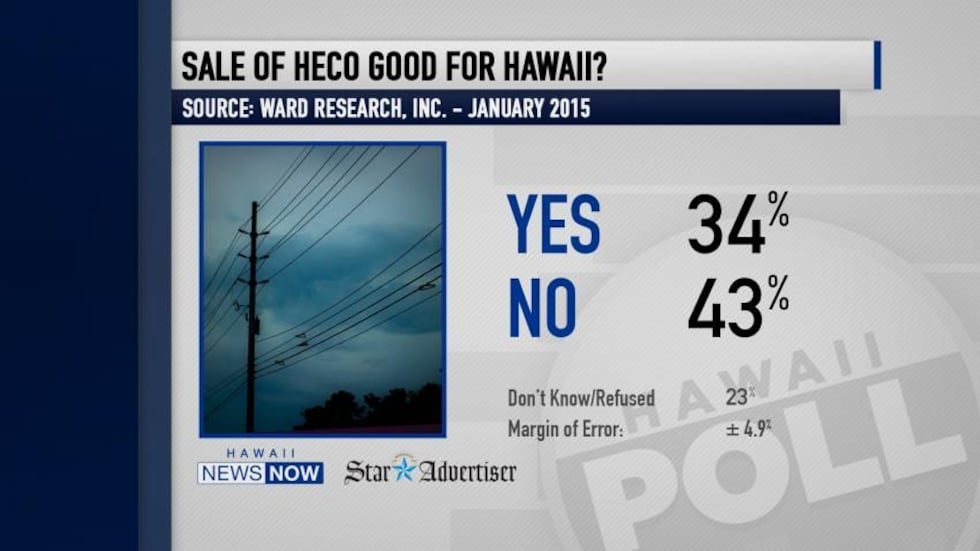 HONOLULU (HawaiiNewsNow) - The pending sale of Hawaiian Electric to a Florida-based company is sparking debate. Hawaiian Electric and NextEra Energy announced the $4.3 billion deal in December. The latest Hawaii Poll reveals serious concerns among customers.
When asked if the acquisition would be good for Hawaii, 34% of those polled said "yes" while 43% said "no." 23% didn't know or refused to answer.
Ward Research conducted the Hawaii News Now/Honolulu Star Advertiser poll of 403 residents between January 13 and 23.
"I think there's a lot of concern because NextEra, in particular, has a track record of pushing back against solar, against allowing people options other than staying on their grid," said State Rep. Chris Lee, chair of the House Energy and Environmental Protection Committee.
"We recognize that we have a lot of work to do and we have to gain, first and foremost, the trust and respect of Hawaiian Electric customers," said Robert Gould, vice president and chief communications officer for NextEra Energy.
The deal needs to be approved by the Public Utilities Commission, but lawmakers are demanding more information about NextEra's plans.
"The question we have to ask is, 'Is this deal going to provide some benefit beyond what HECO is already doing in the current plans to lower rates?' Because as much as we would like to see rates go down, it's been difficult and they haven't made a lot of progress lately," said Lee.
36% of those polled said they believed the deal would result in lower electric bills while 46% disagreed.
Ward Research conducted the Hawaii Poll before NextEra and Hawaiian Electric filed their merger application with the PUC on Thursday. Gould said the deal will help to accelerate a clean and more affordable energy future for Hawaii.
"Once we start to explain to the customers that there is about $60 million in savings that would be potentially passed on to them, I think that, along with all the other benefits of the combination, will send a very strong message," Gould said.
The companies expect the acquisition to be completed in the fourth quarter of this year. Besides filings with the PUC and the Federal Energy Regulatory Commission, the deal also needs other approvals from Hawaiian Electric Industries shareholders and the Securities and Exchange Commission.
The poll's margin of error is 4.9%.
Copyright 2015 HawaiiNewsNow.  All rights reserved.