Pahoa businesses plan to reopen as new leading edge creeps toward fire and police stations
Published: Jan. 22, 2015 at 12:55 AM HST
|
Updated: Jan. 22, 2015 at 1:33 PM HST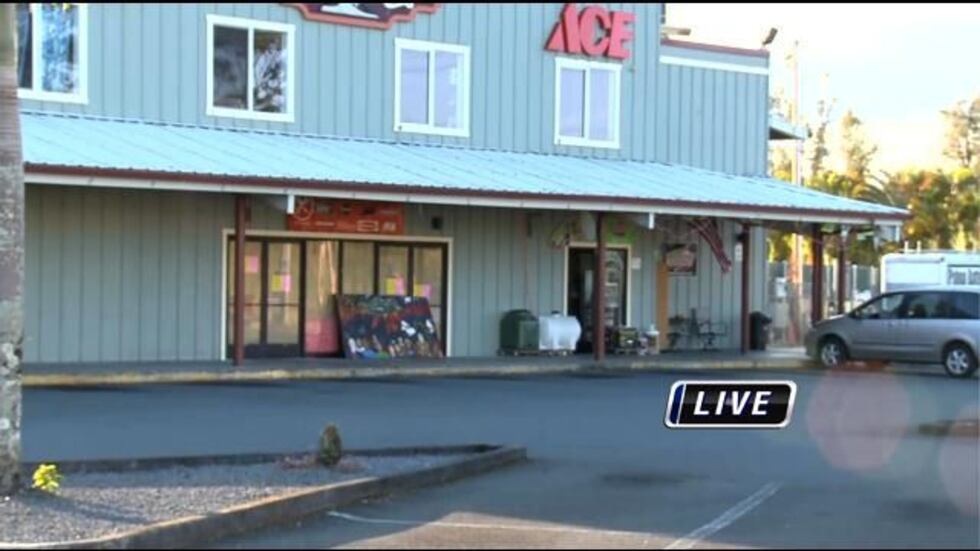 PAHOA, BIG ISLAND (HawaiiNewsNow) - More than a month after several businesses shut down in anticipation of the Puna lava flow -- including Pahoa's largest grocery store and only pharmacy -- many are making plans to reopen in the near future.

Housemart Pahoa Ace Hardware has announced it will be back in business on February 1, 2015.
Long's Drugs has been offering prescription pick-ups for its customers six days a week since January 2. Store officials say they're restocking their shelves in hope to reopen by early next week.
It's unclear when Malama Market will open their doors once again. Officials say the store is undergoing renovations and crews are working as quickly as possible.
It's been a challenging situation for the lower Puna community.
"It's kind of a struggle you think that, 'Oh okay I don't have charcoal I'm going to run up to Long's or I'm going to get milk or a dozen eggs' -- but no, I'm not. I either have to pay double for the small stores that's in my area, like I live in Hawaiian Beaches, or drive to Kea'au and suck it up and deal with the traffic," said Melissa Pagtama.
Residents say they're grateful to be getting the goods and services they depend on back -- along with much-needed jobs -- even though they know things can change.
"It's real good blessings. Everybody is going to be all happy again. We won't have to travel into town to get whatever we need. We just got to pray and hope for the best -- and go with the flow," John Kalani, Jr. said with a smile.
Officials say it's that understanding that has set this resilient community apart.
"Even with the best technology, it's still Mother Nature teaching us who is really in charge so I think the community really has been extremely patient. We appreciate their cooperation with everything we've done from road closures to the opening of the transfer station -- and we do consider all the concerns from the community. Every decision is well-thought out to make sure we make good decisions -- both for the possibility of impact as well as quick recovery," said Hawai'i County Civil Defense Director Darryl Oliveira.
"Obviously they're not completely out of the woods because we're seeing activity on the flow further back, but at this point - nothing that poses an imminent threat and I give the corporate offices a lot of credit taking this chance but knowing what the community depends on them for and being willing to take that risk," Oliveira said, clarifying that it is not Hawai'i County Civil Defense who makes the call on whether businesses return from their voluntary evacuations.
Hawai'i County officials have made the decision, however, to end the only current public access for viewing the lava so they can reopen the site as the Pahoa transfer station. On February 2, 2015, officials say crews will begin working to remove the lava that pushed through the transfer station fence line.
"We're going to try and utilize most of the lava to stay in the location here, so that will take about 30 days to get that done -- we need power, we need the water tanks put back in and the photovoltaic back on the roof, but we'll be ready with recycling and green waste collection on March 1," said John Medeiros, Deputy Director of Environmental Management for Hawai'i County.
Officials have been keeping a close eye on a situation that has changed nearly daily since the lava flow first began on June 27, 2014.
Wednesday afternoon the Hawai'i Fire Department reports two brushfires were sparked as a result of the lava flow. The fires are located to the west or mauka of Highway 130 and to the south or Pahoa side of the Ainaloa Subdivision. Officials say all fire activity is contained within the fire breaks and there is currently no threat to any communities or properties. Fire department personnel and units are on scene and working to maintain control and containment.
Hawai'i County Civil Defense officials say Wednesday morning's flyover assessment shows the original leading edge and a south margin breakout both remain stalled, and although a breakout along the north side of the flow continues to be active -- it has not advanced since Tuesday.
Officials say the new leading edge is 0.4 miles from the area of Highway 130 to the west or mauka of the Pahoa Police and Fire Stations. They say two other breakouts along the north margin approximately 1-1.5 miles further upslope or behind the flow front remain active, but are sluggish and showing little signs of advancement. According to Director Oliveira, a number of other breakouts along both margins of the flow and within the flow pad were observed, but no activity poses an immediate threat to area communities.
Smoke conditions Wednesday were light to moderate with a light northwest wind blowing the smoke in a southeast direction. Officials say smoke conditions may increase in some areas and residents who may be sensitive or have respiratory problems are advised to take precautions and to remain indoors.
The state Health Department has installed three temporary air quality monitors to measure levels and the data they're collecting is available online. Two monitors are currently located in Pahoa and another is in Leilani Estates, but officials say they can be relocated as the lava flow moves or additional breakouts occur.
The University of Hawaii has also developed a model to forecast the lava flow smoke in Puna, which is also available online. Health officials recommend residents in smoke affected areas avoid outdoor activities -- and anyone with respiratory illness or heart disease -- along with older adults and children are urged to avoid smoke exposure.
Hawai'i County Civil Defense and Hawaiian Volcano Observatory personnel are continuing to monitor flow activity and say residents down slope will be kept informed of any changes in advancement and status.
The next community update meeting with Hawai'i County Civil Defense officials and USGS geologists with the Hawaiian Volcano Observatory will be held at 6:30 p.m. Thursday, January 22 at the Pahoa High School cafeteria.
For the latest Civil Defense message, click HERE. For more information, contact Hawai'i County Civil Defense at (808) 935-0031.
Copyright 2015 Hawaii News Now. All rights reserved.