Ben Jay steps down as Athletics Director at UH Manoa
Published: Dec. 9, 2014 at 7:13 AM HST
|
Updated: Dec. 9, 2014 at 5:48 PM HST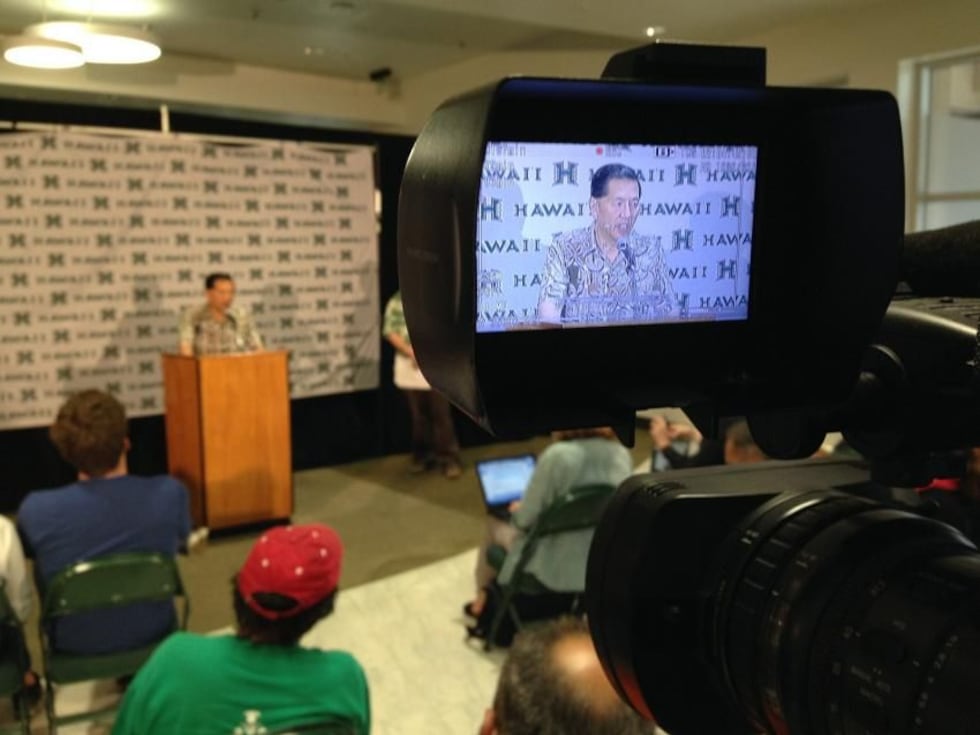 MANOA, OAHU (HawaiiNewsNow) - Citing personal reasons, Ben Jay has announced his resignation as University of Hawaii Athletics Director effective June 30, 2015. Jay informed UH Manoa Chancellor Robert Bley-Vroman of his decision Monday, saying he wants to assist a smooth transition to the department's new leadership. Jay, who will continue to run the day-to-day operations at Athletics until his departure, made the announcement Tuesday afternoon at a press conference on Lower Campus.
Jay was appointed AD by former Chancellor Tom Apple in December 2012. Before joining UH, he was Executive Associate AD for Finance and Operations at Ohio State University.
"I am honored to be AD, and thank everyone at the program, UH, and supporters throughout Hawaii and beyond for the privilege to serve," said Jay. "I am gratified by the steps we've taken to ensure that UH Athletics is headed in the right direction – especially in supporting the education of our student-athletes, improving facilities, and keeping up with the changing landscape of national collegiate athletics. It is very important to me that I continue to contribute during this transition period."
Chancellor Bley-Vroman expressed his appreciation to Jay for overseeing Athletics since 2012, and for Jay's continued oversight to ensure student-athletes are receiving support and continuing to excel in the classroom. This has resulted in much improved academic achievement in Athletics, with a department GPA of more than 3.0 for two consecutive years among student-athletes, higher than the general undergraduate student body. Also, there have been improved Academic Progress Rate (APR) scores for all sports teams, well above the 930 threshold developed by the NCAA as an early indicator of eventual graduation rates.
An AD search will commence in January, according to Chancellor. Said Bley-Vroman, "We are grateful for Ben's leadership of the Athletics Department. We must always remember that success in Athletics should be measured, in large part, on the academic experience of student-athletes, who are here at UH Manoa to earn college degrees that will impact their future careers and lives. We appreciate that Ben has given us notice of his intent to leave now, which will give us the necessary lead time to select the next AD, and have that new leader in place before mid-2015."
Copyright 2014 Hawaii News Now. All rights reserved.