Thousands join Gov. Ige in inauguration celebration dinner
Published: Dec. 6, 2014 at 2:39 AM HST
|
Updated: Dec. 6, 2014 at 4:31 AM HST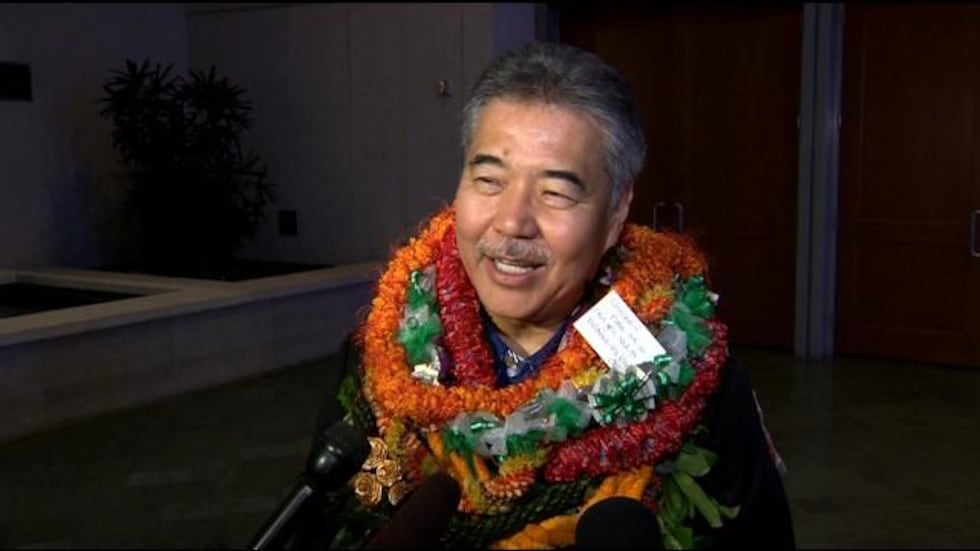 HONOLULU (HawaiiNewsNow) - Don't call it an Inaugural Ball.
New Gov. David Ige and First Lady Dawn Amano-Ige hosted what was called an "Inauguration Celebration" Friday evening at the Hawaii Convention Center.
The theme was "Honoring the Past, Charting a New Tomorrow."
The Ige's, along with Lt. Gov. Shan Tsutsui and his wife, Lyndelle, were escorted into event by the Royal Guard.
The governor showed his frugality with the ticket prices, which started at just $75 each for unreserved, open seating. There was also an option of paying $2,500 for a reserved table for ten.
The Governor and First Lady said the ticket price covered the cost of the event.
"We weren't trying to raise money," said Ige. "It was really about pricing at the lowest price point that we could."
The event had a heavy emphasis on Hawaii's public schools, starting with the conch shell blown by Castle High School junior Tevan Tibayan. The Hawaii state song, "Hawai'i Pono'i," was performed by sixth graders Kalama Arquette of Ke Kula Kaiapuni 'o Nanakuli Hawaiian Immersion School and Jordhan Spencer of Makaha Elementary School.
There was also a performance by the Pearl City High School marching band, in full uniform.
Some of Ige's predecessors also attended, including early supporters Ben Cayetano and George Ariyoshi, as well as John Waihee.
While the night was a celebration for Ige and Tsutsui, even Ige's supporters know there's hard work ahead.
One of those supporters gave Ige a money lei with a note: "Please use in case you need to balance the budget."
Ige laughed, and said, "Yes, you know, we have been working on the budget already."
But for this night, it was a chance for the new governor to take a victory lap.
Ige said he will also visit all the neighbor islands for "mahalo events" in the coming weeks.
Copyright 2014 HawaiiNewsNow. All rights reserved.