Pro-GMO companies spend $8 million to fight Maui initiative
Published: Oct. 28, 2014 at 1:19 PM HST
|
Updated: Oct. 28, 2014 at 9:39 PM HST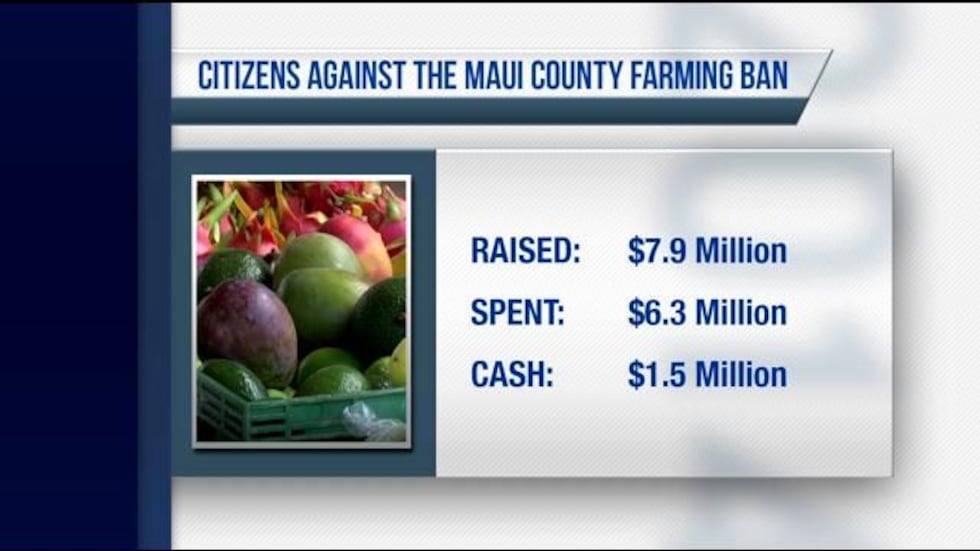 MAUI (HawaiiNewsNow) - Opponents of the Maui County GMO initiative have raised nearly $8 million, making history since no other candidate or group has spent that much money in any election in Hawaii.
The proposal on the ballot for Maui County voters would impose a temporary moratorium on the production of genetically modified crops in the county until an environmental impact study could be performed.
The group trying to kill the measure calls itself Citizens Against the Maui County Farming Ban. It reported raising $7.9 million, nearly all of that from industry giants Monsanto and Dow AgroSciences and a trade group to which the two companies also contribute.
The group reported spending $6.3 million as of Oct. 20 and had $1.5 million in cash on hand.
"It's not citizens against a 'farming ban.' It's agro-chemical companies against the people of Hawaii," said Ashley Lukens, program director for the Hawaii Center for Food Safety. Her group has spent just $15,000 trying to convince voters to vote for the GMO proposal.
Another group backing the initiative, Maui Citizen's Initiative for a Temporary Moratorium on GMO Crop Cultivation, raised only $60,190 and spent $55,342 of that so far.
"What's happening to our democratic process such that mainland corporations can dedicate unlimited amounts to county-level politics?" asked Lukens.
"Is it any wonder that these companies are going to protect their employees and protect their investments and protect their business?" responded Rob Stephenson , who is president of the Molokai Chamber of Commerce and a volunteer fighting against the GMO initiative.
Stephenson said it makes sense for the agro-chemical companies to spend $8 million fighting a GMO moratorium that he claimed could put 850 people out of work in Maui County.
"If you take a look at it, the amount of money that's been spent on the campaign versus the economic activity that we're going to lose in Maui County, that's $85 million a year," Stephenson said.
That scenario would cost each Maui County resident $530 a year, Stephenson said.
The industry group has spent millions on more than two dozen 30-second and 60-second television spots that have run on Honolulu television stations, hoping to influence voters on Maui, Molokai and Lanai. Half-hour television infomercials began airing this week.
The group has also spent the money on radio spots, newspaper ads, mailers and the Internet, including sponsoring the online music service Pandora.
Lukens said the group has spent far more money than a comprehensive environmental GMO health impact would cost, an amount she estimated at $500,000.
"Knowing that they would rather spent 12 times that amount fighting the assessment raises major red flags," Lukens said.
Stephenson said,"There's so much misinformation that's out there in the public right now. We feel that the best way to reach the voters is to use the media and get this information out there and we're confident that when the voters do have this information, that they'll join us in voting no on election day."
The industry group has spent $6.3 million so far, which equals $72.54 for each registered voter in Maui County. The nearly $8 million the group raised roughly equals the amount of money that all the major candidates spent so far in the statewide governor's race this year, including Gov. Neil Abercrombie, State Sen. David Ige, former Lieutenant Gov. Duke Aiona and former Honolulu Mayor Mufi Hannemann.
"One of the things that we learned after the gubernatorial primary this summer is that money doesn't always buy you love," Lukens said. "At the end of the day, money doesn't vote. People vote."
Copyright 2014
. All rights reserved.