HAWAII POLL: Takai, Djou tied in dead heat in latest poll
Published: Oct. 23, 2014 at 11:10 PM HST
|
Updated: Oct. 24, 2014 at 12:41 PM HST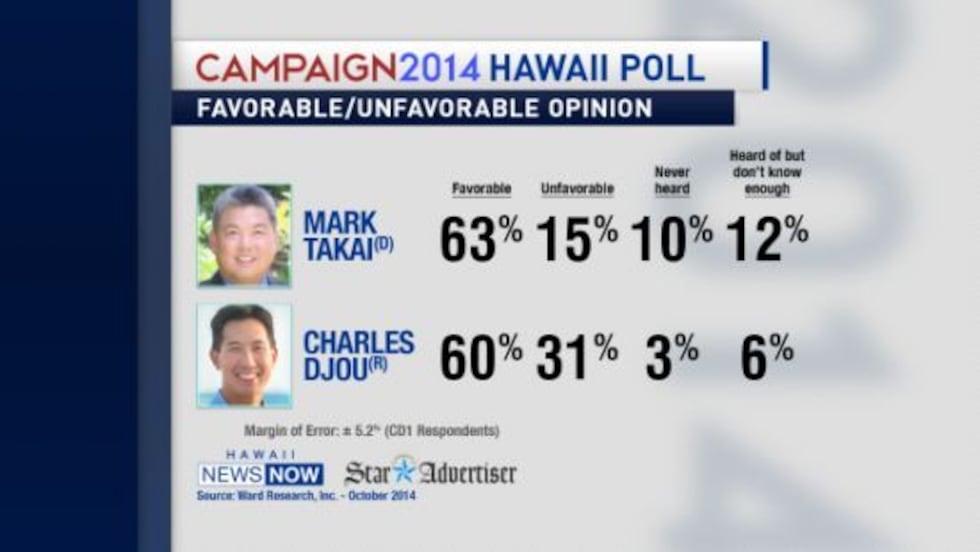 HONOLULU (HawaiiNewsNow) - Our latest Hawaii News Now/Star Advertiser poll in the campaign to represent urban Oahu in Congress suggests the vote could go either way.
In the race between Charles Djou and Mark Takai,volunteers and the candidates will crank up efforts to get out the vote with their campaigns in a dead heat. It's tied at 47 percent according to our new Hawaii poll.
Mark Takai said this about the results, "As in the primary we were behind until the very end and in fact 5 days before we were tied, so this is nothing new for us."
Charles Djou responded, "The fact that we're in a position to win this campaign just shows the level of excitement the people of Hawaii have here in our race and here in our campaign."
Djou has made the case that the State should send one member of its congressional delegation into the majority with seniority.
Hawaii News Now political analyst Colin Moore said, "It seems to have resonated because Djou is polling very well. They like Djou personally. He has very high favorability."
60 percent polled had a favorable opinion of Djou. That's a virtual tie with Takai's 63 percent. Djou had double the number of unfavorable views, but more voters have never heard of the Democrats' nominee.
Takai said he would keep working hard to get his message out, explaining, "We want to make sure that people understand this is an important race. We stand for Democratic values and we believe we best represent the values of Hawaii."
Djou said, "Ultimately it doesn't matter to me if you're a Republican, Democrat, or Conservative or Liberal. My ideology and philosophy is to get things done and I think the overwhelming majority of people in Hawaii, that's their philosophy."
With 12 days to go until the general election, who has the advantage according to our political analyst Colin Moore?
Moore summed up the race this way, saying "Clearly Charles Djou is getting conservative Democrats and that's good for him, but at the end of the day, most voters are likely to come back to the party they know the most and that's the Democratic party in this State."
Hawaii Poll Tables: Click for a breakdown of the numbers: http://hine.ws/hp14consen
Copyright 2014 Hawaii News Now. All rights reserved.